Help bring children's musical theatre show to life
Who Am I?
Hello! I'm Fay Evans, a  successful children's author and storyteller turned musical theatre maker, based near Manchester.
My mission is to engage and inspire young children with creative work that is fun and interactive.
My Project
My latest project is a stage show for children called 'Fred: The Musical' and it's based on my fabulous rhyming picture book, Fred The Fire-Sneezing Dragon. You can read all about my plans below.
How You Can Help
After reaching my initial crowdfunding target (hurray - thank you all for your donations!) I'm now launching Phase 2...
There are rewards on offer for individual donations from members of the public, plus a range of corporate sponsorship options for entrepreneurs, businesses and organisations.
Donation Rewards (for individuals, named or anonymous)
£1, £5, £10, £20, £40... – you'll receive a heartfelt thank you from Team Fred and a warm fuzzy feeling inside!
£50+ – heartfelt thanks/warm fuzzy feeling PLUS a signed copy of picture book Fred The Fire-Sneezing Dragon by Fay Evans 
£100+ – all the above PLUS an exclusive 'Fred: The Musical' branded T-shirt in a size of your choice
Corporate Sponsorship Packages (for businesses/organisations/entrepreneurs)
£250 – Bronze Sponsor – a shout out across multiple social media platforms by @FayEvansAuthor (Facebook, Twitter, Instagram, LinkedIn) including tagging and hashtags for your business. Update post on our GoFundMe page. Business name and logo on Sponsorship page on FayEvansAuthor.co.uk
£500 – Silver Sponsor – as per Bronze package PLUS a PR photograph and 300+ word article on the News page on FayEvansAuthor.co.uk
£1,000 – Gold Sponsor – as per Silver package PLUS a professional press release for local/regional/business media.
£1,500+ – Platinum Sponsor – as per Gold package PLUS one FREE author visit to a primary school of your choice (delivered in person or online, depending on location).
If you have any queries, please get in touch. Just go to the Organiser heading on this GoFundMe page and click the Contact button.
Fred: The Musical
Aimed at toddlers and primary school children, the show is full of life and laughter, with pantomime-style interaction. The audience is encouraged to join in with actions, songs and movement/dance. 
Fred: The Musical will delight youngsters and their grown ups, potentially providing many audience members with their first experience of live theatre. 
A Lovable Young Dragon
Fred: The Musical is an engaging show with a simple all-rhyming narrative and a catchy, sing-along songs.  The lively musical score includes a  mix of styles including a full-on power ballad, performed by the show's leading man - a lovable dragon.
Fred is a lonely young dragon whose fiery sneezes cause chaos at school. He is teased by his human classmates, until he accidentally saves the day. The pupils eventually learn to accept and celebrate Fred, who goes from 'zero to hero' in this heartwarming tale.
At the heart of the show are the themes of friendship, diversity and inclusivity.  Fred: The Musical encourages children to accept those that are different and demonstrates that everyone is good at something.
My Vision
I've written the all-rhyming script and song lyrics, and I'm collaborating with an experienced composer of children's music to create a brilliant musical score. We have a power ballad for Fred, a funky rap, a tango, a folk song, a rock and roll number… a really lively musical mix.
My big vision is to have the show touring UK regional theatres (before its West End/Broadway transfer, obvs!).
Funding Support

With the script finalised, I want to get the show 'on its feet' and take Fred 'from page to stage' in 2021.  I'm currently seeking funding support for a two-week workshop with a small cast of professional actors, musical director, choreographer and creative mentorship from an experienced artistic director. I'm also looking to explore puppetry/costume ideas with a theatre design specialist and record demo tracks with talented musical performers.
I would be grateful for any funding support to help make my musical theatre dreams come true!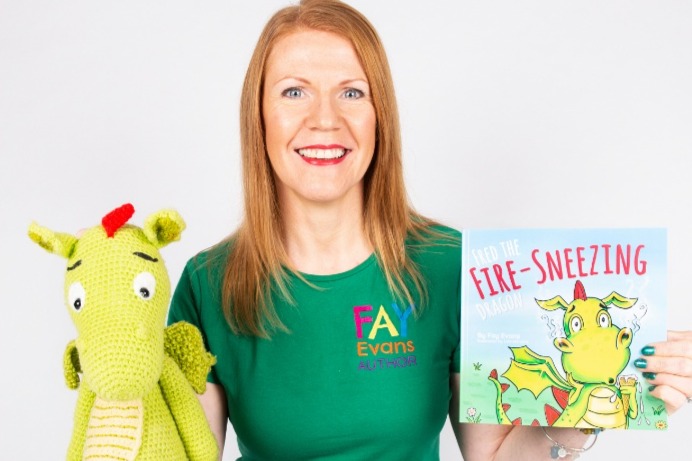 Organizer