Help Brad Get His Life Back
At the age of 25, Brad's life as he knew it ended after a motorcycle accident left him severely brain damaged.  After three brain surgeries, two years of having to relearn EVERYTHING, multiple treatments all over the US, Brad has fought and worked hard to make a remarkable recovery.  He has come a long, long way but progress has slowed and he still has severe deficits.  He now needs your urgent  help to get other therapies so he can continue his road to recovery.  My name is Dianne and I am Brad's mother.  My husband is Mike and our children are Brad, Jenni, Angie, Kelly and Brian.  Here is Brad's story. 
On August 9th of 2015, our family was eagerly awaiting the arrival of our daughter Jenni.  Mike had flown out to California to help her load up and drive home after four years of living in California.  When they arrived home we all went outside to welcome them.  Each of us started to help unload all of Jenni's belongings in the car and car top carrier.  Brad being the tall one in the family, helped her get her things off the top of her car.  He gave Jenni a big hug, put on his helmet and then left for a bike ride with a couple of friends.Jenni commented on how he looked on his bike and we all turned and unknowingly watched him leave for the last time.  
About an hour later, Jenni and I were at Target picking up a few things and Mike called saying that Brad had been taken by Life Flight to Mercy.  Jenni took the keys from me and drove us home where Mike was waiting in the car with Brian and Kelly.  We got to Mercy and waited but they kept saying no one had come in and that he was probably en route.  After a while they came over and said that Brad had been taken to Methodist instead so we headed there.  When we got to Methodist Hospital,  we were taken to a waiting room.  We were informed that Brad was in surgery and they would let us know. 
We called Fr. Ray and he came quickly.  From the waiting room, he administered last rites to Brad and we prayed.  Around 1 in the morning,  the neurosurgeon came out and said that he had done all he could but that it was a very serious injury.  He said it was as bad as they get but he decided to give him a shot anyway. I'll never forget his eyes as he looked at us.  There was so much compassion that I knew he had done his best.  We called Angie who lives in Texas and she jumped on the first flight home not knowing if she would see her brother again.
Brad was in the fight for his life.  That fight was a week of getting worse and worse daily until finally his brain swelling reached it's maximum and then started the very slow process to reverse. The swelling, we would come to find out months later, was only a few millimeters from hitting Brad's brain stem which would end his life.  We were told that at any moment, Brad could take a turn and be gone.  The swelling at the top and sides of his head went huge.  First on the right side and then after days the swelling moved to the left.  His head was as big and round as a bowling ball.  We were by his side praying every second. The swelling inside, close to the brain stem, went only one direction, away from the brain stem. 
In that first week we had a medical team come in a few times a day and tell us that we should consider organ donation and let him go, taking him off the ventilator.  We had one particular nurse sit with us time and time again trying to get us to come out of shock and to "think about what Brad would want."  "Would Brad want to live this way."  "It's bad, really really bad."  she would say. 
There wasn't a day that first year where her words didn't go through my head. What would Brad want.  I have wondered if Brad would ever be aware enough to purposefully love and serve God.  If he would be happy.  If he would ever hold a job.  If he would ever have a wife to love and cherish.  If he would ever be a father.  
Jesus says to always be ready, that He will come like a thief in the night.  We were not even in our minds enough to think anything at all especially not such a huge decision to "pull the plug" on our son, so our preparation for this moment was all done ahead of time.  It was what we held in our hearts.  It was faith that God has a plan bigger than ours and we had to accept whatever was ahead.  We clung to our faith.  We trusted in Jesus.  We prayed.  
It's been a long road.  A long, hard road.  We have lost relationships that weren't what we thought.  We have changed what we do in each day as Brad needs constant watching.   Nothing is as it was before the accident.  Not one of us in our family hasn't been changed.  An injury of this  magnitude does not just affect the injured but the entire family has to learn a new way of living. 
One of the hardest things for all of us has been to mourn the loss of Brad even though he is physically still with us.    
All the while our family was changing, Brad has fought to come back.  He has fought to breathe on his own, to open his eyes, to smile, to move his limbs, to learn to swallow saliva and eventually food and drink, to hold his head up, to sit, to stand with help, to stand alone, and eventually he walked.  With the help of St. Faustina through a novena, he got his voice back. Then it was months of struggling to find the right words he wanted and be able to say them. He has fought and worked hard to get his life back.  Our family rejoices at each and every accomplishment no matter how small.  I remember the first time Brad sneezed at the hospital and the nurse said it meant there was some brain function.  Never before had we been so grateful for a sneeze!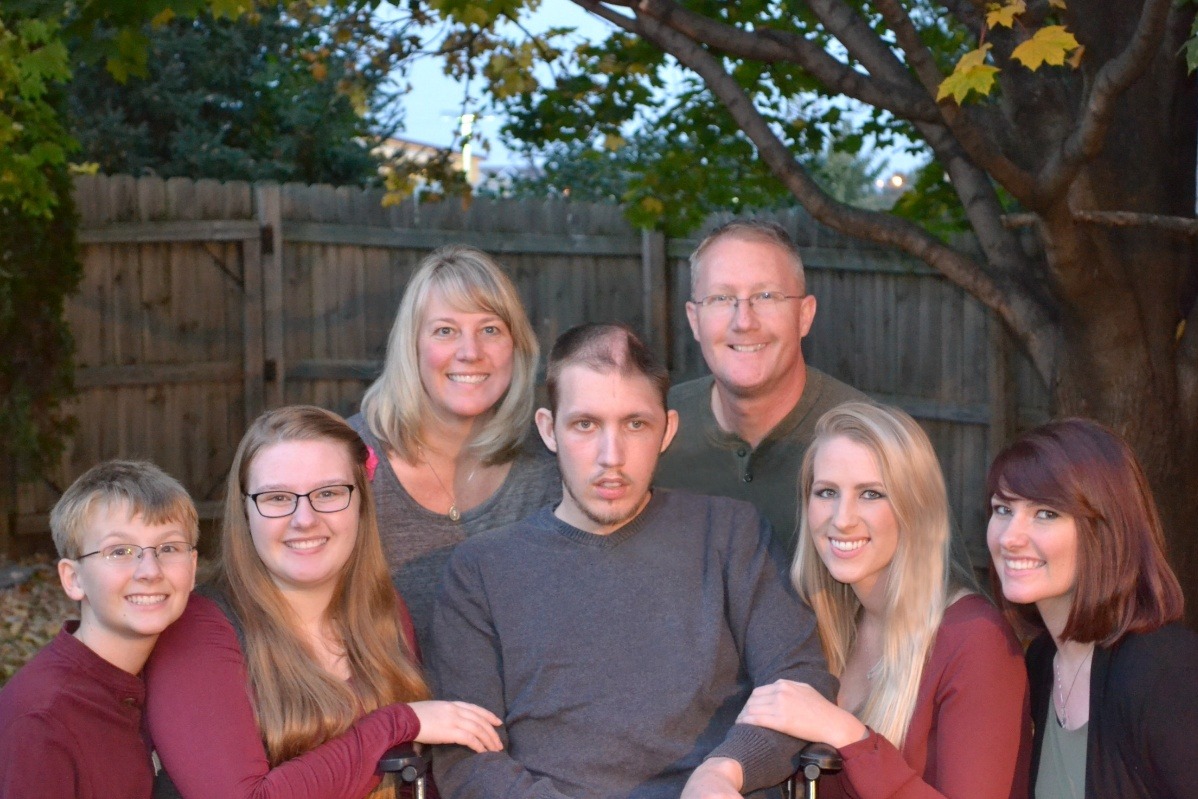 Brad spent a month in the hospital and five months at an inpatient rehabilitation center and we have never left his side.  It took around three months for him to start to emerge from his minimally conscious state. We have spent the last four years traveling in and out of the country.  We have been to many doctors in Iowa, several different doctors in Colorado, and three doctors in Minnesota.  We have been to Texas twice for treatment in two week increments and saw many doctors.  We have been to Georgia and Ohio and Florida for treatment.  With the money donated from many special people, we were also able to take Brad to Panama City Panama for stem cell treatment! 
We are on a frantic journey  to help Brad's brain rewire through neuroplasticity.Just a few years ago, none of this would have been possible.  But, because of all that has been learned, people like Brad are gaining their lives back.
Today, Brad can hold a conversation with you.  It may become repetitive but he can do it. He has compassion when someone is hurting and is happy when others share their joy.  He can walk short distances and shower and get himself dressed.  He has come a long, long way.  Brad has made remarkable progress and doctors say he should be written up about in medical journals because with the severity of brain damage that he sustained, he should not be where he is today.  
At four years out, progress is slow, but Brad is still fighting.  Along with long term memory loss, Brad's short term memory is still short.  His right eye has tunnel vision and is not functioning with his left so he sees double.  He has right side weakness in what was his dominant hand and toe drop in his right foot.  He does not sleep through the night and is always hungry because he doesn't feel full.  He is completely dependent on us and still needs a lot of help.  
BRAD NEEDS YOUR HELP
At this point in the journey, Brad needs financial help to keep getting therapies.  All the treatments Brad has been doing to get to where he is today have been out of pocket because they are considered alternative and insurance won't cover them.  We have done a lot of therapies which have ranged from $280  up to $5200 per day.   
The next step for Brad is to do Hyperbaric Oxygen Therapy or HBOT.  With Brad's extensive brain injury and with Brad having two seizures now, we want to make sure that he gets the correct amount of oxygen combined with the right depth of pressure to ensure he does okay and that he has progress.  The best doctor to do this that I have found  is Dr. Harch in Louisiana.  People from all over the world seek his expertise in hyperbaric healing. We have contacted his office and the protocol is to go for two and a half months at a time at the price of $8750 per round and three rounds will be the starting point.  We will need to find housing and cover all living expenses while there. After that, a chamber for home use would be purchased to continue the treatment.   The unit that Brad's doctor wants him to get is just over $23,000.   
It is very exciting to have Brad to the point of wanting a job.  We are very hopeful that if we can get Brad hyperbaric oxygen therapy, Brad will be able to gain employment and possibly even drive!  Early on, the medical doctors said Brad had no chance to recover and to let him go.  They said he would never walk or talk.  They said the damage was too severe, in too many parts of his brain.  Brad has proven them wrong at every turn so why wouldn't we have hope?!  We will continue to fight for him as long as we are able.  
THANK YOU
So there it is.  Thank you for taking the time to read Brad's story.  Before the accident, Brad always stopped to help anyone in need.  He was and still is a caring, loving person.  Brad was always very careful and researched his gear for months before purchasing.  He never rode without a helmet and we are grateful he is alive because of that.    He has fought hard and we feel he deserves a second chance by utilizing all therapies that may help him.

To anyone wishing to contribute in helping Brad recover, know that every penny donated goes towards Brad's recovery.  We are eternally grateful and can not thank you enough! Every little bit helps.  There is no greater gift you could give Brad than the chance to get his life back as much as possible.  For those concerned with gofundme taking part of your contribution to Brad, they do not.  They only run on donations which you can accept or decline. 

Prayers for the doctors who will treat Brad and for his continued recovery are greatly appreciated!  

Please help us share Brad's story.  Share to help Brad and share to help anyone who suffers from a traumatic brain injury, that there is hope! 


One of the things that helps me the most today, is to reach back and help those that come after us with a brain injury.  It gives some purpose to all of our suffering.  From the very first days Brad was in the hospital I was aware and fully grateful for all of those that had gone before us that made it possible for the doctors to know exactly how to keep all of Brad's organs functioning in order to save his life.  With God opening the door for Brad to get further treatments, we fully intend to use what we learn to help those that come after us.  
Know that your donation will not stop with Brad.   



Organizer
#1 fundraising platform

More people start fundraisers on GoFundMe than on any other platform. Learn more

GoFundMe Guarantee

In the rare case something isn't right, we will work with you to determine if misuse occurred. Learn more

Expert advice, 24/7

Contact us with your questions and we'll answer, day or night. Learn more