Help Awele clear his College debt
Hello,
My name is Awele Uwagwu and I have completed three semesters in Chemical Engineering at the University of Illinois, Urbana-Champaign. And I need your help.
On February 4th, 2018, I boarded a plane back to Nigeria because my F1 student visa was terminated. Terminated because of a financial hold, due to an overdue balance in my student account, that doesn't let me register for classes.
Leaving Nigeria for college, was a dream come true for me. Especially because of the factors motivating my career goals: the state of my country, the utilization of our natural resources and the pollution of the environment as a result. This made the pursuit of my Chemical Engineering degree a very personal one for me and something that I have been passionately doing my best to attain. However, it's been an uncertain journey so far and unfortunately it seems like the worst has happened.
I'm an international student and for this reason, my tuition costs more than usual. Up until now, my family has been putting me through school. My dad is a private contractor and my mum works as an educator in Nigeria. I am the last of 4 and my parents have done so much for us but right now things are so hard and it's become too difficult to afford my tuition. The crash in the value of the Nigerian Naira has made it even worse. Public loans are also not available to international students.
I still believe I will achieve my dream of becoming a Chemical Engineer with the best education possible. The obstacle to that right now is the financial hold on my account. I can't continue school until my past due balance is cleared because my transcripts will not be released by the University which means I can't apply to other colleges that will be affordable for us.
I worked while in school as a tutor for the Center for Academic Resources in Engineering (CARE) to help myself get by and I did my best to maintain good grades at the University. My current CGPA is a 3.94/4.00 and I intend to continue as work as hard as I can till I achieve my dream.
The thought of coming this far to not finish frightens me beyond explanation. I've thought so much about what I could do and not watch all this end, just like that. I understand that this is a lot, putting myself out there completely but I've been thinking so much about this, even before I had to leave school because of the past due balance. It's been difficult for a while, but I haven't given up and I won't give up now.
I know I'm asking for a lot but please every dollar counts. It all adds up toward clearing the debt. The target is my tuition debt plus the 1.5% monthly interest on late fees that have accrued over the past few months. I haven't lost hope and I know I can reach my goal. Please donate whatever you can, thank you so much for trying. Please share this as widely as you can. Prayers and good wishes are appreciated as well.
Please do what you can. Everything is appreciated. Thank you so much for even reading this.
(PS: I have attached a screenshot of my resume, termination email and of my unofficial transcript showing my CGPA)
Just to clarify, I understand that the University of Illinois is expensive. I decided to attend initially because it was affordable for my family at the time, in the past year a lot has gone wrong so my second year fees have been impossible to afford along with some debt from my freshman year. Thank you, I hope this answers some questions I've been receiving.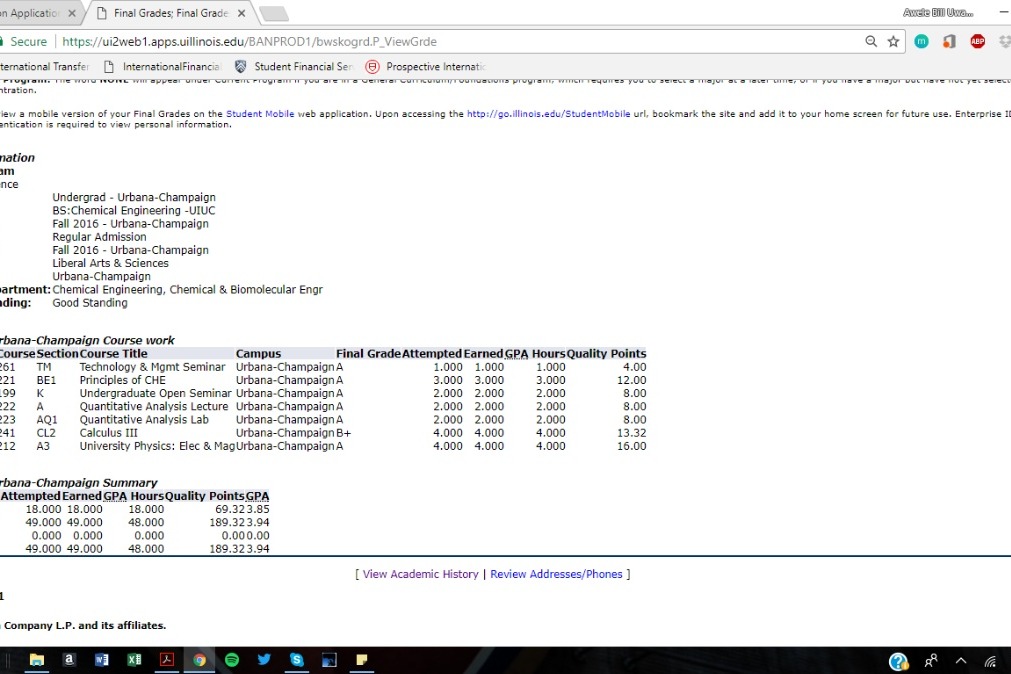 Organizer and beneficiary
Awele Uwagwu
Organizer
Urbana, IL
Faramola Isiaka
Beneficiary