A boy named Sioux.... 
Our 4 year old Great Pyrenees dog was hit by a car February 12 just in front of our house .   The driver that hit Sioux did not stop to notify us at all.   Thankfully a random stranger saw him laying in the ditch.  That alone was lucky - to see a white dog laying lifeless in the snow it the dark.
We rushed him 45 minutes to the nearest emergency center. It was impossible to know the extent of his injuries but his right legs seemed comprimised.  At the emergency center the doctor checked him over, took chest and abdomen radiographs, ultrasounded his bladder, checked motion in all his legs, pain control, etc. He had a compound (bone protruding through skin)  fracture right front leg. The doctor recommended surgical repair. Though the Animal Referral Center was the best in the area, it also ,for good reason, was very, very expensive. It was now after 2AM and in a few hours we could call local clinics hoping someone could and would do the surgery for a financial figure we could even consider to pay off eventually someday. The emergency visit alone depleted everything we already did not have.
The doctor did what she could to position the bone and applied a splint. Too exhausted to drive home we stayed with a friend and slept beside Sioux for about 2 hours.
  First thing in the morning my friend and I began making phone calls. Soon enough we found a clinic who could do the surgery and got it scheduled for the next day.  The Veterinarian kindly volunteered to come in on his day off to do the surgery.
That night, before bed, we carried Sioux outside to see if he would urinate.  It had been at least 24 hours since he had last urinated.  As I tried to support his rear legs I noticed a dramatic change.  Sioux had his winter coat now and it was so long and so thick you could lose a bowling ball in it.  This made it impossible to notice some things if not by touch and we had been avoiding moving him as much as possible.  
The moment I touched his rear right leg I knew something was very wrong. It was twice the size as the other leg and it felt firm.  I looked down to see his foot dangling oddly.   I called and spoke to the emergency doctor about it.    In the end, of course, it could be anything but most likely general swelling or edema.  We were very worried and wanted to bring him back to the emergency center.  Utterly emotionally and physically exhausted tho, we could not make the drive.  Neither my heart nor my body could put that poor animal back in the car.   So we lay on the floor beside him and slept.          
The next morning we went to the vet for the surgery and immediately informed them of our new concerns. They took an xray of the rear leg and our fears were confirmed. My heart sank indefinitely when I saw the radiograph. His femur was in 3 pieces. Not a clean break at all.  And his blood screen revealed anemia and high liver values.  Now we had serious decisions to make.
The doctor could still do both surgeries but the cost more than doubled. We were still struggling to scrape up the money for the first surgery. We are both very vigilant to avoid ever borrowing money but this was a desperate situation. Now hopeless.
Sioux needs a pin placed through his femur, attatched to an external fixater to repair his rear leg. He needs a plate placed in his front leg. He needs extensive and constant care over the next 2 months minimum .
Initial trauma treatment was $1000
The surgeries alone will be a minimum of $5500.
Post op meds, reckecks, xrays, splint/bandage changes.  Hopefully not over $1000.
Our broken hearts.  $?
Sioux will be 5 February 18th.
We need help.
We want to save Sioux. We would do anything but simply cannot do $7000. Every wish for good luck, every prayer, every sympathetic ear helps immensely. Every penny gets us a little closer.
And anyone who knows us and questions the decision to do surgery please take a moment to ask yourself one thing..... Could you tell Jim to put his dog down? Really could you?  He would never forgive himself.  Nor me.  And I feel we've had enough loss lately.  Something has to live.
Special thanks to Rachel for being by our side through all of this, and being level headed when we couldnt, and making calls, and so much more.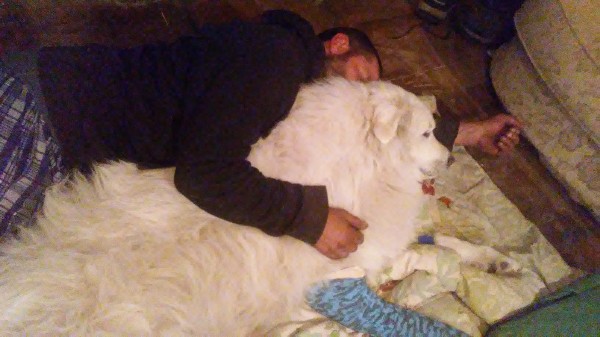 I guess this is a bad time to announce his television debut on Americas Funniest Home Videos 28th Anniversary show in March as he picks a good jig on the banjo. We will announce date and time when we know for sure
Organizer
Amber Kemp
Organizer
Manawa, WI