"Highest Praise" Album Helén Teike
HIGHEST PRAISE – Album Project by Helén Teike


 Dear Family, Friends and Colleagues,


Welcome to my fundraising page! 
For so many years and so many times I have been asked over again "when will you record your album?" Well, I have good news! The time is now! I have also been asked how it is developing; and I'm happy to report that seven out of ten songs have already been recorded! Many of you are also wondering when it will be released and how you can help. This page is dedicated for that purpose.


Why should you invest this project?
I believe I represent a huge group of people that have not seen their dreams realized yet and I want to be an example for them.


My goal is to raise $25,000 by August 31st for all costs in producing this album.
This amount will cover producers fees, studio time, musicians fees, singers fees, mixing, mastering, photography, graphic design, marketing, duplication, CD-release events (estimated this fall) and miscellaneous costs that go into making this a successful professional project.


For most of my life
I had feelings of unworthiness, felt limited, undervalued, disregarded, powerless, unimportant, had low self-esteem, and I didn't feel good enough. I let that cause defeat in my life.  And so the years passed and my dream faded away, but here I am today, at 55, living my dream!
 If God did not give up on my dream; He hasn't given up on yours!

 "Pay It Forward"
I desire to be a support to others, my vison is to pay it forward.  If God can do it for me, He can do it for you! Proceeds from this project will go towards blessing someone else!


My assignment and timing to record this album came as a surprise,
I had actually said to God, "that's it, I'm not doing this anymore", if You want me to continue to pursue music, YOU do it! I had just started attending a new church and I was determined to not tell anyone I was a worship leader or wrote songs. My lips were sealed and my plan was to just attend the church like any other regular person. Well, if you know God, He is not going to let anything like that be hidden. We can't hide our gifts, because our gifts are not for us! They are given to us as stewards to share with others. My pastors "detected" my gift and encouraged me to pick it up again, "this is your ministry," they said, and asked me to do weekly worship.

Most of my songs have been living in a box on my bookshelf for many years.
I know that is not what God intended when He so sweetly gave me these songs in the night as I was embraced and rescued in His love from hurt, pain and disappointments, or in the day as I was determined to make it through hardship and sorrow. He played and sang these songs for me, they were "Heavenly Tunes", so amazingly beautiful with orchestras and choirs, I must have been given a glimpse of what it sounds like in heaven! He also gave me the name of my ministry/company
"Heavenly Downloads",
  that was over 7 years ago just as downloading music from the Internet had started to be a common practice. Well, these songs were downloaded from heaven and they became my heart's solace, provided healing for my soul, freedom in my mind, gave me hope again and a reason for going on another day.


Then through the most unimaginable circumstances
and because of obedience of godly people the Lord put me in the path of an incredible singer/songwriter and musicians who drew out of me what was in me, and said, "That's it" we are putting the devil to shame and
we are making your album!
Before I could really grasp what was going on, I had a professional management team supporting me, and an amazing producer ready to record my songs! I have also been blessed with a super professional group of musicians, a music director and superb vocalists who continue to support me to make sure this album is done in excellence and at a professional level, and therefore the costs are high.

I know it may seem like a lot of money
and that is why I also ask for your help to repost this every time you see it on Facebook, Twitter or Instagram or feel free to email your friends!


I'm eternally grateful for every donation, big or small, as all of it supports this amazing project and will in turn bless the next person!

THANK YOU for joining me in seeing this project come alive!

IT'S NEVER TOO LATE TO REALIZE YOUR DREAMS!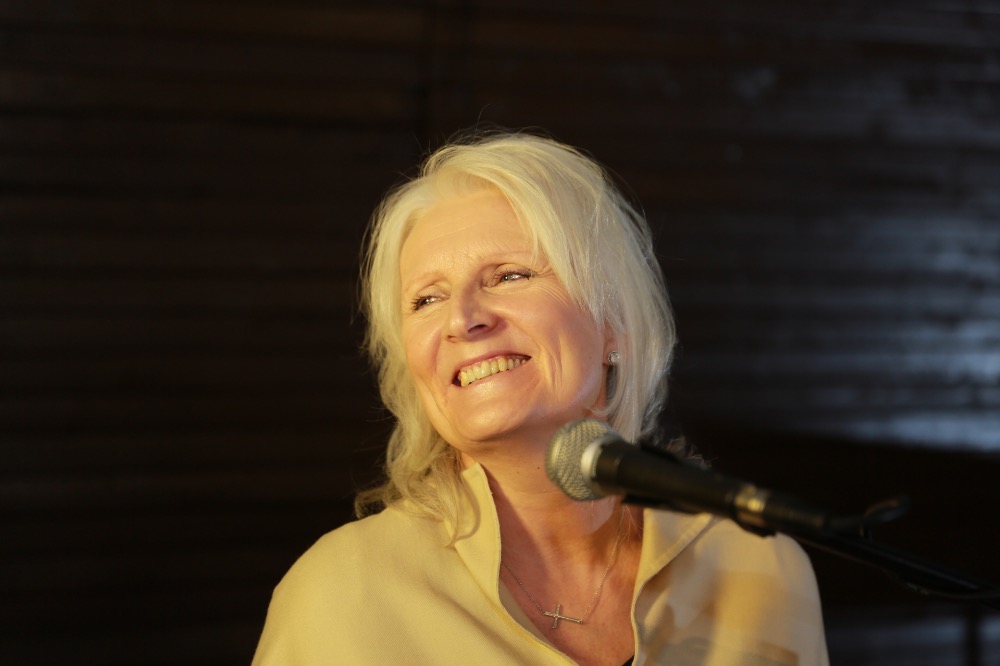 Colossians 3:16
Let the word of Christ dwell in you richly in all wisdom, teaching and admonishing one another in psalms and hymns and spiritual songs, singing with grace in your hearts to the Lord.

helenteike.com

Organizer