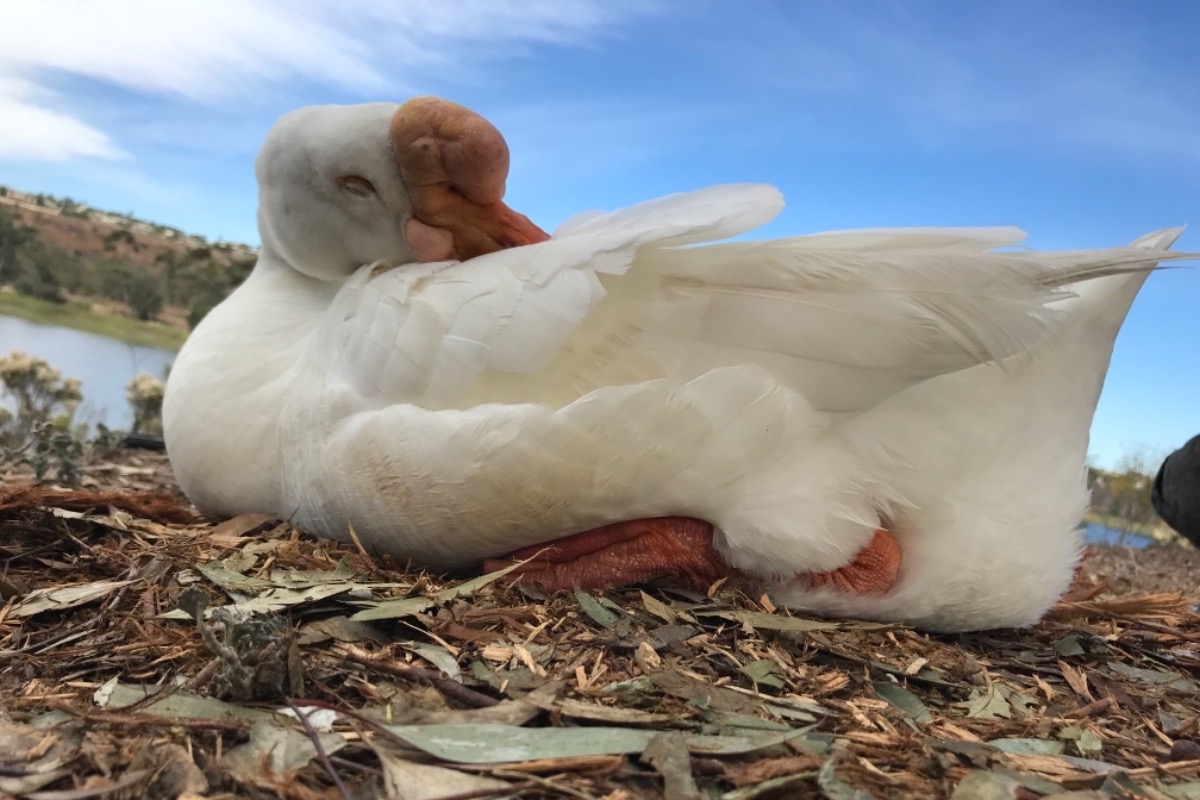 14
3
Heal Louie the Goose
$370
of $1,000 goal
Raised by
13
people in 1 month
I'm raising money to benefit San Diego Humane Society-Escondido branch, and any donation will help make an impact.  Louie is a white goose who lives at Lake Miramar in San Diego. He is one of 6 geese who live there, likely having been dropped off there by someone since the lake is not in a migratory path. Louie has lived there for many many years. A couple years ago after losing my job I was going through a severe depression. Louie befriended me and I've been spending time with him almost every day ever since.  Here's a link to a human interest story Ed Lenderman from KUSI did on us a year ago.
https://www.kusi.com/heartwarming-story-louie-therapy-goose/
He's very smart!
Someone saw Louie last Monday, March 25, and saw he had a possible respiratory infection. Animal welfare came to the lake and picked him up. He is currently in vet care at the Escondido branch of the Humane Society. All tests for any diseases came back negative (yay!). He does have an upper respiratory infection and is being treated for that. He needs to be on the medication until April 12. After his last treatment, Vicki (who works at the lake and is affectionately known as "mom" to Louie) and I (his mom when Vicky is not around), will go to pick him up on the 12th and bring him home.  
I am am grateful to the angel who identified that Louie May need help... and I'm grateful to the San Diego Humane Society, Project Wildlife, and everyone who exists to help animals in need.
This money is being raised to donate to the organization responsible for taking good care of Louie. I am so thankful for his care and their (Rebecca) willingness to communicate with me and others who call regularly to check on him. ❤️Thanks in advance for your contribution to getting Louie healthy!
More information about San Diego Humane Society and SPCA: Serving San Diego County since 1880, San Diego Humane Society operates campuses in San Diego, Escondido, and Oceanside. We provide vital services to animals and people by sheltering and adopting animals, providing positive reinforcement training classes, investigating animal cruelty and neglect, presenting education programs for youth and adults, and much more.
+ Read More
Update 2
1 month ago
Share
Thank you to everyone who donated to SD Humane Society. They took great care of Louie and he was returned to Lake Miramar today!! It was suppose to be longer, but we are going to make sure he finishes his antibiotics... it was better for him to get him home sooner rather than later. So he is home! I was there to greet him when he arrived... so great to have him home ❤️
+ Read More
Update 1
1 month ago
Share
Thank you so much to my friends and family who have donated to San Diego Humane Society-Escondido, the organization who is taking really good care of Louie! I was able to visit him yesterday and it was so wonderful! He was so happy to see me ❤️ And it soothes my soul wring how good he's doing and being able to wrap my arms around him.

Big hugs to all of you from me and Louie!!
+ Read More
Read a Previous Update