Life of Tri: Cally's Surgery Fund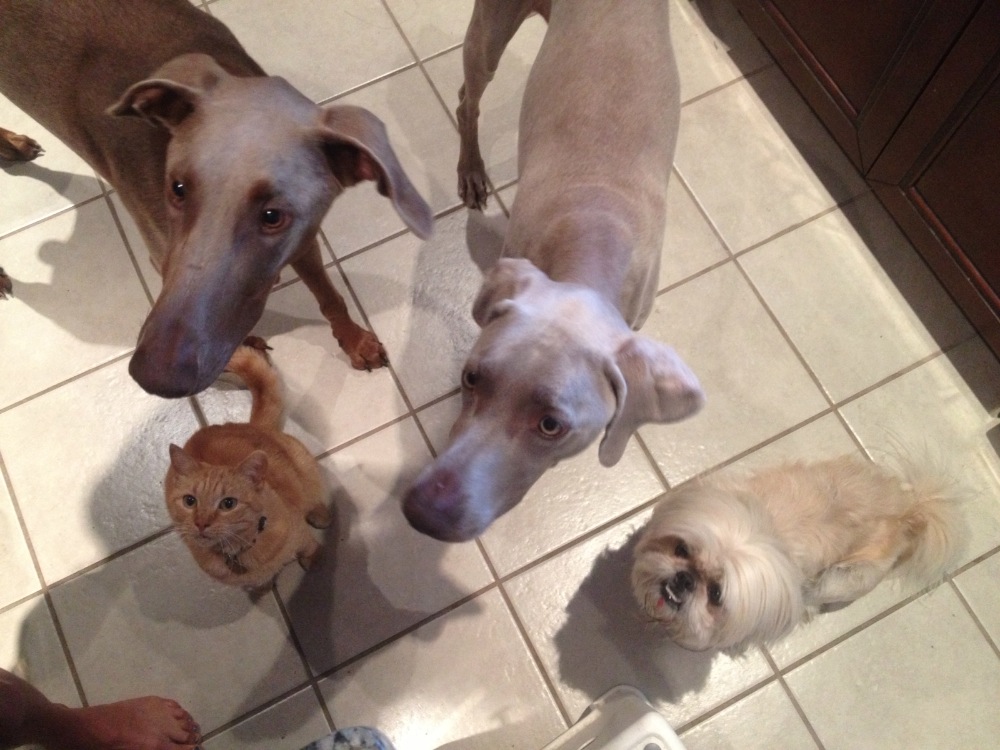 You all may know me as the crazy dog lady, but what you may not know is that my sassy, voluptuous orange tabby, Cally, is the first pet I raised on my own. While I was still a sophomore in college picked up this little nugget from a humane society in Milwaukee. At the time her name was Regina, homage to "Friends" and Phoebe's alter ego Regina Phalange. While I loved the show, she didn't seem like she was the brain doctor type of cat; so I named her Cally. In retrospect, maybe it's because I knew she'd make the journey with me all over the nation multiple times to end up on the sunny sands of California.
Cally has always been my OG sidekick. She'd roll with me in the car, party with college kids, chill with me at the park, and she even ventured into five-foot deep snow during her first Christmas. Her favorite part of the holiday is the Christmas tree. Not only did she discover that they are fun to climb, but also when you do, you get a lot of attention. Cally has witnessed all of my milestones and major decisions. She became a hot Bahama Mama when I became a marine mammal trainer in Miami. In five years at South beach, this beauty learned to speak Spanish from the locals, chased lizards, shimmied up palm trees and shed some of those Cheesehead pounds. When I decided to trek across the country to San Diego she was the ultimate co-pilot, and throughout my multiple cross-country moves to Atlanta and back to Los Angeles she traveled over 8,100 miles by my side (rather on my lap).
She loves the salty shores of Redondo Beach. After a year here, Cally runs the house, grooming Rio nightly, and snaking Kaia's treats while they are still on the counter. She has definitely acclimated to the lazy lifestyle, soaking in the sunny rays on the daily and snuggling at night. Since settling down in the South Bay Cally has also become an adventuresome eight-year-old kitten. I often find her cruising the neighborhood, making friends with the neighbors, and she commonly joins Rio and Kaia on their nightly walks.
That is until now. Last Wednesday I came home after work to find her limping up my driveway to the door. Upon inspection in the light I realized the most horrific sight I had ever seen. Cally's hind leg was completely flattened. Her skin has been stripped of her leg and her bone was dragging along the concrete as she calmly laid down in the house to sleep. I was terrified and in shock, and rushed her to the emergency vet. The doctor concluded that her leg must have been run over by a car, and due to the severity of her injury, she had to have it amputated.
Cally is a trooper. My feisty feline took the surgery in stride, and with the help of some pain meds and crate rest has been making positive strides daily. She's still learning how to navigate with three legs, regain her balance and complete tasks, such as eating, drinking, and using the litter box.
Cally is improving every day but she, and I, need your support. Cally will make a full recovery and will live out the remainder of her long life as a happy tri-pod, but this God-Send has not come without a price. I am so thankful to the doctors and staff that saved Cally's life however I am now indebted to them to the tune of $3500.
I'm not one to ask for help, but Cally has no problem asking for a donation on her behalf. We started this fundraiser to help make a dent in the vet bills. Cally has been a vital part of my family for the last eight years and she has many more to come. If you love Cally's story, or me, or can relate to having a loved one go through something so traumatic, or just feel like donating to a good cause, please consider making a donation to Cally's Surgery Fund. Thank you in advance for your compassion, we appreciate all the love and support tremendously.

Organizer
Lyndsey Nelson 
Organizer
Redondo Beach, CA
#1 fundraising platform

More people start fundraisers on GoFundMe than on any other platform. Learn more

GoFundMe Guarantee

In the rare case something isn't right, we will work with you to determine if misuse occurred. Learn more

Expert advice, 24/7

Contact us with your questions and we'll answer, day or night. Learn more