Sgt Nena's Saber with his family
Sgt Sapuro Nena was remembered as a broad smiling, guitar-playing "heart & soul" of his platoon during his mission in southern Afghanstian. On 16 Sept 2012 he along with 3 other Soldiers were killed when they were ambushed by an insider. Sgt. Sapp as he was known was a native of Kosrae and the only Soldier from his island to be killed in combat. His family still resides on the island of Kosrae. In 2012 I created a memorial to raise awareness for a program that helps support families of the ill/injured. I also wanted to raise awareness for the thoudands of Service Members who were KIA. In Sept 2013 while I had  the boots that honored our Fallen on display, a gentleman from the 14th Cavalry Association  came to see what the boot display was all about. After I explained that people could leave messages or trinkets he told me about a special gift he had for Sgt. Sapp, a saber, he told me that normally this gift is given to the family of the Fallen in the CAV Family. He mentioned that at the time it was to be presented  to his spouse. For whatever reason she didn't take it. They did not have the parents address and he really didn't know what to do with it. He asked if I wanted it for the display I had. I was honored that he would entrust such a beautiful gift to me. I promised that I would try to find Sgt. Sapp's family and when I did I would make sure that I got it back to them where it rightfully belonged. For the past 2yrs I had the saber on display in Hawaii, even though I posted many photos of it no one ever knew Sgt. Sapp or his family. In 2014 I moved to Ft. Hood, Texas and brought the saber with me. As I got the Hero & Remembrance Run established here and set the boot display up again I once again placed the saber on display along side of Sgt. Sapp's boot. Almost immediately after posting pictures on FB I finally got a message that someone's son was Sgt. Sapp best friend and that they knew his family in Kosrae. I was so excited to be that much closer to returning the saber.  By this time I had carried the saber back and forth between Hawaii and TX for two years and as much as I wanted to get the saber to his family I did not want to give it to a stranger. I asked them to have his mom call me so we can make plans to return it. That called never happened for whatever reason.  So I put it away until this year's display. About a month ago I once again was preparing the display and thought about Sgt. Sapp's family. I really wanted to connect with them so we could make plans to return the saber. I asked again on FB for the person who said they knew his family. Immediately I got the response. After a few text messages I finally had a name for his mom. It only took one message and I was connected to his momma. It was a bit surreal after all this time. We exchanged many texts, I sent her the photo of the gift I have for her. She was so happy to have something meant for her family honoring her son. Again I had planned to send it to her but she never gave me her address. That night I dreamt about how this saber was intended to be given. It was meant as an honor to be given in person. Not as an object to go through the mail. I believe that everyone is put in our path for a reason, for me, this gentleman who gave me the saber was in my path because it was meant for me to meet Sgt. Sapp's family. Since my initial text  message meeting his mom and I talked about meeting in person. She was willing to wait to receive this gift until we can meet in person. She knows I have taken care of it all this time and she knows I will until I can bring it to her. Since we "met that day on FB" I have been blessed to actually find out that Sgt Nena has a very large family and lots of friends. Some actually right here at Ft Hood. This year was the last year I had the Saber to display because my goal is to find a way to take it home where it belongs. I have been blessed to meet so many of Sgt. Sapp's family and friends because of this saber. This journey has been amazing not just because I was chosen to carry this but because of what a simple gift has done. It has brought so many people into my life, it has allowed me to share his story with thousands over the years and it will bring his family joy once they receive it. I have been able to share this journey with other Gold Star Families as well and I know they too understand the need to make sure it is given properly in person.
Since it is not a short trip due to limited flights and expensive airfare I've prayed about how to make it happen. It was suggested by friends who have watched what I do throughout the years that they wanted to help me and this GoFundMe would allow them to support the trip.
So I have finally decided to listen to them. I am hoping to be able to make this journey with my husband by the end of the year. I know it will mean a lot to Sgt Nena's father as well to not only meet my husband as the father of a Soldier but to meet him because he is a Soldier, he has been there and they have stories to share. I know his family is anxious to meet us too and to finally have this gift they have just learned about. I am working with his family here locally to coordinate the travel plans and figure everything out since I have never been to Kosrae.
There is also a documentary about Sgt. Nena and his family called "Island Soldier" that is about to be released. I believe that timing is everything, and now is the time. I will be documenting the final leg of this journey as well so everyone can be a part of it.
Thank you in advance for following this journey and helping me get this far already and finding his family.
I am not sure how much everything will cost just saw that just tickets alone  will be about $5000 So I will set my goal at that and I will let the rest happen, somehow it will. So if you are so moved to help in any way I appreciate it. GOD has provided so much for me so far I know he will continue to do so, I am but a messenger and I am blessed to do so.  I am hoping to be able to take it back the 3rd week of Dec if I make my goal. What a Christmas gift that will be for his family.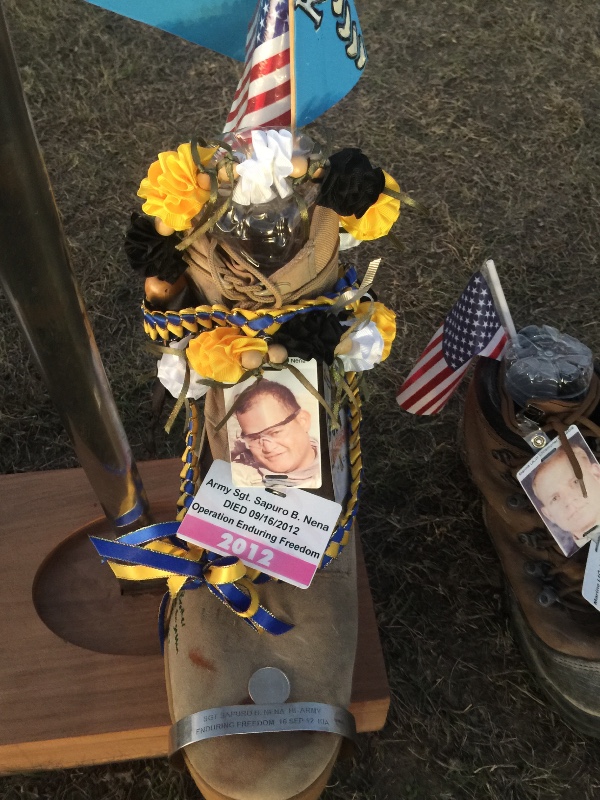 This is the boot and saber. The boot will stay as a constant reminder that we have not forgotten about him and his service that ultimately led to his sacrifice. As you can see he has had many visitors. The Soldier who was his friend and the person he drove for also came to visit and left his memorial bracelet that he has worn for the past few years. I have permanently attached it to the boot as well as the quarter that was left signifiying that the person who left it was with him when he was killed.
Jerrod and Michelle Sneller 
Organizer