Aaron's Spinal Cord Injury Fund
On August 31, Aaron was seriously injured while bicycle racing in the Green Mountain Stage Race in Vermont.  That weekend, which was Labor Day weekend, Aaron and his fiancé Mariel had traveled to Vermont for a couple of reasons in addition to the race – so they could celebrate Mariel's birthday on August 31 (which was the day of Aaron's accident) and so they could stay at their favorite bed and breakfast where Aaron had proposed to Mariel earlier this year.
Anyone who knows Aaron knows how active he is and how important it is to him to compete in sports.  Aaron has competed in about 75 triathlons, ranging from sprint to Ironman distances, with a handful of age group podium spots, several trips to nationals, one to worlds, and 6 Ironman finishes, with a goal of qualifying for the Ironman World Championship in Kona, Hawaii.  Recently, Aaron has focused on bike racing with a Colorado-based cycling team.
Aaron was injured participating in a sport he loves, in a race he loves, in a state he loves.  During the third day of the race, while quickly descending around hairpin turns in Vermont's Green Mountains, Aaron misjudged a turn and crashed off the road into a deep ditch.  He has no memory of the moment of impact, but came to lying on his back in the ditch on his smashed bike, with a severe pain in his neck, a mouth full of blood, and no ability to move his legs.  When first responders arrived, they put Aaron into an ambulance and drove him to a nearby field where a helicopter then transported him to Dartmouth-Hitchcock Hospital in New Hampshire.
Over the next couple hours, Aaron and Mariel learned the extent of his injuries.  Aaron had fractured six vertebrae in his upper and middle spine, as well as a rib and his left shoulder blade, and also had a brachial plexus injury, a collapsed lung, and a hemothorax that required a tube to be inserted into his chest to drain the blood.  He had scrapes and cuts to his face that required stitches inside his mouth and on his upper lip.  Aaron also developed blood clots in his legs and had a filter surgically implanted to prevent the clots from traveling to his lungs.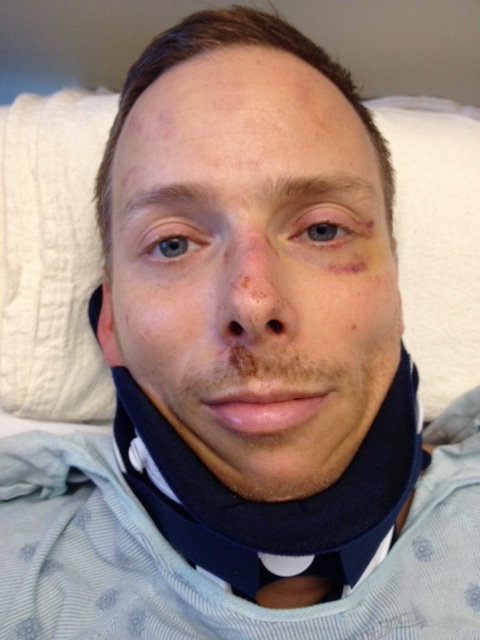 The worst injury was a burst fracture in his thoracic (middle) spine that damaged Aaron's spinal cord so severely that he has been paralyzed from the mid-stomach down since the accident.  Aaron spent ten days in Dartmouth-Hitchcock Hospital in New Hampshire and then moved to Overlook Hospital in New Jersey.  On September 11, Aaron had surgery at Overlook Hospital to stabilize his spine (using Stryker spinal implants).
The next phase in Aaron's recovery began on Monday, September 15, when he entered inpatient rehabilitation at Kessler Institute for Rehabilitation in West Orange, NJ.  He spent 7 weeks there focusing on physical and occupational therapy, as well as learning how to manage paralyzed bowel and bladder functions.  Very basic things that most of us take for granted, but very life-changing and scary things when you have no control over muscles in more than half of your body.
Aaron has made great progress in therapy and was able to finally come home on November 4 – 65 days after the accident.  Besides being in the hospital and in rehab, a lot changed in Aaron's life during that time.  The accident happened less than one month before Aaron and Mariel were to be married.  As a result, they postponed their planned ceremony and celebration, and cancelled their dream honeymoon.  However, Aaron and Mariel were married, as scheduled, on September 27 in a small ceremony at the rehab hospital.
In order for Aaron to be able to come home, modifications had to be made to their house.  A ramp was installed that allows Aaron to wheel himself from the driveway to the door and a sliding door was replaced with one that opens wide enough for him to be able to easily get in and out of the house in his wheelchair.  The bathroom was gutted and completely redone to provide the space and functionality for Aaron to be able to use it in a wheelchair.  
Aaron and Mariel are fortunate to have a wonderful group of friends who have provided help and support since Aaron's accident.  It was these friends who did the work of renovating the house, visited Aaron in the hospital and in rehab, brought Aaron and Mariel home-cooked meals, and who are continuing to help by driving Aaron to outpatient rehab three times per week – and for that, Aaron and Mariel are truly grateful.
Unfortunately, there is much more help that they need.  For Aaron to make a successful recovery and help his intent to get back to participating in cycling and triathlons that he truly loves, Aaron needs to purchase equipment for his home to help with recovery and rehabilitation.  Although Aaron has health insurance that is covering most of his medical expenses, health insurance coverage does not extend to essential medical equipment, home renovations, or rehab equipment that will help him eventually return to athletic training.
Aaron and Mariel have already spent more than $15,000 on supplies for home renovation, and need an additional $60,000 to pay for Aaron's medical equipment that insurance will not cover.  Anyone who knows Aaron knows that he is way too proud, self-sufficient, and independent-minded.  Asking for help is not his habit.  Unfortunately, the harsh reality is that the costs are substantial and Aaron needs help to purchase:
- Shower/commode chair;
- Upgrades and modifications to his wheelchair, beyond the basic wheelchair model covered by insurance, that will give Aaron mobility and independence;
- Stair lift so that Aaron has access to the basement where his exercise equipment will be;
- Therapy mat and platform so Aaron can do exercises to stretch his leg muscles;
- Standing frame that supports Aaron in an upright position and allows him to carry weight through his feet, which has tremendous physiologic benefits;
- STIM bike that uses functional electrical stimulation to nerves to create real contractions in paralyzed muscles to help improve fitness through increased muscle mass and decreased muscle spasms or tightness, and to prevent secondary complications from a sedentary lifestyle;
- Modifications to his car that will enable him to drive.
Aaron and Mariel both truly thank everyone for all of the care, well wishes, and support they've received.  With everyone's help and support, we know that Aaron will be able to get back to living a healthy, active, and happy life.
Joanne Crain (fellow Y lap swimmer) 
Organizer
Aaron Essner 
Organizer
Bloomingdale, NJ
#1 fundraising platform

More people start fundraisers on GoFundMe than on any other platform. Learn more

GoFundMe Guarantee

In the rare case something isn't right, we will work with you to determine if misuse occurred. Learn more

Expert advice, 24/7

Contact us with your questions and we'll answer, day or night. Learn more