Many cat owners say their cat is the best, but I think my girl really is. Meet Hazel:  


Hazel is my 9 year old Maine Coon, and she has the sweetest temperament. Right away, she loves everyone she meets. She loves to be the center of attention at all times, and she loves to play. This cat will accept pets all over her body and has no secret murder button! She sleeps with me every night, and greets me at the door every day. She sits across from me when I eat and we look out the window together. She is my constant companion, and I love this cat with all my heart...she is bae. 



Rather suddenly, a little before the new year, she started coughing. I thought it was a hairball that she was having trouble passing, so I got her some hairball remedy and waited for things to improve. They didn't. She started wheezing and hacking in fits so I rushed her into the emergency vet. The first part of the exam went well enough. I thought she had to have a respiratory infection and that everything would be ok.  Then the x-ray came up. The vet noticed an "abnormality" in her left lung.  Abnormality? What do you mean? They weren't even sure what it was, but prescribed antibiotics and I hoped for the best.  I just wanted Hazel to get better and be more comfortable. It took every cent I had just to get this far.  I was petrified because when a vet throws around words like "mass" and "tumor", the future immediately darkens and your throat tightens. My budget could barely accommodate the occasional words like "food truck for lunch" so how could it handle "your cat has a lung tumor".  I looked at Hazel and my heart shattered into a million tiny pieces.


Hazel went through her course of antibiotics and it seemed like she improved a little?  Maybe? So much of me wanted her to be all better, but the longer I waited the clearer it became that although she wasn't wheezing constantly, the jarring, rattling coughing fits were still ever present.  She needed to go back to the vet and so the second my tax return hit my  bank account she went into my local vet for a follow up.


The mass in her lung was now the size of her heart and well defined.  The local vet recommended a specialist to see if anything could be done.  My spirits were in free fall.  I wondered if this would be the end?  My stomach lurched just thinking about it. Wearily, I called one of the most highly rated cat specialists in my area, Exclusively Cats.  They got me in on a cancellation in a few days.  I couldn't sleep, sick with anxiety as I watched my cat, the sidekick of my young adult days, get sicker and suffer. 


The day you find out your child or pet is really sick is a day I wish upon no person. The heartbreak and feeling of helplessness can be overwhelming especially when you compound with it the guilt and worry that comes with financial hardship.  How do you face the notion that something you care for so deeply could perish because of your inability to pay? Forced to weigh the health and well being of your loved one against the thickness of your wallet, you are wracked with guilt because medical decisions now have to be made by your finances instead of professionals.


I took her to the vet today (02/13/18).  They have shined the biggest ray of hope onto my situation.  The tumor in her lung has not metastasized and is located in one spot.  If she were to have surgery to remove the tumor her prognosis would be very good.  We are starting another course of antibiotics which is more specific to her condition and to fend off secondary infections and in 1 week (02/21/18) I take her in for one last scan and we schedule surgery. They will remove the tumor in her lungs and monitor her while she recovers and starts breathing on her own again. I am supremely confident in the abilities of the veterinary team at Exclusively Cats and I know they will give her the best shot she could possibly have at fighting and surviving this. 


This is where I have to ask for help.  I will move the heavens and earth to get Hazel better.  I do not have all the money for her surgery which is estimated between 3,000 and 4,000 dollars.  I am pouring every cent of non-essential money I have into this.  Every bit of help you can give would be appreciated more than I could ever express.  We will need all the funds as soon as possible because time is critical. Each passing day, the tumor can grow.  We will be scheduling her surgery as soon as possible after her follow up visit, so I am estimating that we will need funding within the next 2-3 weeks. I am so sorry for the short notice but it cannot be helped.

In addition, if any of the funds exceed the cost of surgery, I will be donating them to a charitable fund that helps other families in need with vet costs for their pets. (I am working with the vet's office to pick the most suitable one and will update when I know which charity any overflow will go to)

It takes a village guys...this cat is my life.  Thanks for taking the time to read and consider her story.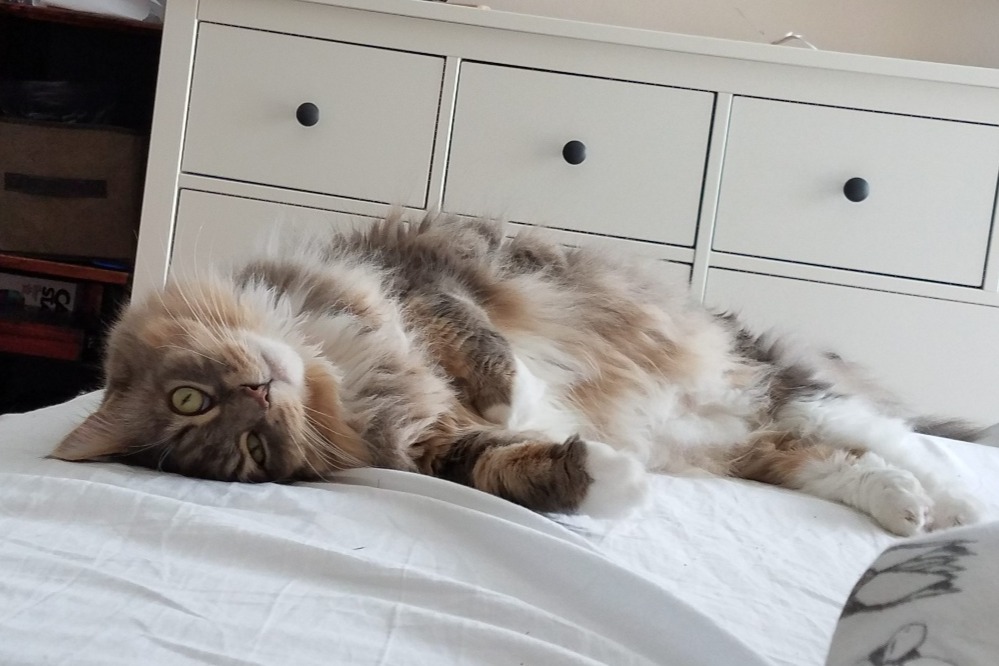 Organizer