R. Kekuni Blaisdell Hawaiian National Archive
::OUR PROJECT::
The Richard Kekuni Blaisdell Hawaiian National Archive (HNA) is a public access community archive project launched in 2018 by Ka Lei Maile Aliʻi (KLMA), an organization originally chartered as a Hawaiian Civic Club in 2003 to honor the life and legacy of the Hawaiian Kingdom's last reigning monarch, Queen Liliʻuokalani.
KLMA is well-known for its (aloha) ʻāina-based popular education and historical dramas, including "Ka Lei Maile Aliʻi – The Queen's Women," written by the late Helen Edyth "Didi" Lee Kwai. Our 20 years of activism and organizing have influenced public discourse both inside and outside of Hawaiʻi on Hawaiian history, cultural activism, de-militarization, and solidarity among global peace and justice movements.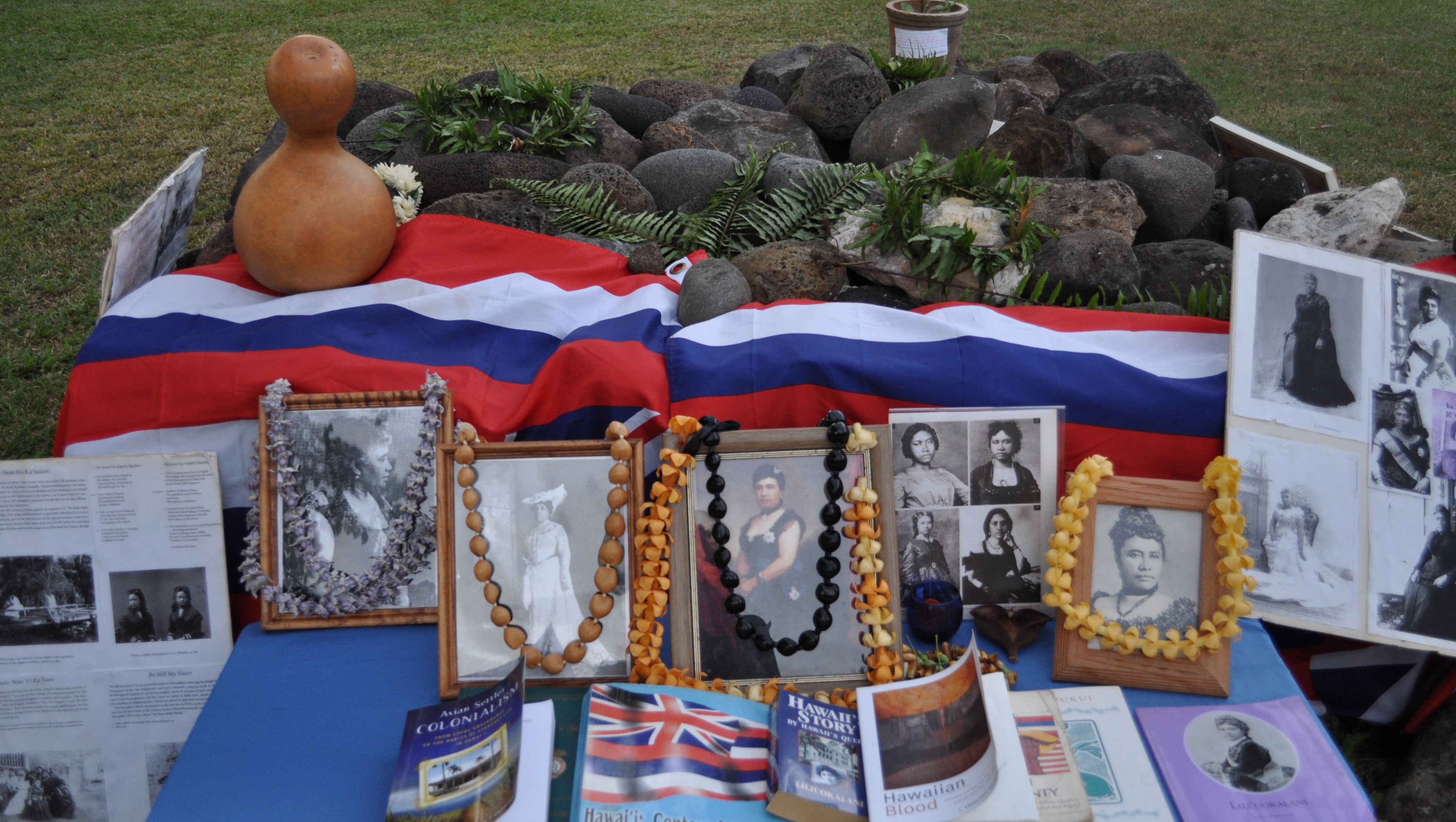 The Hawaiian National Archive is a legacy project we envision as a coalition-building platform to raise Hawaiian national consciousness, help us claim our kuleana within history, and serve as a living guide for community work toward a just and pono future.
The HNA is named in honor of the late Dr. Richard Kekuni Blaisdell, the donor of the founding collection and founding member of KLMA. Referred to by many as the "father of the Hawaiian sovereignty movement," his personal papers hold a breadth of experiential knowledge and guidance that he envisioned in the hands of community. Additional collections in the care of the HNA each carry the name of their respective donor, including Fred Dodge, Tony Castanha, Raymond Arancon, Mahealani Cypher, Elinor Langor, and Lynette Cruz.
The Richard Kekuni Blaisdell Hawaiian National Archive is dedicated to collecting, stewarding, and sharing the contemporary genealogy of Hawaiian national identity, ʻŌiwi activism, and its connections to other global social justice movements. It is a people's archive of the struggle — of Hawaiians and their allies, inspired by the example of the Queen, engaged in peace work and challenging the system in whatever ways they can.
The collections in the care of the HNA include a variety of sovereignty ephemera from contemporary history, including newspapers, flyers, photos, letters, banners, signs, t-shirts, and other grassroots organizing documents.
::OUR GOALS::
Digitizing is already underway for this growing collection of more than 200 boxes of materials donated by kūpuna activists, both living and passed. Creating an online database will make a people's history of political and cultural resistance in Hawaiʻi more accessible, especially to Hawaiians living abroad.
We are now raising funds to increase capacity, expedite digitization, and accelerate programming this Summer.
This July, we plan to launch community access to the first of these digitized files: totaling 2,000+ folders of materials, in addition to dozens of books, cassette tape interviews, and DVD recordings on various topics in Hawaiian history and aloha ʻāina struggle.
With your support, we will be able to complete this digitization process and launch regular community programming and volunteer opportunities, as well as refine and expand the archive database as collections grow.
Adopt a box today!
By July 31, Lā Hoʻihoʻi Ea (Sovereignty Restoration Day), we plan to raise at least $10,000 to cover costs for the following:
Climate-controlled storage space rental ($300/mo x 6 mo)
Digital infrastructure (SSD drives, domain hosting, cloud storage service, etc.) ($500)
Project Director stipend (project execution, coordination, and management) ($6,000)
Archival processing materials (storage boxes, acid-free folders, etc.) ($1,000)
Heavy-duty storage shelving units ($100/ea x 5)
Misc. expenses (community events, outreach, etc.) ($250)
Fundraising transaction fees (3%)
Join us in the Hawaiian National Archive project and help us reach our goal in celebration of the 180th anniversary of Lā Hoʻihoʻi Ea!