Help! Hattie Gossett's Home Burned
hattie gossett—poet, warrior woman, mother of spoken word, Harlem diva—lost her NYC apartment to a fire. So we're calling on all lovers of poetry, revolution, laughter, music, performance, community, Black women's voices, and Black women's power to help raise desperately needed funds for our sister hattie in her time of need.
What Happened
In January, hattie returned from running errands to a seven-alarm blaze enveloping the Riverside Drive building she has called home for over 50 years. Yes, she's lived there for 50 years (more about that later)!! The fire started on the second floor and traveled through all six floors to the roof. Sadly, more than 15 people were injured and over 100 families displaced.
The good news is that hattie is safe and unharmed. The Spirit of Black Arts miraculously protected her work and archives---her apartment suffered minimal damage. Nonetheless, the building has extensive damage and is uninhabitable for at least a year.
What Hattie Needs
Please help us reach our goal of $50,000 for housing until her apartment is ready for occupancy; crating, boxing, and storing belongings during renovations; medical bills; and clothes and other living expenses
Because hattie has lived in her apartment since 1968, she is in no way prepared to pay 2018 NYC housing prices. Good friends in the community provided free temporary shelter for the first few weeks. She is now in a temporary rooming situation that requires her to pay more than she can afford, and she needs to find a better living situation. Our fundraising goal for housing and related expenses for the year is $30,000.
Tenants will be allowed to re-enter the building to attend to belongings, but it is unclear how soon that will be. Hattie will need to crate things that will stay in the apartment during renovations and pack and store belongings she will need to access over the next year.
Before the fire, hattie was diagnosed with glaucoma (related to her diabetes). She was prepared to schedule cataract surgery that this upheaval has delayed. She does need to go ahead and will need funds to cover her co-pays.
Hattie was allowed back in for one hour (literally) to grab a few things right after, but is in dire need of funds to purchase clothes and other personal items right away.
Why it Matters (besides the obvious)
Hattie is a generous, powerful, feminist foremother whose artistic work over the decades cuts across multiple audiences and disciplines.
barbara smith, audre lorde, cherríe moraga, and hattie
photo credit: Joan E. Biren (c) JEB
For the 2017-2018 season, The Alvin Ailey American Dance Theater re-staged Shelter, which included hattie's poem on homelessness, "Between a Rock and a Hard Place at the Intersection of Reduced Resources and Reverberating Rage." Choreographed by Jawole Willa Jo Zollar and originally performed by Urban Bush Women in the late 1980s, AAADT first performed it in 1992. Here is a clip of a recent performance that features hattie's words read by the incomparable Carl Hancock Rux.
I also want to take a moment to talk about what hattie has meant to me personally. She is one of the soul sisters who shaped my understanding and helped me navigate the New York (and East Coast) political performance landscape during the 1980s, 1990s, and 2000s. She is a dear friend, and I value the mid-20th century foundation of her afro-futuristic sight. AND she is one of the Dora Milaje warriors who re-captured my stolen 1960s Gibson guitar in a sting operation fit for the big screen! Hattie is our bad-ass warrior-woman-poet sister, cousin, mother, auntie, grandmother.
For decades, the profound artistic critiques of this award-winning poet have given our world light and sanity in dark and crazy times. Now it's time for us to spread light and sanity to her.
Please give what you can. No amount is too small. Really. No amount is too large.
Donations $100.00 and over are tax-deductible!
Per hattie's direction, all funds collected here will be managed by Peter Hale, Committee on Poetry, Inc. who distributes them to her directly.
Help spread the word. It makes a difference! Please share this link with your community.
Significant tax-deductible donations (over $2500) can be made payable to:
Committee on Poetry, Inc.
PO Box 582
New York, NY 10009
212-358-9534
Attn: Peter Hale
Please write "hattie gossett fund" in the check memo
The Committee on Poetry, Inc (501-C3) is a wonderful organization that is helping by receiving these funds for hattie.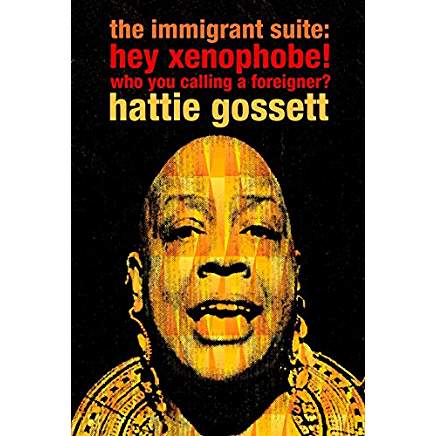 More about hattie
Reviews & Criticism
· New York Times: "hauntingly poetic."
· Village Voice: "diva deluxe .... intellectual godmother of rap artists."
· Essence: "sassy, ironic, hilarious, profound observations of urban life."
· Publishers Weekly: "a collection of considerable potency and authority."
· Art Forum: "like albert camus she faces the clash of cultures with a hardwon laugh; like billie holiday she taps into the vitality of the blues as a survival mechanism."
· New York Voice: "never a dull moment."
· Outweek "tight and polished."
· Amazon.com "Hattie Gossett has tempered what could be considered a bellicose insanity with biting creativity to arrive at this collection of sharp critiques on the world she inhabits. She understands and resents being "a female wage slave who has had a lifetime of mostly thankless jobs and who wants out of the rat race while she still has enough creativity left to breathe life into the projects she has been dreaming."
Awards
· David Randolph Distinguished Artist-In-Residence at The New School University.
· Ms. Foundation Award.
· Yip Harburg Fellowship at NYU
· New York Foundation for the Arts Fiction Fellowship.
· J.T. Stewart Residency Award, Hedgebrook.
· Jerome Foundation.
· N.Y.C. Department of Cultural Affairs.
· N.Y. State Council on The Arts.
· Lower Manhattan Cultural Council.
WITH GRATITUDE!
Organizer and beneficiary
Judith Casselberry
Organizer
Brunswick, ME
Hattie Gossett care of Committee on Poetry
Beneficiary