Building a Home for the Ethical Egg
----- Update: We are over-joyed with the support and feedback that we have received! We are expanding the project to have more hens, a fully-new floor, and, possibly, a second chicken-run for the hens to really spread out in. Woohoo!-----
--------------------------------------------------------------------
In this day of mass farming, where millions of chickens are mistreated for the almighty egg production market -- you will be doing your part to humanely supply cage-free, well-loved chickens with a compassionate (they will get hugged daily!) and peaceful home in order to provide people with the ultimate ethical egg. Not only will they be cage-free, they will be outdoors (free-range) during the day. 
How/when the money will be spent:
 Your contribution, no matter how small, is sooooo very appreciated. We need to rejuvenate this old coop with a sealed floor to keep foxes out, a new outdoor run to keep the hens in, and nesting, water, and food stations. We also need to purchase beautiful Road-Island Red Laying Hens. My family and I will put in all the construction hours for free, and document the process in photos/video for you.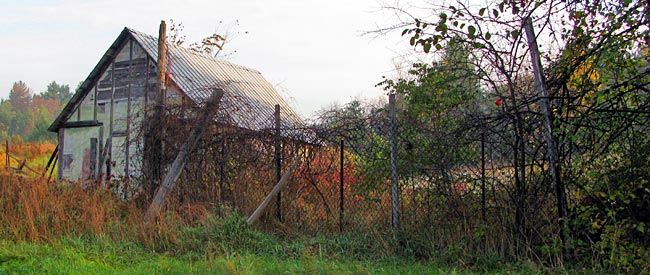 We have already started the work, and have done what we can while the weather was favourable. We will work on the project again in Spring, with the goal of having things ready for the hens next Summer. Donors have a choice of these benefactor categories:
*****
The Kindness Poacher
: Every penny counts -- donate any amount from $1-$24, as your pocket book allows.
Reward:
inner peace knowing that you did your part to make sure that hens are living a full, fresh-air and active life.
*****
The Sunny-side-up Eggs Benny-factor
:  Donate $25. 
Rewards
: as above, PLUS a hen named in your honour, and a photo of 'your' hen.
*****
The Double-yolker Supporter
: Donate $50. 
Rewards
: everything as above, PLUS you will receive a dozen of the first eggs produced (either as pickled or fresh - depending on how far away you are!)
*****
The Egg'cellent Philanthropist
: Donate $100. 
Rewards
: everything as above, PLUS your hen's footprint/name immortalized in the cement walk-way of fame!
***** Got another category in mind? Send us a message to propose something!

A little back-story on the farm where the coop is:
 The farm is a nearly-300-acre, 1860 property on the edge of the Ottawa Valley,  in the farmlands of Perth, Ontario, Canada. Following the death of my father a decade ago, my mother decided to open a B&B as a way to stay there. Sadly, this venture failed and lead to a situation where my mom was at risk of losing the farm. We (me, my hubby, and family) have stepped in to help, and have come to an agreement with bank and township to get the property back on its feet. We are slowly turning it around but everything takes time and elbow grease. Having grown up on this farm in the 1970s, I am not afraid of hard work — it's the raising of money that is the hard part.
We're committed. We're 2.5 years in and are well on our way to becoming part of the local studio tours, turning it from a 'retired' farm to a small mixed-farm with laying hens and market gardens, protecting the forests and ponds as wildlife sanctuaries, and developing art installations along paths throughout the acreage. I would be happy to keep you updated and send you an invitation to future events. If you are not yet on my e-mailing list, I hope you will
subscribe here
.
♥ ♥ ♥ Thank you so much, from the bottom of my heart. I'm honouring my father who bought this property in the early 70s so that he and his family could live close to nature, and ethically treat the farm animals that we rely on. I am working to keep that dream alive. Humble gratitude for your integral and heart-warming part in it. ♥ ♥ ♥
Become the first supporter
Your donation matters
See all
Organizer
Choleena DiTullio
Organizer
Perth, ON