Sanctuary for South Side Chicago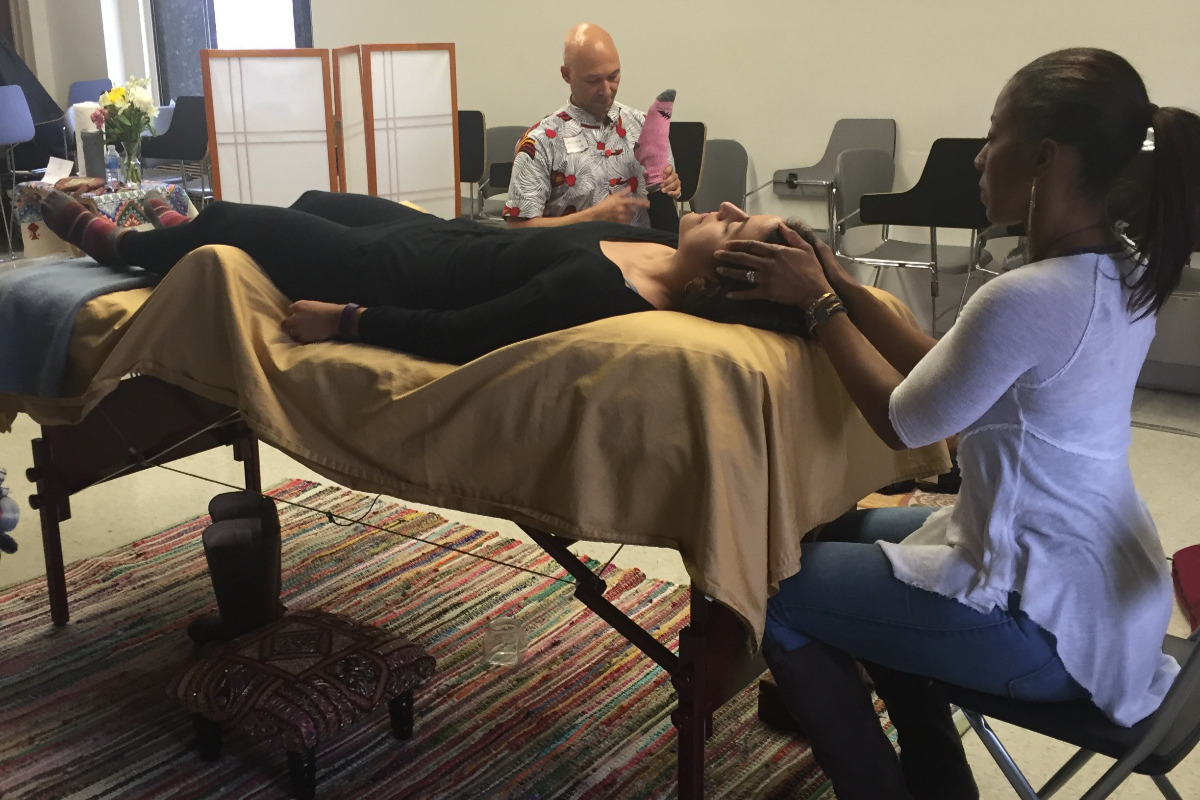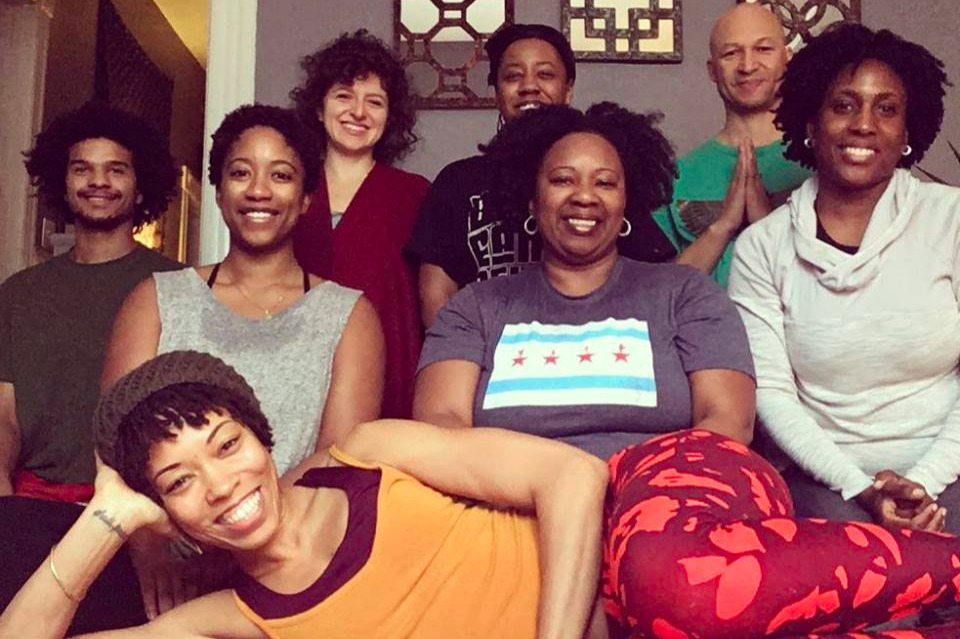 Through illness, surgery and recovery, I learned A LOT about healing. I learned that
education
,
self-advocacy
and
supportive community
are of paramount importance to anyone on a healing path. My own healing journey (which I am still traveling), taught me to slow down, rest and ALLOW others to contribute to my well-being. The love and support I received during the most challenging time of my life, inspired me to provide the same for others. I became intrigued (and kind of obsessed) with the idea of a
communal healing space
that could offer people support through a health crisis, as welll as provide tools needed for building what I call a
"healing lifestyle."
In 2015, nearly one year after my surgery,
HAJI HEALING SALON
came into being. What began as a support group for women with fibroids, quickly grew into a supportive space where ANYONE could access low-cost yoga, acupuncture and bodywork. For the first two years, I operated in pop-up mode, creating programs, classes and events in both Chicago Illinois and Oakland California. In October of 2016, I returned to
Chicago
and to the
south side
of the city (where I was born and raised), to live and work full-time, on the realization of the now very clear vision, for Haji Healing Salon.
Today Haji Healing Salon (L3C) has grown into a
vibrant social-wellness enterprise
that makes yoga and meditation, community acupuncture, bodywork and healing lifestyle education, affordable and accessible on the south side of Chicago.
We engage local teachers and healing-practitioners, who have a vested interest in
our access
,
our healing
and
our community's ability to THRIVE
; to activate the space with their inspired healing arts. Each of our practitioners are licensed, professionals, who have provided hundreds of people with healing services through this enterprise.
Within the past year, we provided
over 500 people
with low-cost community acupuncture. Many of these people were new to the practice and inspired by accessibility, warmth and the comfort of our spaces. Many appreciate being treated close to home, by practitioners who look like them.
>>>>>>>>>>>>>>>>VISUALIZE WITH ME NOW:
Imagine you have made an appointment for your first acupuncture treatment at Haji Healing Salon. You observe the bustling, urban energy of 79th street and notice how completely it falls away, upon entering the Salon. You are immediately greeted by the steam-diffused scent of lavender and lemongrass wafting through the air. It instantly inspires you to exhale. Ahhh... your shoulders drop as a little tension melts away. You hear the sound of African Kora music and as you look around, you notice the tall shelves lining the walls, hold giant mason jars, filled with medicinal herbs. While a few people speak with the resident herbalist, you are welcomed by your hostess, who offers you a cup of hot tea. You are invited into the community healing space, where you observe a room full of people, resting comfortably -with needles- in reclining chairs. Many are sound asleep and all are covered with blankets. As you look further into the space, you see massage tables with people silently receiving Reiki Energy Healing.  At the back of the room you notice movement near the floor and you focus in to see two practitioners are providing two more clients with Thai bodywork! Every inch of the room is active with some sort of healing service. There is a quiet, reverent energy within this space.  You are shown to the consultation area and introduced to your practitioner. After a ten minute consultation, you are directed to choose your chair and invited to recline. The acupuncturist guides you through the insertion of the first few points and soon you feel safe enough to close your eyes. You fall into a meditative state that leads to sleep. Forty-five minutes seem to go by quickly and you are awakened by a gentle touch. It's time to remove the needles. Your treatment was painless and pleasant. You feel remarkably refreshed! You rise and return to the lounge area, ready to go on with your day. Before you leave you make another appointment, excited to return soon.
>>>>>>>>>>>>>>>>>>>>>>>>>>>>>>>>>>>>>>
The move to our first brick + mortar home at 746 E 79th Street, in the historic Chatham neighborhood this Spring,
will make this visualization an every day reality! Our
unique community healing model
invites families and friends to
heal together
. At Haji Healing Salon,
we remove the walls
,
the pretense
and the barriers to these vital wellness practices.
In addition to lower cost and the comfort of shared experience, a communal healing space allows everyone to benefit from the
nexus of healing energy
, created by the collective. There is a mystical feeling that is palpable in our spaces. It inspires a kind of awe and reverence, that further contributes to the sacred container.
This fundraiser supports the remodel of our 1600sq ft space.
Included in the remodel are
upgrades to the HVAC system (8K), expansion of the bathroom to accommodate people with disabilities + plumbing upgrade (5k), drop ceiling removal and repair (5k) and retail (herbal apothecary) build-out (5k)
. Any amount over our goal will support our first year start-up expenses. Every inch of our new space will be used to
add value
,
inspire hope
and
provide vital healing services for our community.
Your
donation of ANY AMOUNT
, supports south side Chicago's
ACCESS
to classes and treatments proven to
assist in trauma recovery, easing physical + emotional pain and improving overall health
. Haji Healing Salon wants to
support ALL of us in feeling LESS PAIN and MORE JOY!
It's time to heal south side Chicago.
There are multiple ways you can support our mission:
Make a monetary donation, here or at www.hajihealingsalon.com
Visit us for regular classes and treatments
SPREAD THE WORD! (share our posts, invite folk to our events, tell your friends)
THANK YOU for reading and supporting.
Organizer
Aya-Nikole Cook
Organizer
Chicago, IL