Callicoon is a lovely little hamlet in Sullivan County, a swing county in the Catskill mountains in New York state, center of the old Borscht Belt, 12 miles from the field in Bethel, NY where the Woodstock music festival took place 49 years ago. This is a small cultural project scheduled for October 6 in conjunction with the annual Callicoon Art Walk. We have invited a small group of artists to create temporary architectural pavilions, geodesic domes,  avant-garde performances, clouds of pink smoke, and building-scale video projections. Think of it as a small experiment of cultural exchange with a community in rural New York that thinks beyond the present crises and imagines a less fraught future.  


Activating Callicoon: Algorithmic Landscapes of the Western Catskills


Activating Callicoon: Algorithmic Landscapes of the Western Catskills invites a group of artists to explore the relationship between landscape and technology through temporary pavilions, performances, actions, projections, and new media. The artists, including Aaron Burr Society, Institute for Aesthetic Modulation, Dylan Gauthier, G.H. Hovagimyan, Alva Mooses and Mauricio Cortes, Matthew Mottel, Matthias Neumann, Natalia Roumelioti, Raphaele Shirley, and Adrianne Wortzel, use stones, circuits, seeds, lumber, water, fire, recycled plastics, chemical reactions, and digital imagery as materials and subjects. Activating Callicoon is curated by architecture critic Stephen Zacks with support from the non-profit Amplifier Inc., which connects under-served groups and smaller cities with the global art and design field.
http://amplifycities.org
Photo credit: Adrianne Wortzel, Ex Situ Conservation: Colony Relocation for Electronic Detritus
Performances


Aaron Burr Society
Whiskey Rebellion Distillery
Western Hotel, Noon – 4 pm
Aaron Burr Society is a project of Jim Costanzo, a New York-based artist and founding member of REPOhistory, an artist collective that makes site-specific public artwork based on issues of race, gender, class and sexuality. He teaches at Pratt Institute, Parsons School of Design and the International Center of Photography.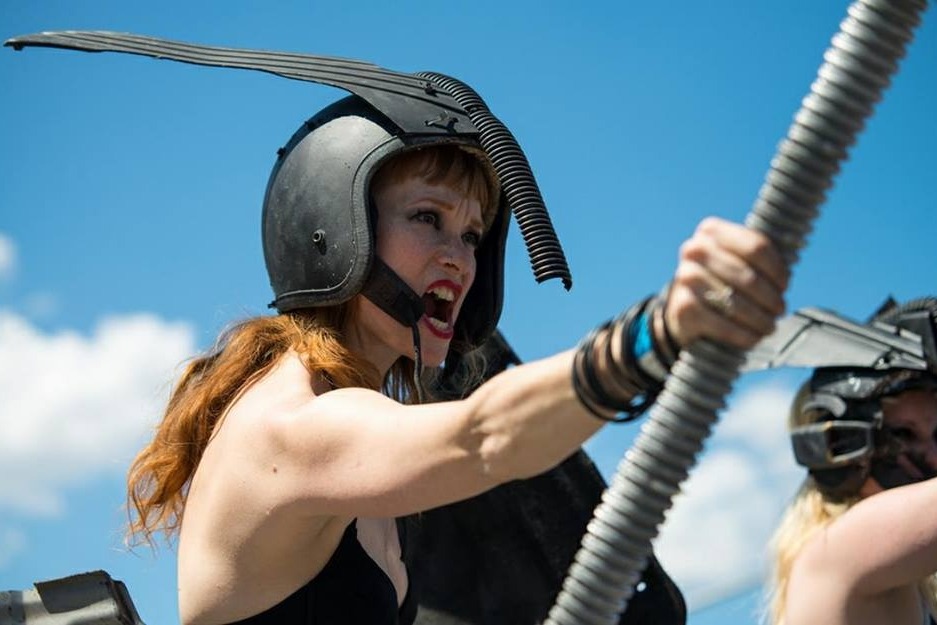 Institute for Aesthetic Modulation
Self-Drowning Tumescent Cone Monster
Callicoon Depot, 4 pm
Dan Green/ Institute for Aesthetic Modulation produces work that is sculpture and performance at the same time. He manipulates keyboards and phone cords and crab shells into costumes that are easily anthropomorphized.
Natalia Roumelioti
Your On - Intersection
Callicoon Creek Park, 5 pm
Natalia Roumelioti is a designer with a background in architecture and founder of ntilit, a project-based design studio dedicated to the creation of wearable sculptures and mixed-media installations aiming to untangle constructed norms around preconceptions of the interrelation between the body and space.
Raphaele Shirley
100 Pink Smoke Flares
Upper Main Street, 6 pm
Raphaele Shirley is a French-American multi-media artist based in New York City whose work ranges from light art, sound, public art, social interventions, collaborative works and performance. 100 Pink Smoke Flares is part of a series of ephemeral outdoor installations consisting of 100 smoke flares lit simultaneously. The flares build a wall of color that temporarily masks the landscape behind it, marking the appearance and disappearance of natural and urban settings as they are affected my man's hand and societal changes. Through this series, Shirley reflects on landscapes in distress and sites of change, nature's beauty and timelessness, as well as underlining the state of emergency in the Anthropocene age.
Adrianne Wortzel
Algorithmic Landscape
Coal Silos, 7 pm
Adrianne Wortzel creates unique and innovative interactive web works, robotic and telerobotic installations, performance productions, videos and writings. These works explore historical and cultural perspectives by coupling fact and fiction via use of new technologies in both physical and virtual networked environments.
Installations

Dylan Gauthier
Observatory II (trust structure)
Callicoon Depot
Dylan Gauthier is an artist, curator, designer and educator whose practice investigates relationships between ecology, architecture, landscape, pedagogy, collaboration, and social change.
G.H. Hovagimyan
Sound piece
30 Main St. Alley
G.H. Hovagimyan is an experimental artist and an internet and new media pioneer whose work ranges from hypertext to digital performance art, interactive installations, and video.
Matthew Mottel
Geodesic Dome
Callicoon Depot
Matthew Mottel is an artist, performer and writer. Matthew researches political and cultural histories to ameliorate the relationships between archival historical documents and their contemporary context. These investigations often are in the form of sculpture, intermedia art installation and performance; creating unique environments for archival media to exist within. 
Alva Mooses
Arcaduz
Callicoon Depot
Alva Mooses explores the intersections of printmaking, photography, and sculpture. Recent works reflect on histories of colonialism in the Americas that have reshaped landscapes, transformed religious idols, and co-opted forms of traditional craft production.
Matthias Neumann
basics (Pavilion)
Callicoon Creek Park
Matthias Neumann builds temporary pavilions using uncut 2x4s, assembled on site based on his own 3D models, resulting in functional objects situated strategically and interacting formally with their environment. Neumann is an architect and founder of normaldesign, an interdisciplinary art, architecture and design practice.

Fundraising team: Amplify Cities (2)
Stephen Zacks
Organizer
Raised $1,375 from 7 donations
Brooklyn, NY

Registered nonprofit
Donations are typically 100% tax deductible in the US.
matthias neumann
Team member