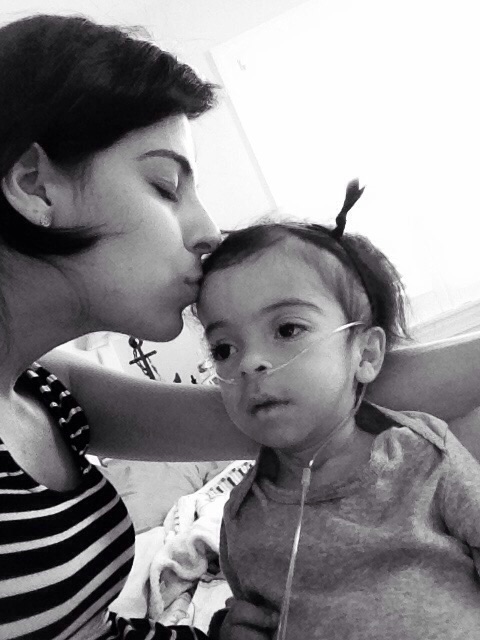 On April 8th, 2013 we were given a gift from God with the birth of our beautiful baby girl Lorena. The joy we had was immeasurable, but over the course of the next six weeks, we found out that she was infected with a virus called CMV (cytomegalovirus). She was given immediate treatment which seemed to be effective. Over the course of the next few months, it was clear that she was not developing normally. The search for answers led us back and forth to the hospital many times to find what was happening with our little girl. She was eventually hospitalized for nine grueling days of exams, monitoring, and testing which led to her diagnosis of GM1 (Gangliosidosis) a genetically acquired disease that progressively destroys nerve cells in the brain and spinal cord. This led to her loss in vision, inflammation of her liver, heart, and spleen, and weakness of muscles. Doctors gave her only 24 months or less to live because there is no cure or treatment for the disease she suffers from, only support and comfort from her loved ones. There is so much courage in Lorena and every morning when she opens her eyes, we consider it a miracle from God, and every battle our little fighter wins encourages us to not give up and reassures us that we are doing what is right for her. Our little Lorena has already overcome so much and she continues to fight, so we continue to fight for her. The last 3 months, she underwent a drastic decline in her condition due to an allergic reaction to a medication that was administered to her. Due to this reaction, she now suffers respiratory stoppages and only through a mini VTI setup in our home are we able to resuscitate her. During a recent respiratory attack, I (Mirella, Lorena's mother) had an accident that caused displacement of my hips which has resulted in me being bedridden at 39 weeks pregnant. I am now unable to assist Diego (Lorena's father) who has stopped working in order to be with Lorena and has devoted his life to providing comfort and lifesaving acts daily. Lorena has a weakened immune system resulting in her inability to stay at a hospital, so she must receive medical care at home. She has recently developed apnea which is causing her brain to stop communicating with her lungs which stops her breathing. Diego is the only one who can save her when this happens, and it happens frequently. We are very thankful for the rescuers who have helped us, but their resources are limited compared to what Lorena's needs are. We feel it is important to share Lorena's story, struggles, and courage over the past year and 7 months. Our family has been through a lot and still have a long way to go, and we need help. Neither of us is able to work, and we need help financially to assist with the cost of rent, food, medicine, etc. in addition to the new addition to our family, José Augosto. I want to thank everyone for all of the support we have received so far and continue to stand by us in this fragile moment with some immediate relief.
TRADUÇÃO EM PORTUGUÊS
No dia 08 de abril de 2013, fomos agraciados com um presente de Deus, o nascimento de nossa filha Lorena, uma alegria imensurável.
Mas com o passar de seis semanas, descobrimos que nossa pequena filha contraiu um vírus chamado, "CMV" (citomegalovirus), mesmo recebendo tratamento imediato e sendo curada o vírus deixou sequelas em seu corpo.
Os meses foram passando e notamos que seu desenvolvimento nao decorria normalmente como deveria, iniciando assim uma jornada cansativa e frustrante de idas e vindas aos hospitais buscando respostas para o que estava acontecendo com a nossa pequena princesa.
Ela ficou internada durante torturantes 9 dias, foram vários exames  com resultados desanimadores, ela foi diagnosticada com "GM1" "gangliosidosis" uma doença geneticamente adquirida, a qual causa várias deficiencias nas células.
A Lorena hoje nao tem visao, a proteçao de seus neuronios é fraca e nao mandam comando perfeitamente, seu fígado, coraçao e baço sao inchados, ela nao consegue ter  firmeza em seus musculos, precisando assim passar a maior parte do tempo em nossos braços para proporcionar uma boa respiraçao.
Os médicos deram a ela apenas 24 meses de vida ou menos, pois infelizmente essa doença nao tem cura ou tratamento, apenas contamos com um suporte conforme suas condiçoes forem se agravando.
Apos seu diagnostico travamos uma luta diaria, tem sido um desafio permanente mas recebemos como um milagre constante, pois enxergamos o agir de Deus em cada batalha vencida por essa pequena guerreira. A cada manha quando seus olhinhos se abrem, para nós os pais é um incentivo, pois sabemos assim que estamos fazendo o que é certo para mante-la bem, mesmo quando tudo parece desfavorável, Deus nos permite testificarmos a fé.
Nossa pequena Lorena superou muitas coisas das quais ja a poderiam te-la levado, por isso nos mantemos firmes e dedicados em lhe proporcionar o melhor, só que a 3 meses ela sofreu uma drástica mudanca em seu quadro clínico, devido a uma reaçao alérgica de um medicamento que lhe fora ministrado, ela sofreu uma parada respiratória e depois disso desenvolveu um quadro de paradas respiratórias que somente através de uma mini UTI montada em nossa casa é que conseguimos reanima-la, sua condiçao é muito delicada, e devido sua imunidade baixa ela nao pode ficar hospitalizada, no entanto  mantemos no ambiente familiar lhe proporcionando conforto e estabilidade ela recebe acompanhamento médico domiciliar e recentemente relatamos a doutora Miller que notamos algo diferente nas crises respiratórias da Lorena, e a doutora pode constatar que a Lorena desenvolvera APNEIA (o cérebro para de emitir comando para o pulmao e ela para de respirar).Suas crises vem aumentando em gravidade e quantidade por dia chegando em algumas vezes sofrer 7 paradas respiratórias por dia, em uma dessas crises na tentativa de reanima-la, eu, Mirella, máe da Lorena, sofri uma acidente ocasionando o deslocamento do meu quadril,estou grávida com 39 semanas de gestacao, tenho que permanecer deitada a maior parte do tempo pois a dor é muito, nao posso ajudar meu marido Diego nas atividades necessárias a nossa filha, com isso Diego precisou parar de trabalhar para se dedicar integralmente a nós.
Em todas as vezes é o Diego quem a salva, pois náo tem hora certa para acontecer, somos gratos a equipe de resgate, que tem nos ajudado constantemente, mas seus recursos sáo limitados a nossa real necessidade no momento.
Faço esse breve relato do que tem sido para nós esse 1 ano e 7 meses, no intuito de tornar público nossa realidade e as verdadeiras condiçoes de nossa filha e que através deste Post, consigamos alcancar e mobilizar pessoas solidárias que possam nos ajudar financeiramente com qualquer quantia, pois temos aluguel, alimentaçao, medicamentos e a chegada do  José Augusto, nosso bebe . 
Agradeço desde já a cada um que se sentir solidário a nós, a nossa história, agradecer a Deus pela  vida de vocês, que nos proporcionam num momento frágil, um alivio imediato.
Mirella Mendes
Become the first supporter
Your donation matters
Organizer
Nelly Peters
Organizer
Edgartown, MA