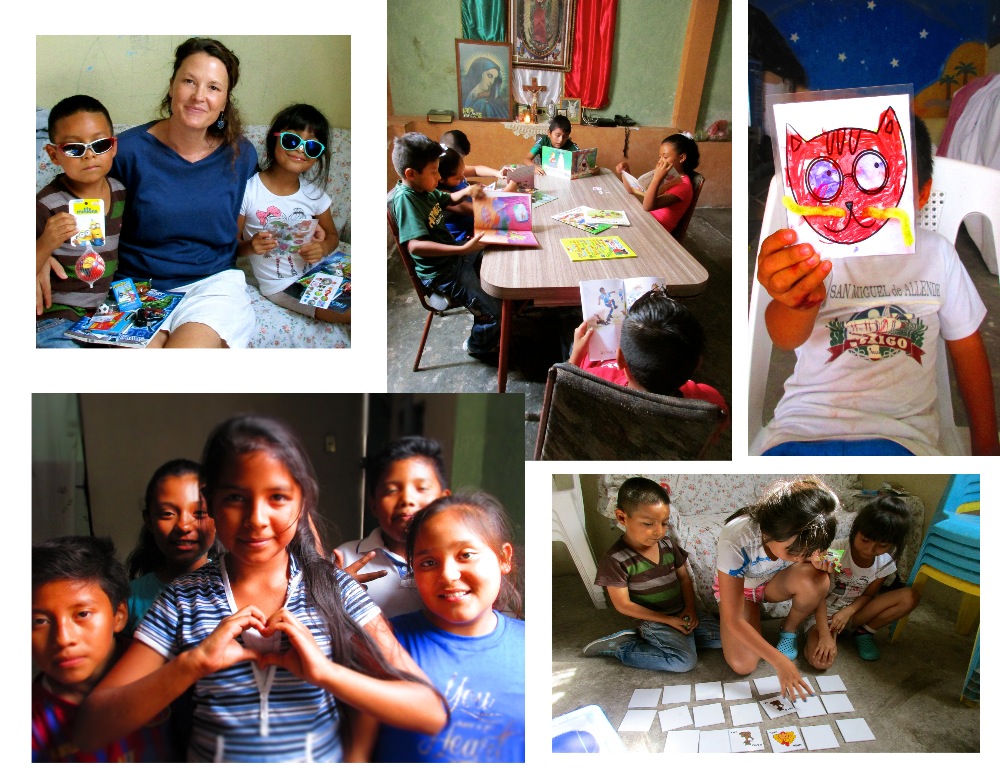 I'm a woman from North America who has always loved Mexico and its people, especially their children who contain the promise of its future.  It's no surprise that I now find myself living in the colonial town of San Miguel de Allende, a UNESCO World Heritage Site. Upon moving to Colonia Obraje I began to intimately learn what these children's lives are all about and witness the daily situations and challenges in which they live. Here, the majority of these loving families struggle daily to provide basic needs, such as clean water, food, clothing and health care.
This is where I met Señora Alma Lopez , a mother who has touched my heart deeply. She is a sincere and dedicated woman, who like any mother has concerns for the future of her two young sons, ages 4 and 8. Because of this she requested that I come into her home and help her eldest son learn English, knowing that this ability would help her children in the future. Since I was already interacting with the kids on the street and teaching them English phrases, I was grateful for the invitation to create a more structured classroom environment for those who would be interested. Too often I have seen that the accepted teaching model requires the child to come to us for learning instead of us bringing education to them.  I believe that learning becomes more personal and powerful when it is presented within their own environment. This has already proven to be a valuable asset in setting a foundation on which to assist these young lives and has proven to be a consistent factor of regular participation in class. 
For two years I have been teaching these children English in Alma's home twice a week.  Classes began with 2 students and quickly grew to 11 in a short time. I teach boys and girls from 5-16 years of age free of charge, who often bring their mothers to sit in on the lessons.
To encourage and support these children towards a life long learning process, your donation would greatly enhance their instruction. It is a fact that the majority of better paying jobs in San Miguel de Allende are offered to individuals who can speak English. By giving children these skills and support, their self respect grows and in turn the possibilities of what they may be able to achieve in their lives.
With your help, efforts can be made to improve their educational development and communicative skills.  To do this we need the basics in materials such as:
1. A new table and chairs. The table and chairs we currently use have broken a few times during class!
2. School supplies which include English books, pencils, paper and copy fees for teaching materials.
3. Healthy snacks provided at the beginning of each class with nutritional education. Mexico suffers the highest percentage of diabetics in the world.
4. Field trips to cultural places of learning in San Miguel de Allende.
5. Financial assistance for public school costs such as enrollement fees and school uniforms.
Any size donation would be used to ensure the next step made in these young lives. Please consider who you might also know who would be interested in helping these promising young minds. A child's knowledge is the beginning of the world's wisdom. 
Thank you for your time and consideration.
With hope in hand,
Kambria Antón