Greg Jackson Jr.'s Survivor Story
My name is Greg Jackson, Jr., but most people know me as Junie.  I am a 29 year old who has experienced significant medical and personal events since birth.  Now, I am facing the biggest hurdle of my life and I need your help.  You see, I was born with sickle cell disease.  For those who don't know, sickle cell disease is a blood disorder where red blood cells are shaped like a sickle and causes significant pain.  I lived in constant pain for many years as at the time, there was no cure for sickle cell disease.  My only recourse was a treatment plan to manage the pain.  
When I was eleven years old, I moved to Delaware with my parents and baby brother as my dad landed a new job.  Things were going well until 8 months after our move, my mom unexpectedly passed away from a brain aneurysm.  The loss of my mom was a dark time for my family as she was the center of our lives.  She was the glue that held our family together and I love her forever.
Prior to her death, my mom, who at one time was the President of the Sickle Cell Association in Durham, NC, researched options to help rid me of my sickle cell disease.  When she died, my father was unable to make the risky decision to move forward with research treatments.  When I was 17 years old, I had a sickle cell crisis that was the turning point in my life.  It was at this time, my dad made the decision for me to have a bone marrow transplant to help save my life.  I had my bone marrow transplant at Duke University Medical Center and my younger brother, Justin, who was 5 years old at the time, was my donor.  He saved my life and after a year of follow up visits, I was cleared and sickle cell free.  I was finally leading a normal life, graduating from high school and preparing to pursue a college degree at Delaware State University.
For approximately 4 years, life was good until one night in April 2010, after leaving the gym on Del State's campus, I collapsed outside of the gym.  Fortunately, one of the campus facilities staff who knew me saw what happened and rushed to assist me.  He contacted campus police and an ambulance and I was rushed to the local hospital.  I suffered cardiac arrest and was on the brink of death.  After 3 days, I was transferred to the Hospital of the University of Pennsylvania where I remained for approximately a month.  The doctors implanted a defribilator/pacemaker in my chest.  I managed to survive this medical event because I believe GOD has me here to give a testimony. This was also one month prior to my college graduation. I was still able to walk across the stage to receive my degree.
After my cardiac arrest, life went back to "my normal." I began working and even had my own sports show broadcasting from Dover Downs, known for Nascar racing and its casino. During this time, however, I experienced 3 collapsed lungs. I didn't allow those episodes to deter me. I was working for a couple of years and even moved to Philadelphia on my own after changing jobs and being hired for a marketing position. That change lasted months because in Oct. 2015, I was hospitalized due to a blood infection. It was during this hospital stay, the doctors noted some changes in my lung function. I was developing Pulmonary Aspergilloma, the medical term for fungus balls in the lungs. I had to quit my job which meant I lost my employer covered insurance and I had to be released from my apartment lease.
This brings me to my current state and why I need your help.  The Aspergilloma progressed to the point where I was on oxygen 24 hours a day and my prognosis was not good.  The only option to save my life was to have a bilateral (double) lung transplant.  I was put on the Lung transplant list in December 2016.  The first call I received for lungs turned out not to be the opportunity for me.  On May 25, 2017, my conditioned worsened and I was admitted to the ICU at the Hospital of the University of Pennsylvania and put on a ventilator.  Within 2 days of my admission, I was on life support on an ECMO machine.  The ECMO is a machine that takes the blood out of your body, cleans the carbon dioxide out of the blood, and sends clean oxygenated blood back into your body. I needed the ECMO machine because my lungs could no longer complete the exchange of oxygen and carbon dioxide.   For healthy individuals, when you breathe, you breathe in oxygen and breathe out carbon dioxide.  My lungs could no longer complete that exchange so I was on both the ventilator (breathing tube) and the ECMO, both keeping me alive hopefully until the time we receive a call for new lungs.  There was news about lungs but those lungs were too damaged for transplantation because the donor died in a car accident.  I remained in the hospital because the doctors said I would not be going home unless I received donor lungs.  My dad, step-mom, and 2 younger brothers traveled almost 2 hours up to Philadelphia and almost 2 hours back home every day.  Finally on June 6, 2017, my family received a 3rd call indicating there were lungs but the clinical team had to complete their process to determine if the lungs were good for me.  June 6th was the longest day for me and my family.  At 6:15pm, my family was told about the green light to move forward.  By 7pm I was already in the operating room.  For 10 ½ hours my family waited for word on my surgery.  At 5:30 am on the 7th June, my transplant surgeon went to the family room to share the news that I made it through surgery but there were some complications and excessive bleeding.  My old lungs had pretty much falling apart and were bleeding.  The doctor told my family I was a trooper in surgery and I was truly blessed.  He also said my old lungs were the worst he had seen in many years and if I had not received donor lungs on that day, in his clinical opinion, I would not have made it another day.  
Since surgery, I developed DVT in my left arm, pneumonia in my right lung; issues with glucose levels (I am not a diabetic); issues with my sodium and creatinine; erratic heart rhythms; fluid in my left lung and numerous episodes of anxiety. Today is Aug 2, 2017 and I remain in ICU, currently going on 3 months.  Through it all, my family is at my bedside every day. 
I asked to set up this go fund me account to help pay for my medical expenses and travel expenses. Due to my medical issues, I am considered medically disabled and have insurance coverage through Medicaid. I don't know how long that will last with the current political debate. No one expects to have two transplants in their life and be faced with all of the medical challenges I have experienced. I wasn't able to remain fully employed because medical events kept me in the hospital. Once I am released from ICU, I move to a step-down floor but I am unsure about when I will be discharged from the hospital.  Once discharged, I have to remain in the Philadelphia area for 6-8 weeks for 3-4 days of weekly follow up testing.  During this time I will have to stay in a hotel because driving back and forth between the hospital and my home in Delaware is not recommended due to the transplant recovery guidelines.  There is also a transplant house but accommodations are not guaranteed because of the number of patients who utilize this option.  It is unbelievable to me knowing the number of patients on the same ICU floor with me as my floor is only for patients waiting on lung and heart transplants.  So many patients need transplants and I thank GOD for donors who make the most unselfish decisions.  I am alive because of someone's decision to be a donor.
I appreciate that you took time to read my story.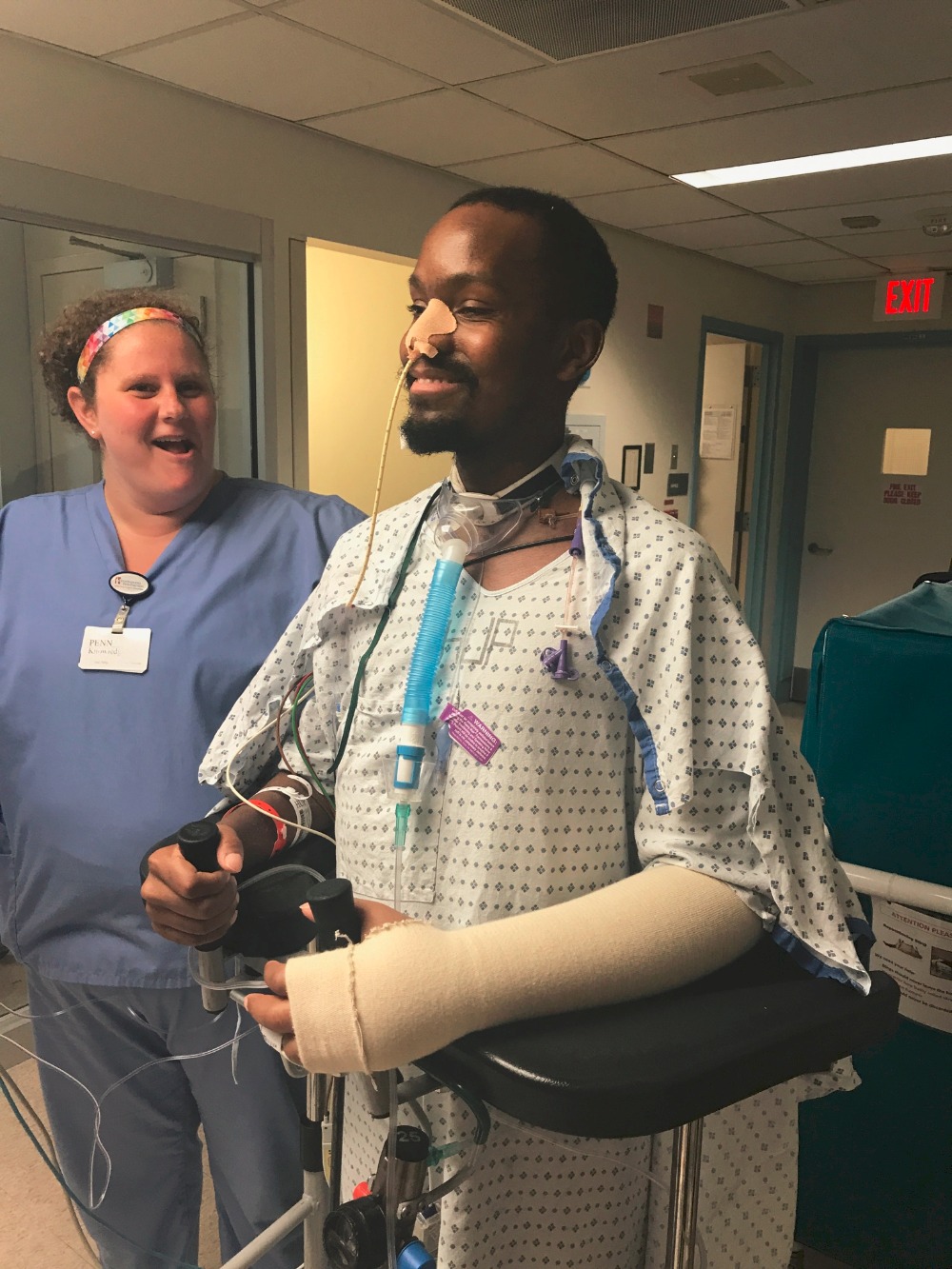 Organizer and beneficiary