Citizen Science in Greenland
This May my expedition partner (Tim Edgar) and I will spend up to 30 days making a 600 km (375 mile) unassisted and unsupported sea-to-sea ski traverse across the Greenland ice sheet. All our food, fuel, clothing, and shelter will be hauled behind us on sleds with starting weights of close to 70 kg (155 pounds). As well as an amazing personal accomplishment, we will also be engaging in the role of citizen scientists, participating in the collection of data to support critical ongoing arctic research.
That the Greenland ice sheet is a fast changing environment needs little introduction. Researchers report an ice loss close to 3,000 Gigatons for the last two decades (1992-2011), and air temperature over the ice sheet has been observed to significantly increase over the last 10-15 years, leading to more intense surface snow melt during summers and enhanced snow compaction. Thus, the importance of continued data collection in this dynamic environment cannot be understated.
Collaborating with a team of researchers from the University of Utah, we have established the route of our ski-traverse to follow a path similar to that of two scientific ground-based traverses (2004 and 2010) that were resurveyed in 2011 as part of the NASA Operation Icebridge airborne campaign. Retracing these routes will allow for the monitoring of any elevations changes that have occurred since the last survey due to snow-compaction and ice-dynamic changes. During our journey across the ice sheet we will collect a combination of geodetic data, snow densities, and snow samples from different locations along our the East-West traverse line, directly south of the Arctic Circle and across a significant elevation gradient (from sea level to 2,550 m at the ice divide). While our GPS measurements will allow researchers to estimate ice-sheet elevation changes, we will also collect snow density, stratigraphy and temperatures from daily snow pits (1 to 1.5 m deep). Snow density is spatially variable but is a crucial physical property to know accurately as it is needed to convert elevation changes into mass changes. Finally, we will collect high-spatial resolution (every ~5 km) surface snow samples into 15-ml vials for researchers to look at changes in water-stable isotopes and dust deposition across the ice sheet. This chemistry data will be a unique dataset that will inform scientists on contemporary moisture/dust sources and transport across the region in order to improve climatic knowledge over the ice sheet. These data will be analyzed and used by researchers at the cryosphere lab of the University of Utah, Department of Geography to track spatiotemporal changes on the largest body of ice in the Arctic, which is rapidly changing in our current climate.
In addition to making a contribution to science, we will also be communicating the story of our adventure to make a contribution to education. Presentations to my sons' homeschool education network, multimedia blog delivered through the University of Utah Website, and presentations to the public, will all serve to communicate the importance of understanding the impacts of climate change on artic environments.
To help us make this ski-traverse possible, we are seeking assistance to cover some of the transportation and insurance costs. We strongly believe in crowdsource funding where everyone can participate and contribute to this challenging adventure. The logistics of getting us and our gear from home to our starting point at the isolated settlement of Isotorq ("The Foggy Sea" with about 80 inhabitants), and returning back from Greenland, involve a strategic combination of six airplane flights and two helicopter flights. In addition to the permit fees and purchasing 30 days of food, we are also required by the Greenland government to have a strong Search and Rescue insurance policy, costing alone about $3,500. Despite these financial challenges, we truly believe that data to be collected will greatly benefit scientists in this critical and timely climate-change research. We are excited and grateful for the opportunity provided by all the friends who have helped to make this possible, and to contribute to the larger body of science.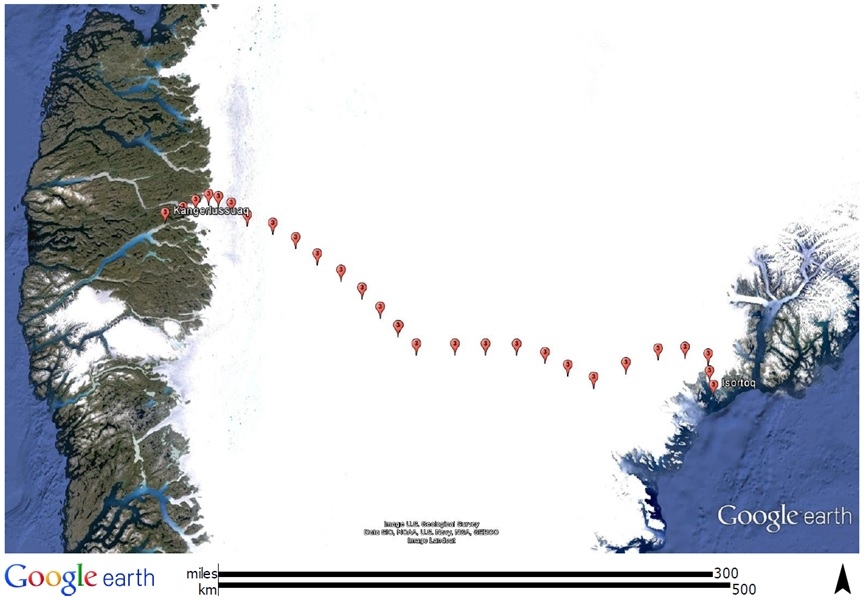 http://registerguard.com/rg/news/local/34234780-75/eugene-climber-takes-break-from-scaling-seven-summits--by-skiing-across-ice-cold-greenland.html.csp