Green for Grenfell Illuminations
Your help is needed to support the Green for Grenfell Illuminations. We want to "shine a light" of love and solidarity by illuminating the TWELVE tower blocks closest to Grenfell Tower between 14th-17th June 2018. At the same time Grenfell Tower itself will also be illuminated.

The towers include:
- Trellick Tower
- Silchester Estate (including Dixon, Frinstead, Markland and Whitstable Houses)
- Edward Woods Estate (including Norland, Poynter and Stebbing Houses)
- Charecroft (including Bush, Shepherds, Woodford and Roseford Courts)
Make a donation, however big or small (every £5 counts!) and encourage all illuminated buildings and spaces to go Green for Grenfell this June.

*** This is a community-led initiative, in collaboration with the Tenant/Resident Association's of Trellick Tower, Silchester Estate, Edward Woods Initiative and Charecroft Estate. It is supported by Grenfell United (the bereaved, families and survivors support group) and the Notting Dale Residents Advisory Board. ***
*£6.5k will cover the costs of the twelve tower illuminations. Further funds will cover any additional illuminations of local community spaces or go toward further illuminations later in the year.
* All funds raised will go toward creating green illuminations to show solidarity for those affected by Grenfell and raise awareness of the ongoing issues of fire safety and the plight of those still without new homes after one year.
* All funds raised will go direct to contractors and equipment (at heavily discounted rates and/or cost), directly involved in the illumination of buildings or spaces. No money raised will go toward project organisation or management or administration.
* Any funds left over after the June illuminations will go toward the continuation of Green for Grenfell Illuminations on the same basis (discounted contractors and equipment only).
Green for Grenfell was started by local schools in North Kensington in the days following the Grenfell Tower fire.
Schools were followed by work places, raising funds and showing love and solidarity by getting creative with the colour green.
In August, the local community and Carnival community turned Notting Hill Carnival Green for Grenfell.
The efforts included the green illumination of the iconic Trellick Tower.
On March 14th , 3 of the towers closest to Grenfell were illuminated for the 9 month Silent Walk.
Click here for Green for Grenfell Silchester photos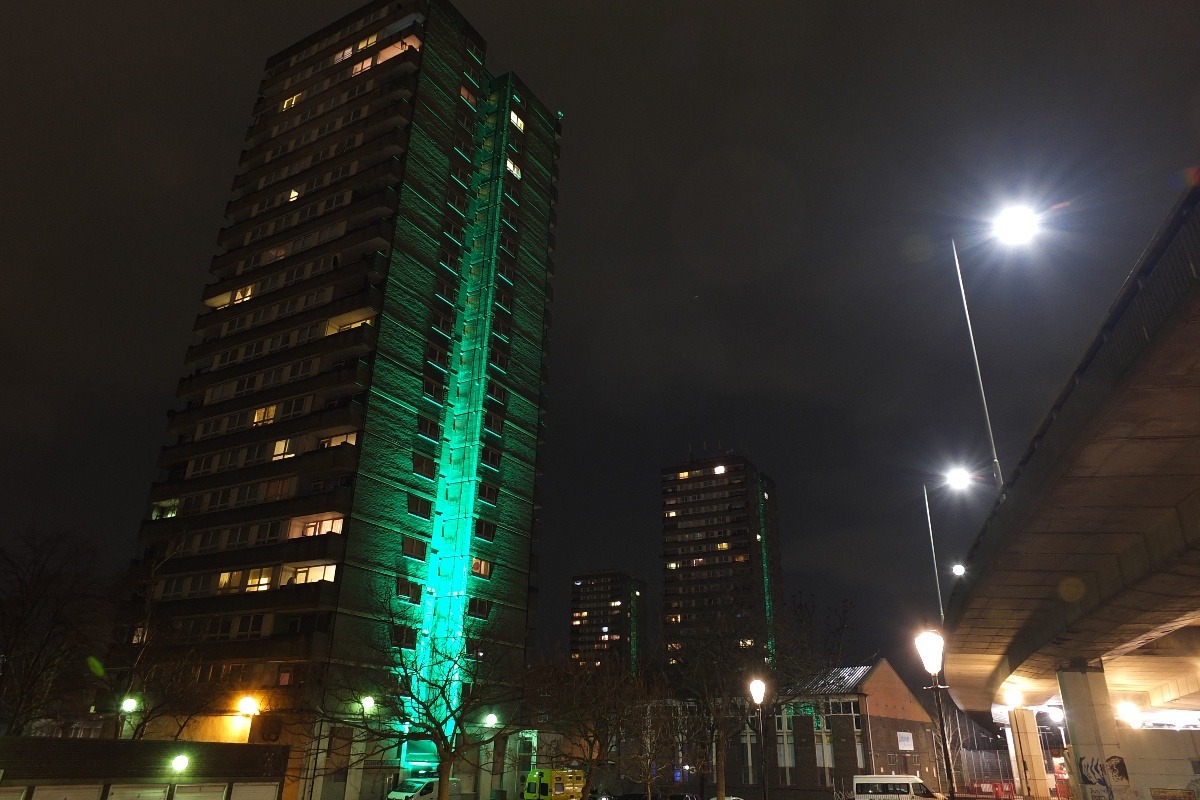 Now, to mark the first anniversary of this tragic and life-changing disaster, twelve tower blocks closest to Grenfell, in North Kensington and Shepherds Bush, are preparing to go green for four nights between 14th and 17th June 2018.


***Do you know a building or space that can already be illuminated? Please encourage them to go Green for Grenfell this June 14th-17th***
www.facebook.com/GreenForGrenfellOfficial
Toby Laurent Belson
is a North Kensington community artist and designer. His work in North Kensington includes:
* The Green for Grenfell campaign at Carnival
* Illuminations for Trellick Tower and Silchester estate
* Supporting local campaigns to protect community assets, including Westway23, Friends of North Kensington Library, Save Wornington College and Reclaim Our Carnival
* The renovation and design of a variety of local bridges (in conjunction with Urban Eye)
* Over ten years of arts and heritage projects with local schools, youth clubs and community groups with his community arts group, Brownbaby
Toby discusses the green for Grenfell illuminations from Notting Hill Carnival 2017...

Organizer
Toby Laurent Belson
Organizer
London, Greater London, United Kingdom