Green Our Communities with ForestR
FORESTR GREENS: ENVIRONMENTAL EDUCATION, LAND RESTORATION, WASTE REDUCTION, SEED BANKS, PLANT EXCHANGES, POCKET PARKS
ForestrGreens is the second leg of ForestR's mission to clean, green, and feed local communities.
In 2020, we launched our highway cleanup program in partnership with the California Department of Transportation (CalTrans) and held cleanups nearly every weekend. This work was part of a strategy to build partnerships, visibility, and community for our broader program of action on the climate and environment.

In 2021, we began soil regeneration, wildfire mitigation, and permaculture projects on our cleanup sites, and formed partnerships for similar work on other sites. Climate change reports inspired us to broaden our greening work and focus on activities that increase urban green space, reduce waste, and mitigate wildfire risk. The pandemic supply chain disruptions inspired new partnerships and our adoption of food security as a core part of our mission. 

In 2022, we opened our first seed library in January, installed our first pocket park in March, held our first Earth Day event and launched our spring membership drive in April, and confirmed sites for three new pocket parks in May. 

Our strategy for sustainability is to decentralize: to support and assist our local community members and surrounding community groups in replicating our pocket parks, gleaning teams, plant and harvest exchanges, seed banks, and other programs.
Pocket parks tie together most of our greening strategies.
POCKET PARKS WITH YHZEKEL KAHSAI
It's common to see the construction of a new building, maybe condos, a store, or a new restaurant coming into town. But when was the last time you saw the creation of a new park?
I'm Yhzekel Kahsai, Pocket Park Program Lead at ForestR.org, a nonprofit in Castro Valley dedicated to cleaning, greening and feeding East Bay communities.
I'm committed to creating permaculture pocket parks as a solution to the urgent problems driving my generation to question our futures. From climate change, to food insecurity, to urban heat islands, and pollinator die-off, permaculture pocket parks are part of the answer to regenerating our world. You can help make my first pocket park a reality by donating, volunteering, and connecting us to the resources we need to bring pocket parks to East Bay communities that need them the most.
We've Paved Paradise and the Results Are Tragic
In populous metropolitan areas like the Bay Area, we are losing green space at astounding rates. The results are shocking and tragic. Food deserts develop, because it's harder and more expensive to bring fresh, healthy produce from the farms to the paved over cities. Few people can find the space and conditions to grow home or community gardens. Wildlife are forced into residential neighborhoods, perceived as a threat, and often exterminated. The urban heat island effect traps heat, driving health risks from heat waves and intensifying the impact of climate change.
Green Space is Part of the Answer
City governments and community advocates worldwide have recognized the value and urgent need for green spaces. Many communities have found the answer in pocket parks. Those small, unused parking lots, or overgrown and seemingly empty pieces of land you drive past, could all be pocket parks rich with the life of nature, community, and creativity.
But Are We Just Greenwashing Our Cities?
But, too often, pocket parks reflect some of the same values and principles that created the heat islands, food deserts, and poverties we're seeking to reverse. The ratio of pavement to living soils and plants belies its designation as a park and defies its stated mission. Pesticides and herbicides add more toxins to already poisoned land, water, and air. Most make no attempt to educate the community about nature and gardens, to provide interactive learning experiences for children, or to offer opportunities to participate in regenerating the land.
Regeneration is the Goal.
It's not enough to merely plant grass and trees. To truly become part of the solution to climate change, insect die-off, food deserts, and other problems plaguing contemporary urbanized societies, green spaces must be designed to regenerate rather than suppress the natural systems that generate life. Our pocket park designs should regenerate and protect the soils that support them, rather than decimating essential microbes with pesticides and chemical fertilizers. We should use an abundance of native plants that support pollinators and require less water. We should return leaf litter and other plant material to the soil, for natural instead of chemical fertility. These methods, and countless more, are the foundation for the permanence embedded in the term, permaculture.
Where permaculture meets pocket parks.
Permaculture is a lifestyle and practice of stewarding our natural and human communities in a way that meets everyone's needs today and leaves behind an abundant world for future generations. Compared to a 'sustainability mindset' where the goal is 'to do no harm', permaculture takes a regenerative approach to rehabilitating the ecological health of a place and all the trees, plants, animals, pollinators, essential microorganisms, and humans sharing the land. If we took care of Earth in a way that could continue forever, we could call it a PERMAnent CULTURE (aka Permaculture).
The Inspiration
Over the past year, I have been part of a highway cleanup team in Castro Valley, California, comprised largely of teens and recent high school graduates. The cleanup team is part of ForestR.org, a local nonprofit founded in 2019 to clean and green shared community spaces. This year, ForestR.org attracted new team members, including a conservation professional and a permaculture design student. The experience and ideas we all brought together breathed new life into ForestR.org's longer-range vision of regenerating Castro Valley area forests and other green spaces. I could see all of my concerns, ideas, and hopes about climate change, social problems, and healthy living coming together into attainable visions and practical solutions. More than anything, I wanted to be part of that.
What We Are Creating
Since then, we have been learning about and laying the groundwork to create permaculture pocket parks in the East Bay. Our learning and practice grounds include our traditional Adopt-a-Highway cleanup sites at and near the I-580 Strobridge exit in Castro Valley, as well as private residences in Castro Valley, a nonprofit organization's orchard and farm, and a school site.
Rather than merely collecting litter at our cleanup sites, we are integrating the principles of permaculture to conduct wildfire mitigation and to regenerate the land from the ground up. We have populated the formerly stressed soil with mycelium to create habitat for microbes and the spongelike substrate for water retention. We have gathered and strategically placed leaf litter around the base of trees to serve as natural fertilizer for the soil. We are creating small swales to filter, direct, and store water for the future growth of trees and other plantings. And we are working with neighbors and local agencies to supply water to the site during the dry months.
Small but consistent hands-on learning experiences like these have laid the groundwork for our first permaculture pocket parks, which we expect to manifest in 2022.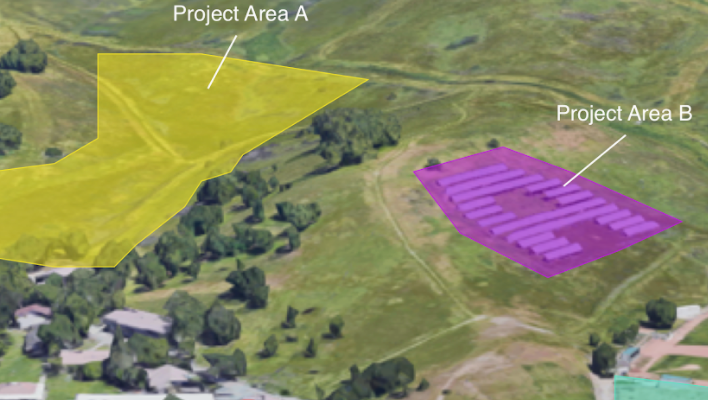 It Takes a Village
We are forming partnerships with several organizations around the Bay Area to access lands where we can regenerate the soils and plant life, begin planting food forests (edible plants and herbs for the healing and health of the community), create demonstration gardens, and host hands-on and online events to teach others to do the same on public and private spaces. We are open to new partnerships that can bring expertise, resources, funding, and hands in the soil. We are excited to work hand-in-hand with the community to create spaces where human and natural communities live happily as one.
Please Donate and Share
This #GivingTuesday and over the Holidays, please donate to help promote and strengthen permaculture in the San Francisco East Bay. Don't forget to check whether your employer will match your donation (many will double, triple, or even quadruple it, especially during #GivingTuesday and the Holidays).

Donations of any amount will help us grow our ForestR permaculture pocket parks. Here are the kinds of things your donations can support. 

$15-$25 allows our youth workers and team leads to earn an hour's pay for our land regeneration work.
$25-$100 can help purchase tools and supplies for mycelia inoculation, biochar making, and other 
$100-$500 supports a small weekly stipend to our core team at $15/hr for our labor.
$500-$1,000 allows us to develop community education and training programs to accompany our pocket park installations, such as biochar, vermiculture, Hugelkultur, and swales.
$1,000-$2,500 can fund installation costs, such as equipment, tools, and supplies, for our first pocket park.

Thank You!
Donations made to this GoFundMe are tax-deductible to the extent allowed by law and are processed in U.S. dollars. ForestR is a U.S. nonprofit, tax-exempt, charitable organization under section 501(c)(3) of the U.S. Internal Revenue Code. EIN: 84-3405350. ForestR has the Guidestar bronze seal of transparency. 
Donations
Become an early supporter 
Organizer

Registered nonprofit
Donations are typically 100% tax deductible in the US.