Green Beret needs HELP from Harvey
Please meet our amazing dad, Dean, and his wonderful partner, Janine!
  Their home was flooded during Hurricane Harvey and they need your help.
During our dad's 22-years in the U.S. Army, he completed three combat tours in Vietnam and served with distinction as a Green Beret in the 5th Special Forces Group.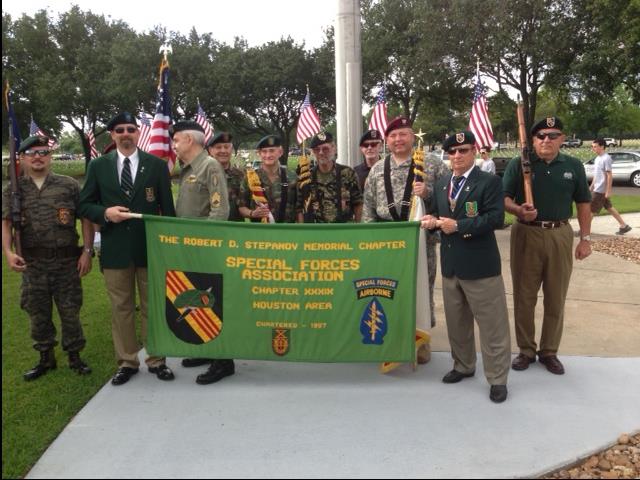 After retiring with the rank of First Sergeant, he continued to serve his community through active volunteering and charity work.
However, recently, our dad became one of the many victims of Hurricane Harvey.
 As we write this, the home that he shares with his amazing partner, Janine, in Katy, Texas is flooded with water and we do not know when they'll be able to return and start to rebuild their flooded home. 
We know that Hurricane Harvey has left a trail of devestation in its wake and that so many people here in Houston are hurting.  
If you have the means to help out, any donation--no matter how small--would be a blessing for Dean and Janine.
  Every single cent given will go directly to repairing their home, and every cent beyond that will go to repairing their neighbors' homes.  
If you are willing to give but are not sure about a Go-Fund-Me campaign, then our dad and Janine would still be eternaly thankful if you gave to someone else, such as the Houston Food Bank, which is doing amazing work right now feeding the hungry.
And if you do not have the financial means to help out, then
you can still contribute in the most important way possible
: by sending them your love and support and by passing this campaign along to everyone you know.  Please share it with your family, friends, co-workers and everyone else you know on Facebook.  Together we can all make a difference!
God Bless!
Dean's Family: Mike, Jill, Paul, Shawnie, and his grandkids Matthew, Lorelei and Aoife
About the Campaign Organizers:  my name is Michael McBride and I grew up in Katy, Texas and currently live in Houston, Texas.  Together with my wife, Jill Knickerbocker (collectively, the McBrickerbockers), and my brother Paul McBride and his wife Shawnie McBride, we have set up this site to give people a way to send small donations to our father, Dean, and his partner Janine in appreciation of all that they have done.  
As we mentioned above, 100% of the donations will go to them in a direct cash gift to help offset the cost of restoring their home.  Currently, they are in the process of redoing the drywall, flooring, and cabinetry damaged in the flooding.  Although we fully intend to send personal thank you notes to all of you, we would like to give a huge "thank you!" to everyone now for their support and prayers.

Organizer and beneficiary