March 2018 UPDATE:
Due to incimate weather, the concrete wasn't able to be poured before the wet season last fall. This did allow our little fund to raise more money in the meantime and now that  almost the entire amount needed to complete this whole structure has been donated, the nuns should be able to put this up without any delays. 
Glory be to God.
Thank you all for your donation and generosity. I look forawrd to being in touch with you all upon returning from my visit to Greece and ESPECIALLY to the part where I can send a token of appreciation from the nuns themselves.  :)
Findal reminder - the fund site will be closed at the end of this weekend. Thank you so much for your part in raising the money that will soon be put towards a structure to benifit the entire convent as well as their numerous guests. May God bless you. 
12 October UPDATE: We have reached the first milestone of $2.5k euros ($2975 USD) and wired the funds to the convent this morning. Glory be to God! This is SO exciting, and all thanks to YOUR part in this project. I look forward to uploading photos as soon as they begin to pour the concrete.  :)
10 September 2017
Hi! Hannah here, and I have a fund-raising project to share with you. Here's my story.
Two of my biological sisters are nuns at the Convent of the Holy Angels in Greece. One of them, Sophia now Sister Pelagia, has been there five years, the other, Anastasia now Sister Julianni, for two. The older one blazed a trail there through unbelievable determination, will, and a lot of prayer. 
When Sophia at 16 told my parents she wanted to become a nun, we were living in Pennsylvania. Mom and Dad told her that was a great ambition, but they felt she would need to visit convents in Greece, Romania, France and the United States before making such a momentous commitment. And she'd have to fund these travels herself because, with seven children, they couldn't afford that kind of expense.
Which she did. She went to school and found a job that next year, work that took her all over the country and paid for her pilgrimages to convents throughout Europe. And before she left home for good when she was 19, she treated my Mom to a pilgrimage with her to Istanbul and the Holy Lands.
She asked to become a nun at the Holy Angels convent of all the monastic communities for women she visited because of the other-worldly strength and the practical sobriety of the women she met there. Our youngest sister joined her at Holy Angels for those reasons, too, but also because she saw the changes life there had made in Sophia. The nuns there are all ages over twenty and hail mostly from Greece, of course, but a third of them come from France, Bulgaria, Australia, and America. 
Last month when I spoke with Sr Pelagia I asked her what she was working on that day. She laughed and said, "Nothing very spiritual -- I'm raking mud from the courtyard where cars make a sloppy mess in the wet season!" and then laughed again.  I asked why they don't have a concrete pad for cars to park on and she said they haven't been able to yet because it's so expensive to hire someone to pour the amount of concrete necessary for this.  With a constant stream of deliveries, guests, and other visitors during the rainy season, the convent courtyard doubles as a driveway of muddy sludge if the nuns don't even the mud and add stones to fill the grooves on a daily basis.
Holy Angels is a convent that supports itself with Church items and publications that the nuns produce but they get by really on the generosity of others, the larger community of believers in Greece they serve. 
A few humbling examples:
·
      One donor is a farmer who has allotted a quarter acre of his farmland specifically for the convent of twenty nuns. Everything that grows in that plot is delivered to the convent.
·   
   Another woman makes it her business to provide shoes for every pair of feet. Shoes that are worn by women who spend most of their waking hours either standing in prayer or at work, mostly standing up.
·
      Another donates all the flour needed for the convent's bread baking.
And, of course, there are the regular money donations from the faithful in Greece and from pilgrims, which gifts, along with the sisters' icons, prayer ropes, and publications, pay for upkeep of the convent.  
After my call with Sr Pelagia, the image of those happy nuns raking mud every day, and probably, if I know my sisters, teasing each other as they muck, made me shake my head and smile. But it also got me thinking. What if I could raise enough money from my desk in Southern Pines, North Carolina, to pour a concrete parking pad for the convent?
I make donations to Holy Angels through Western Union, and when my Mom takes her annual visit to see her daughters, I chip in to purchase some of the items on the list we put together for things they'd like from the U.S. Mom takes an extra suitcase she leaves there and in it she carries everything from bobby pins and dental floss to hypo-allergenic sheets, reusable shopping bags and, always, as many books we've bought and supplemented from Dad's library as we can fit in the suitcase and keep it under fifty pounds.
But what if we could provide them with funds for something that would make a huge difference in the lives of the nuns, not to mention the people driving there and parking in the mud? Something we can't fit into one suitcase with a fifty pound weight limit?
I discussed all this with the convent this past weekend to make sure I had the right figures (Google is only so helpful with figuring out how much it would cost to pour eighteen meters of concrete on a Greek mountain!). 
The estimate we came up with for the total cost for this ad hoc "garage" is $4,600 euros:
· 
     $2.5k for concrete (includes concrete and labor to pour);
·  
    $2.1k euros for sheet metal roofing, lumber, nails, etc.
The euro to US dollar conversion rate is 1 EUR = 1.19 USD as of this morning, so our goal is to raise roughly $5,500.00 to build this structure. 
Attached is the measurement sketch put together for the build as we discussed how much concrete they would need. I've included it here since it was really helpful for me to visualize the final product after seeing measurements and different views. You can also compare it to the other photos included here that were taken by mom on her last visit to see where it will be built.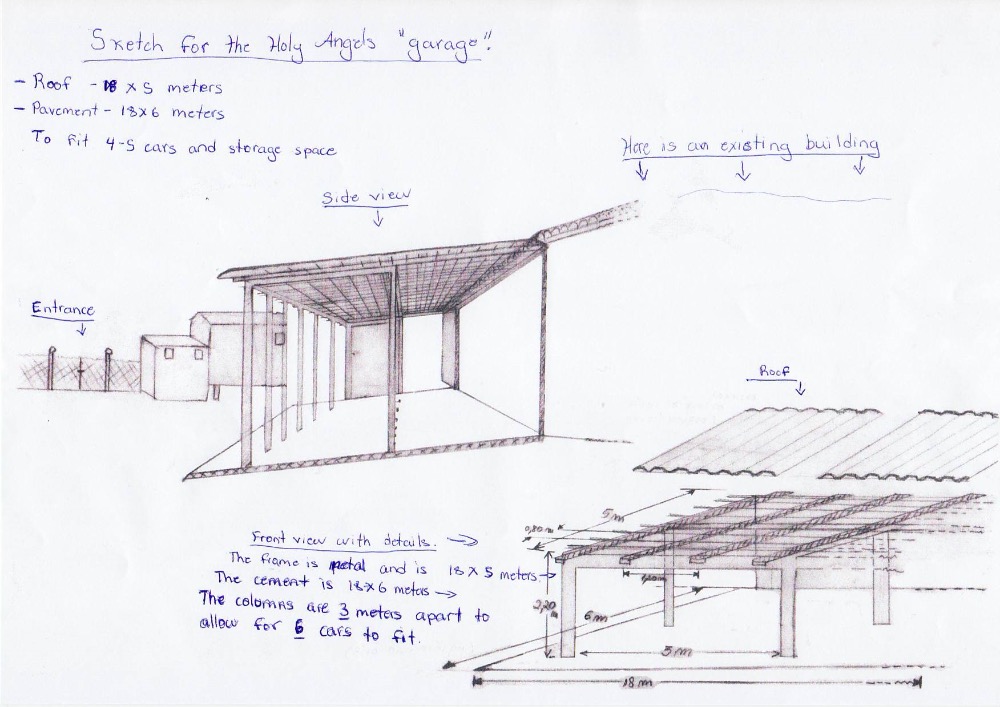 I set up a separate bank account for all donations from this account to land in, and as soon as we reach 2.5k Euros or $3,000 I will wire the money straight to the convent so they can order up two trucks of concrete. Once we reach the secondary goal of $2.1k Euros or $2,500, this will be transferred securely in the same way, and the garage will be almost entirely complete. It goes without saying that aside from the truck drivers delivering the concrete, this entire structure will be built by the nuns who collectively hold an impressive number of degrees and years of professional experience prior to moving to the convent. 
It would be really spectacular if we could make this happen before the ground completely freezes, which could happen as early as November.
Your donation of $50 would go a long way to helping us, that's you and me, reach this goal. No amount is too small or too big though and your involvement with this project is tremendously appreciated. 
The goal here is not to make this go viral or become a "poor them" tear-jerking story. The absence of a concrete pad for parking is not what the Holy Angel nuns think of as a "hardship." They know better. The money they don't use for food and utilities they spend on those in need nearby, on hospitality for pilgrims that visit them, on small gifts they take to prisoners on their regular trips to jails, and to buy supplies for the work they sell. That guests arriving by car in the four months of the wet season have muddy shoes is a small embarassment to them as hosts, but no crisis.
My goal here is to share this with a few people that I believe would love to support such a sacrificially selfless community in a project they don't consider a great priority. My thought is, the less time they're raking mud in the parking lot and carting stones from the hillside, the more time they have for the prayerful work that sustains them and the many who depend on them.
If you are moved to share this note with friends, family, or co-workers that you believe would also like to donate, please do! But also please be mindful that this is a deeply personal request that comes from me and which effort I alone am spear heading; this is not an idea coming from the nuns or anyone else attached to the Holy Angels Convent. 
I look forward to updating this account as often as possible. Please contact me with any questions, concerns, or if you just want to touch base! Out of consideration for the nuns I have not included any individual photos or their faces, but please let me know if you'd like to see a few photos of their life from Mom's previous visits. :)
Thank you in advance for the thought you give to making a concrete contribution – literally and figuratively -- to Holy Angels convent.
**GoFundMe has strongly discouraged me from including my personal email or phone number, so please reach out using the methods included with this account and I promise to respond as soon as I receive your note!
Hannah Gibson
PS please disregard all notifications from GoFundMe asking you to publish this 'campaign' to Facebook after making a donation. I have contacted their offices but unfortunately this is something they aren't able to disable at this point.