A few months ago my uncle had his wedding. It was so extravagant and the whole family wondered how he was paying for it. If anyone asked he'd just say that  his boss was helping him. We left it at that. It was a wedding… He was happy and we were happy for him.
My unlce is my grandparents' only son. Shortly after his wedding he, along with his new wife, stopped talking to the whole family, including my grandparents.
When my grandfather first came to America he and my uncle had a shared bank account. It made things easier for my grandfather; having my uncle deal with the bank and explain everything to my grandfather as he did. A few weeks ago I went with my grandfather to to take money out and he was denied.
I saw the ATM receipt and his bank account had less than $50. My grandmother and grandfather had their entire life savings in this account.
My grandfather is 84 years old and my grandmother is 78, it kills me to see them stressed out over money. At this point in their lives money shouldn't be an issue. They spent their whole lives saving to have enough money to live comfortably through their retirement. They both worked so hard their entire lives, only to have everything stolen from them. Now they're constantly worrying about how they will pay for everything that they need.
My grandmother asked me the other day about getting a job and when I said no to the idea she said "I can still cook and clean". I was raised to believe that it is a family's job to take care of each other. I should be able to provide for them, but I can't and it breaks my heart.
My grandparents came to the U.S. in 1991 to take care of my sister and I. My mother was going through a divorce and the only reason custody was awarded to my mother was because my grandparents agreed to stay in the country. They left behind a happy, upper class lifestyle in Korean just to take care of my sisters and me. They didn't speak any English and have had a very hard time adjusting to the way they have lived since moving to the U.S. My grandfather was a police captain in South Korea until he retired in 1985. My grandmother ran a restaurant on the U.S. military base. They worked tirelessly just to make sure that my sisters and I had food on the table and money for school.
My older sister and my mother are currently helping my grandparents get by: afford their medication, pay their rent, buy food… but that is putting a significant strain on everyone.
If you could help please donate, if you can't donate please share.
My grandmother and grandfather and I at an apple orchard a couple years ago.
My grandmother and grandfather and my older sister and I. They are giving us a bath in the backyard at our old home in Kentucky. (1995)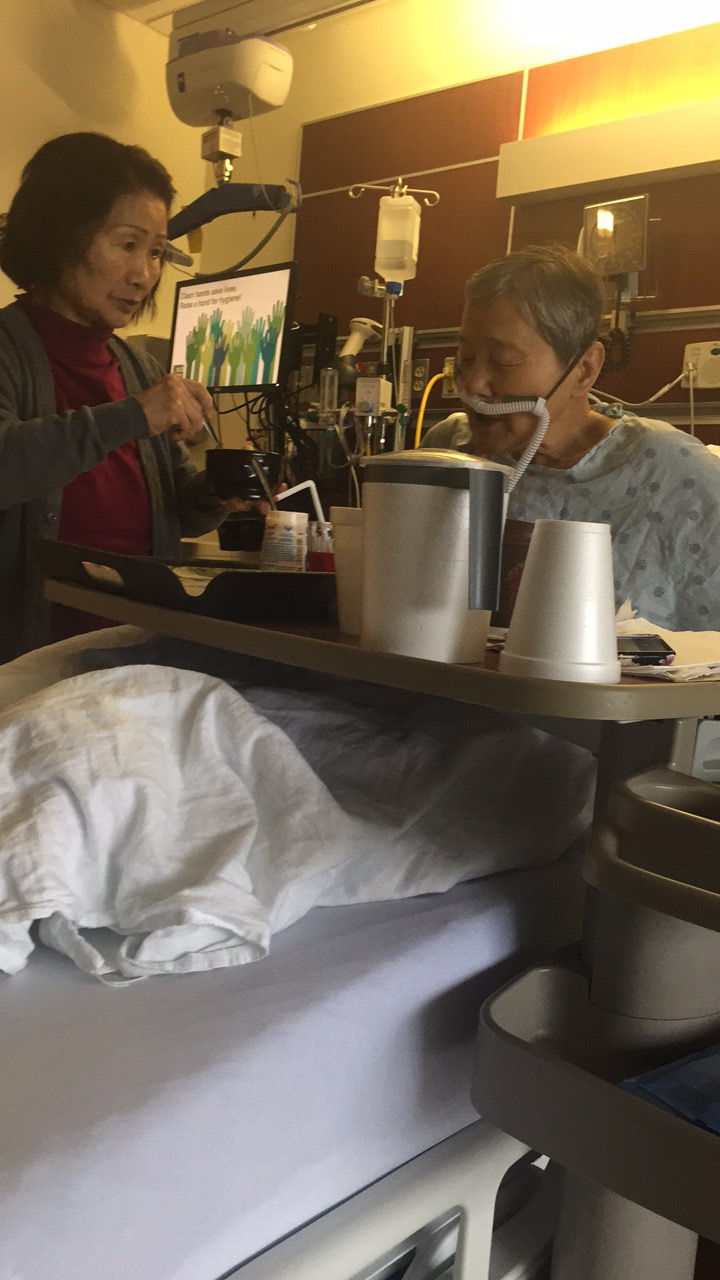 My grandmother feeding my grandfather when he was in the hospital a few months ago for pneumonia. (2017)
This is my grandmothers high school picture.
My grandfather my grandmother and my little sister at Red Robin. (2016)
My grandmother helping my grandfather walk into the restaurant. He had just broken his patella after he slipped while he was in Korea. He made it all the way back to Chicago before he went to the doctor. (2016)
Organizer
Sandy Schwendeman
Organizer
Hoffman Estates, IL