GOTHAM JEERLEADERS GOFUNDME
GOTHAM JEERLEADERS GOFUNDME
Help the Gotham Jeerleaders do what they do best! We are dedicated to getting the crowd pumped up for Gotham Roller Derby in New York City and we have a blast doing it! We dance, we cheer and raise a ruckus!
Right now we're 100% funded through dues that individual Jeerleaders pay. We are passionate about building a community that is reflective of all of New York City and we want to support Jeerleaders who may not necessarily be able to pay dues.
Help fund our budget and you'll get some kick-ass Jeerleader swag, the first new merch we've made in years! Your donations will help us pay for expenses like renting space to rehearse our halftime shows. Plus, if we raise enough, we'd love to provide scholarships for Jeers who need financial help with uniforms and other expenses.
For any donation amount, you will receive a Gotham Jeerleaders Sticker. Donate more and you'll get more. Email us at [gothamjeerleaders at gmail dot com] to redeem your Gift. Gifts will be shipped after the Fundraising ends.
$25 Donation :: Gotham Jeerleaders Button
$50 Donation :: Gotham Jeerleaders Tote Bag
$100 Donation :: Gotham Jeerleaders T-Shirt
$125 Donation :: Gotham Jeerleaders Tote Bag & T-Shirt
If money's tight for you right now and you still want to help, please spread the word! We appreciate all you can do to help us reach our goal!
Go Gotham!
ABOUT US:
The Gotham Jeerleaders are an all-gender, body-positive dance squad who cheer on Gotham Roller Derby at their home games. While a few other leagues have dance crews and pep squads, the Jeerleaders are unique to Gotham. We welcome dancers of all skill levels and create a fun, diverse community where people can step into leadership or just show up and dance with friends.
Gotham Roller Derby
is New York City's only skater-operated roller derby league and fosters personal, mental and physical strength through collaboration, inclusiveness and community-building. For fans, the games are a safe place where New Yorkers can let loose, get loud and have fun!
Want to see us in action? Check out our
Gotham Jeerleaders
YouTube channel
where you can see all of our halftime performances.
Photo Credit: Manish Gosalia Photography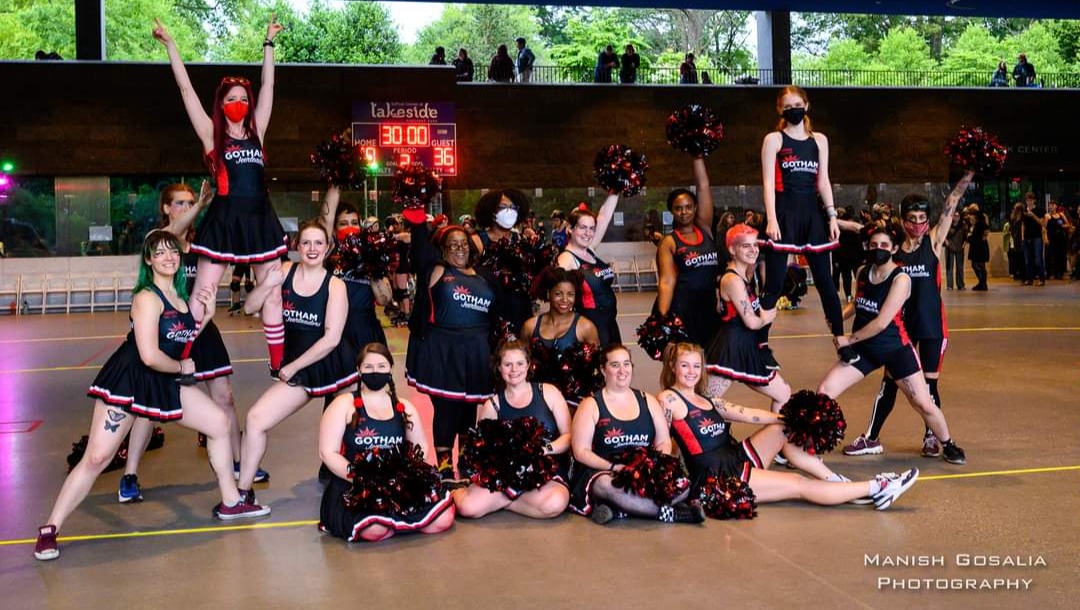 Photo Credit: Manish Gosalia Photography