Colorado Ballet's The Nutcracker Campaign
Play a Role in Keeping the Magic Alive
When it comes to holiday traditions in Colorado, none are more iconic and magical than Colorado Ballet's The Nutcracker. For more than half a century, you have followed Colorado Ballet's Clara on a magical journey as she is enchanted by dancing dolls, falls in love with her Nutcracker prince, defeats giant mice, and travels through a magical forest to the Land of Sweets to meet the Sugar Plum Fairy.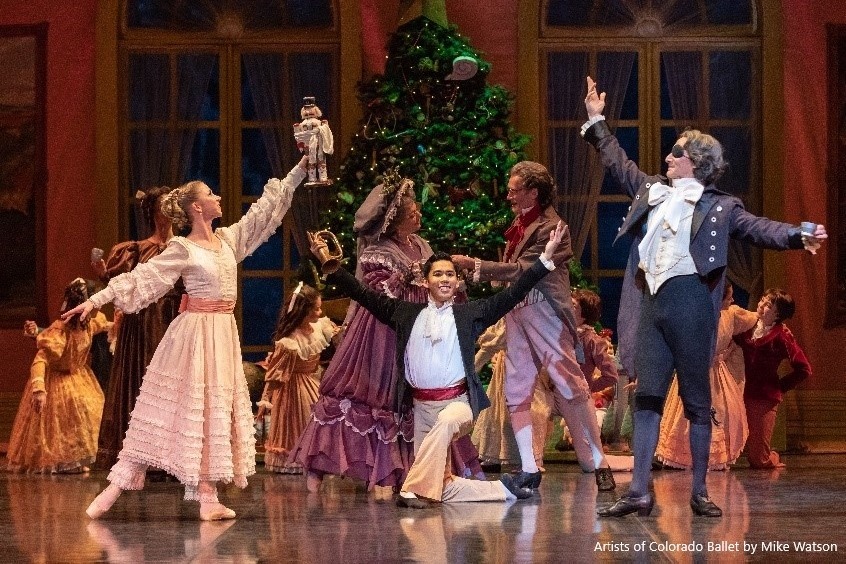 "I grew up coming to Colorado Ballet's The Nutcracker every year with my family. I feel so fortunate to be able to create the same tradition with my own children now. The Nutcracker is a special part of our holiday."  ― Colorado Ballet Season Ticket Subscriber
From the audience, the sets and costumes sparkle to create a magical world, but as you get closer, the magic of the 33-year-old sets and costumes transforms into strategically placed duct tape, camouflaged glue, and years of built up sweat, wear and tear. The Land of the Sweets set looks dated from decades past and the stage scrim has become brittle and fragile, requiring constant repair. Originally built in 1986 the existing sets and costumes were acquired in 2005 from the San Francisco Ballet. Despite constant updates and repairs, the sets and costumes are ready to be retired – let's keep the magic alive!
"The Nutcracker sets - there is a lot of repair work that goes into them. They are so old that a wing will rip and after rehearsal the stage crew will have to take the wing downstairs into the shop and sew for a few hours to put it back together. It's just that fragile." – Gil Boggs, Artistic Director 
World-renowned designers are creating Colorado's very own sets and costumes for The Nutcracker, which will be revealed during the Ballet's 60th anniversary production of The Nutcracker in 2020.
The choreography for Colorado Ballet's The Nutcracker will remain unchanged, and the style of the new sets and costumes will remain in the classic Victorian style.
Play a role in keeping the magic alive! #GOFUNDTHEMAGICLet's bring new sets and costumes to the stage in 2020 and ensure that future generations experience the magic of The Nutcracker!
Organizer
Colorado Ballet Company
Organizer
Denver, CO

Registered nonprofit
Donations are typically 100% tax deductible in the US.