This fundraiser is located in
Go Mo: Mohamed Kargbo education fund
"I want to get this qualification and learn more, so that I can go back to Sierra Leone and try and help as much as I can to make sure that the children there get the kind of education they deserve. Why? It is simple. I know I can bring changes. I cannot change things for everyone but I can be someone who will one day lay a foundation for children coming up. My aim was always to become a professional sportsman but I also know that more important than that is education. For children in Sierra Leone, they do not get the opportunities to get the kind of education they deserve. I want to make a difference, and I am asking you to help me do that"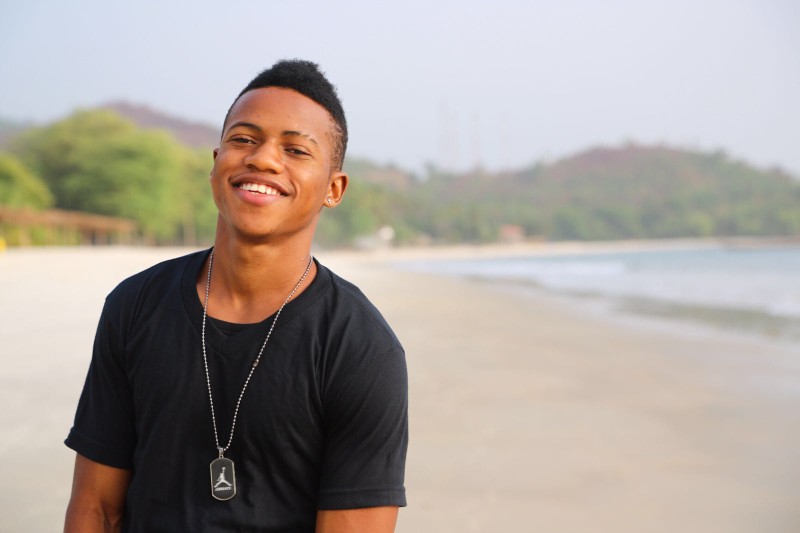 My story
My name is Mohamed Kargbo, I am 20 years old and I am from Sierra Leone. I want to thank you for taking time to read my story. I am writing to you today because I want to ask you to invest in me. This is not easy for me to do. I hate to ask anyone for money but I do not see this as a charity handout. I see this as people investing in me so my potential can be realised and I can help others from similar backgrounds to me with the experience I gain. I am asking you to invest in my college education so that I might aquire the skills I need to help others from my home country reach their potential.
Sierra Leone is country I am proud to be from but my life has not been easy. I grew up in Freetown, the capital city. I have always been rich in love from my family but poor financially. Sometimes we have struggled to even have enough to eat to fill our stomachs. I started playing football when I was a small boy, I quickly picked up the nickname Zidan. I love football but I also love learning. I was falling behind at school though, money was a problem and I would sometimes go out to help my mum by selling in the market.

I was blessed as a young man of 14 to be chosen to play for five years at a professional football academy in Sierra Leone. I was spotted for my talent but it gave me a chance to study again as well. I played football every day and I learnt so much too! .... But then Ebola came, my time at the academy ended and the academy was closed and despite being proud to have gained my IGCSE certificates and a lot of wonderful sports experience I felt like I was back to zero. Unable to afford further education and wanting to do so much more in my life I have spent the last year focused on finding ways to achieve my goals.
I am not someone to quit easily - I gained this strength from my mamma. My mother is an amazing woman. She was pregnant with me during the civil war in my country. She kept me safe as a baby. She has worked hard all her life for me, her and my father. My mother still goes every day to sell fish. She is up at 5am ready to do that for our family. All my life my father has also been there for me... making sure I am up in time for class. Making sure I do not miss a match. I owe a lot to my family.
The area I grew up in has problems. More and more young men my age are going into 'cliques' (gangs)... they are getting caught up in violence and other bad things. I have always stayed away from that life but I understand their frustrations. Poverty can make you do some crazy things. I hate seeing my country having these problems and believe we need to be the ones to make a difference. So now I want to do more with my life. Not just for myself but so I can help others.
Over the past three years because of the generous support of others through this fundraising page and through my own fundraising I have been given the chance to get a college level certificate from the City of Westminster College. I am delighted to say that in July 2019 I was able to get a distinction grade in this - the highest mark you can get. This allowed me to then be able to be offered a place at University of East London to study Public Health. 
Unfortunately, because of all the economic uncertainty in the UK at the moment, there are not any scholarships available to students like me. I have friends who are able to help me with accommodation and also with some of my costs but need to once again try and raise what is needed for my university fees. I am now back in Sierra Leone while I try and do this. I believe strongly in public health and now after two years of education in the Uk know this sort of degree would be not only interesting but very practical as a way I can then give back to my home country. 
On this crowdfunder you have helped make my impossible dreams become possible once before. Can you help me again? 
This means the world to me and while I know I may be shooting for the moon I hope that you can at least help me reach the stars so that one day I can help other young people like me.
I need:
£10,000 by 12 August 2019 to be able to pay for my university fees for year one of my course.

Organizer
Laura Cook 
Organizer
Benfleet, East of England, United Kingdom
#1 fundraising platform

People have raised more money on GoFundMe than anywhere else. Learn more

GoFundMe Guarantee

In the rare case that something isn't right, we will refund your donation. Learn more

Expert advice, 24/7

Contact us with your questions and we'll answer, day or night. Learn more