GIRL MEETS WORLD ARTS DAY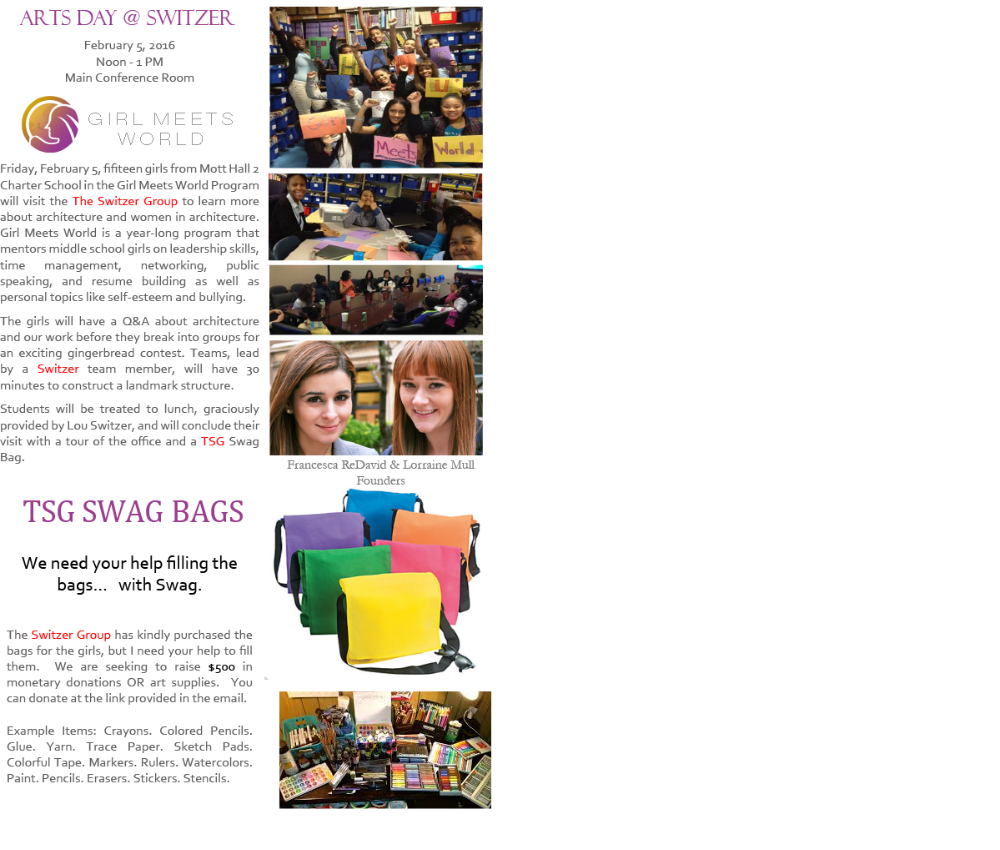 Hi Everyone! 
Most of you know that I, the  Southern Belle from the great state of Mississippi, love doing an Arts Day for the kiddies! Well, I'm back at it.. only this time in NYC!
I was asked by The Girl Meets World Project (
www.thegirlmeetsworldproject.com
) to be one of their speakers this year. It was a pleasant surprise that the firm where I work, The Switzer Group, invited them to our office for a up, close, and personal workshop. They quickly accepted the offer.
On Feb 5, fifteen girls (ages 11-14) from Mott Hall 2 Charter School will visit our office for a Q&A about architecture followed by a gingerbread contest lead by a Switzer team member. They will also be treated to lunch and a tour around the office.
You guys know I love to conclude the event with the infamous ARTS & CRAFTS SWAG BAGS, and I need your help filling them this year with art supplies.  Examples: crayons, sketch pads, markers, rulers, tape, markers, colored pencils, erasers, stickers, etc.
We're seeking to raise a minimum of $500 in monetary donations or art supplies. You can mail the art supplies directly to the office (ATTN ME) or you can donate at this link: gofund.me/GMWArtsDay.  Any additional funds over the amounth for the art supplies will be directly given to founder, Francesca ReDavid.
I appreciate you help in the past, and hope you will be able to generous once again. I know with your help GIRL MEETS WORLD ARTS DAY will be a success!
"Giving makes you good!" - Bishop Crudup
Kind regards,
Sirobe Carstafhnur
Organizer
Sirobe Carstafhnur
Organizer
New York, NY