ECHOES OF THE GRANDMOTHERS
ECHOES OF THE GRANDMOTHERS:
Roots of Humanity
Hosted by Grandmother Bernadette Rebienot

"The time has come for the Grandmothers to send a strong message to all peoples to turn our attention to the primordial experience of spirituality."  
Grandmother Bernadette, Omyene
Donate to support the Grandmothers Gathering in Libreville, Gabon, Central Africa from July 23rd to 26th 2015.

The Grandmothers Council and our supporters have put together a diverse range of unique and commemorative rewards for donors to the Africa crowdfunding. Please be sure to scroll to the bottom of the page to see which rewards best meet your support wishes.

Revised Financial Minimum Goal – USD $40,000
(This is the official crowdfunding goal.)

A Global Invitation

The International Council of Thirteen Indigenous Grandmothers is honored to announce our upcoming 13th Official Gathering to be hosted by Grandmother Bernadette Rebienot in her home village of Oyenano in Gabon, Central Africa.

Preparations are now under way in Grandmother Bernadette's home village to embrace her sister grandmothers and offer prayers for peace and healing for the world. We are grateful and looking forward to visiting and honoring Grandmother Bernadette and the African continent to pray for all our relations.

The Grandmothers are in our 11th year of bringing wisdom and knowledge of native peoples and spiritual traditions from our cultures to everyone who is devoted to insight from ancestral lineages.

Producing Grandmother Bernadette's event in her home village of Oyenano is an enormous task requiring the support of many people. 

With your help we can make it happen. We honor and treasure all of you.

Grandmother Bernadette and her people must prepare and renovate Oyenano Village in order to accommodate the Grandmothers and the activities for the public gathering that will bring an influx of 400 to 500 participants from all over the world. 

Essential on-site improvements include handicap accessibility, housing, bathrooms and lavatory plumbing, basic infrastructure improvements and renovation, telecommunications, site safety and much more.

Our intention is to use the funds to produce the Gathering and help repair and renovate Oyenano Village's infrastructure and make it more usable for the villagers' future ceremonies and cultural gatherings. 

We must bring our Grandmothers with our family travel companions, translators and medical staff from each of our home countries, travel that takes both time and money.

Bringing our Grandmothers together from all over the world is costly. Costs for each Council Gathering exceed USD $200,000. 

To this end, we have already raised more than USD $50,000 through donations from foundations and private donors for Grandmother Bernadette's Gathering .

Celebrating the completion of the circle of the 13th Official Grandmothers Council will be an exhilarating life transforming event for everyone – the Grandmothers, our support team and all participants who journey from the four directions of our home planet to join in the festivities and devotional prayer.

We heartfully invite all lovers of native wisdom to assist the Grandmothers in completing our 10-year mission by helping Grandmother Bernadette fulfill her dream to host the completion Council Gathering in her spiritual village of Oyenano.

We invite each and every one of you to join with us in joy and prayer in Oyenano Village!

Your support is gratefully appreciated.

Join our festivities … Join our dance … Join our prayer.

A Special Message From Grandmother Bernadette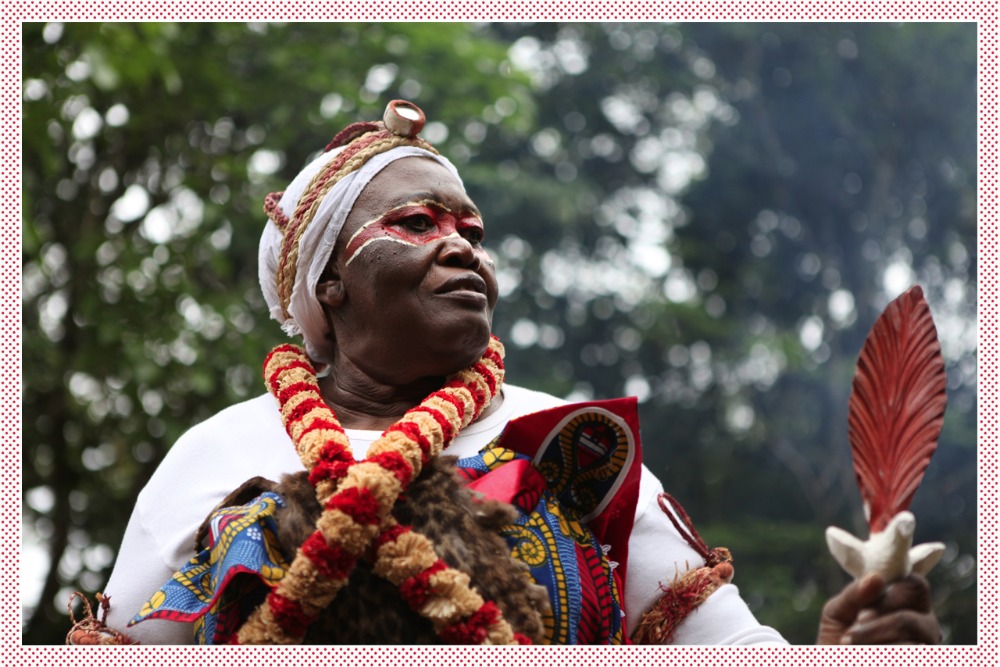 "In Africa, grandmothers are (considered) living libraries of each of our own history because their footprints cannot be erased. They represent the historic memory of all humanity. These women's shadow inform us and continues to teach us through diverse experiences.

One of our proverbs says: 

Grandparents are inextinguishable flames. 
They are, in fact, eternity itself."

Grandmother Bernadette
May 21st, 2015

A Special Message from Grandmother Maria Alice

Budget Allocation – How Donations Will Be Used

The Grandmother Council operates on donations from people just like you.

With your kind financial support we can travel the world working diligently for peace and justice for all people, for our land, water and air, for our natural resources, food systems and all living beings.

We honor and treasure your support and generosity. Here is a rough breakdown of how we will use funds when we meet our minimum needs of $40,000 US dollars.


Grandmother Council Website and Facebook Pages

For more information about the schedule of events for the Africa Council Gathering, please visit the Grandmother Council website at http://www.grandmotherscouncil.org 
... or our multilingiual Africa Gathering website http://www.echosdesgrandmeres.com/

Please follow and 'Like' us on Facebook - https://www.facebook.com/13GrandmothersCouncil

What People Are Saying About the Grandmothers Council

"Dearest Grandmothers, each one of you are so unique in your journey, like a garden of beautiful flowers, united your impact creates a powerful healing educational influence on our dear Mother Earth. No wonder you are 13 . Thank you, bless you with love and appreciation for all your prayers, knowledge wisdom and service." 
-Louise R., OR, USA

Que la Terre vibre au rythme du cœur de toute Femme animée par la Santé, la Nature et la Famille! 
(May the Earth vibrates to the rhythm of the heart of any woman driven by Health, Nature and Family!)
-Stéphanie N., Fréjus, FR

"Honor, respect and courage for the path they have chosen. It is through women the future is created as they teach their young. Balance and harmony with respect for self and others. Blessings!" 
-Judi S., AZ, USA

"Thank you Grandmothers, for your wisdom, your commitment to a sustainable world, and your prayers for peace."
-Debby O., NY, USA


About the International Council of Thirteen Indigenous Grandmothers

October 13, 2004

We are thirteen indigenous grandmothers who came together for the first time from October 11 through October 17, 2004, in Phoenicia, New York. We gathered from the four directions in the land of the people of the Iroquois Confederacy.

We come here from the Amazon rainforest, the Alaskan Tundra of North America, the great forest of the American northwest, the vast plains of North America, the highlands of central America, the Black Hills of South Dakota, the mountains of Oaxaca, the desert of the American southwest, the mountains of Tibet and Nepal and from the rainforest of Central Africa.

Affirming our relations with traditional medicine peoples and communities throughout the world, we have been brought together by a common vision to form a new global alliance.

We are the International Council of Thirteen Indigenous Grandmothers. We have united as one. Ours is an alliance of prayer, education and healing for our Mother Earth, all Her inhabitants, all the children and for the next seven generations to come.

We are deeply concerned with the unprecedented destruction of our Mother Earth, the contamination of our air, waters and soil, the atrocities of war, the global scourge of poverty, the threat of nuclear weapons and waste, the prevailing culture of materialism, the epidemics which threaten the health of the Earth's peoples, the exploitation of indigenous medicines, and with the destruction of indigenous ways of life.

We, the International Council of Thirteen Indigenous Grandmothers, believe that our ancestral ways of prayer, peacemaking and healing are vitally needed today. We come together to nurture, educate and train our children. We come together to uphold the practice of our ceremonies and affirm the right to use our plant medicines free of legal restriction. We come together to protect the lands where our peoples live and upon which our cultures depend, to safeguard the collective heritage of traditional medicines, and to defend the earth Herself. We believe that the teachings of our ancestors will light our way through an uncertain future.

We join with all those who honor the Creator, and to all who work and pray for our children, for world peace, and for the healing of our Mother Earth.

For all our relations.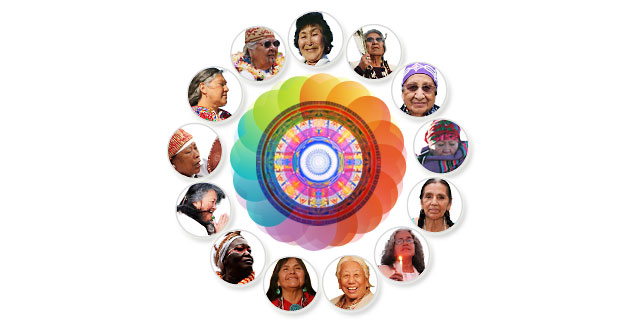 Aama Bombo – Tamang
Agnes Pilgrim – Takelma Siletz
Beatrice Long Visitor Holy Dance - Oglala Lakota
Bernadette Rebienot - Omyene
Clara Shinobu Iura - Brazilian/Japanese
Julieta Casimiro - Mazatec
Margaret Behan – Cheyenne-Arapaho
Flordemayo - Mayan
Maria Alice Campos Freire - Brazilian
Mona Polacca – Hopi/ Havasupai/Tewa
Rita Long Visitor Holy Dance – Oglala Lakota
Rita Pitka Blumenstein – Yup'ik
Tsering Dolma Gyaltong – Tibetan

Donor Rewards and Shipping

For rewards photos and detailed descriptions please visit our website's rewards page at:

http://www.grandmotherscouncil.org/gofundme-rewards-echoes-of-the-grandmothers-roots-of-humanity

All donor rewards will be shipped in early August, after the July Gathering in Africa is completed.

Shipping to countries outside the United States will incur an additional shipping charge.