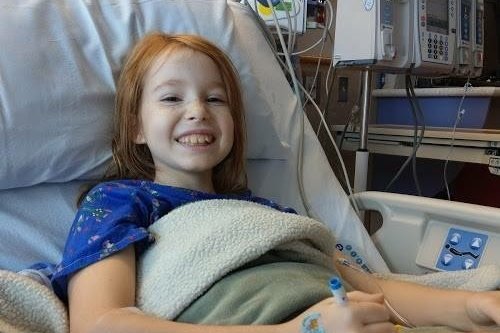 We hope to never know the sense of the helplessness, fear and uncertainty parents face when their child is given a life threatening diagnosis.  Having to advocate for what you feel is your child's best chance for survival and hope for a full recovery.  Those feelings are all too real for Diana and Bob.
Gabi was excited and nervous as the first day of 6th grade approached. That morning she continued not feeling well and at Diana's insistence their Pediatrician sent her for blood work; within an hour the Pediatrician advised Diana and Bob to take Gabi immediately to the ER at Children's Hospital of Philadelphia (CHOP).  After initial tests showed dangerously low blood counts, Gabi was moved from the ER to the ICU for a few days where she received numerous blood transfusions to get her blood count into the acceptable range.  Gabi's bone marrow biopsy confirmed the diagnosis of Severe Aplastic Anemia (SAA). 
SAA is a bone marrow disease. The bone marrow is the soft, spongy tissue inside bones. SAA causes the bone marrow to not make enough blood cells for the body.   These blood cells are:
Red blood cells to carry oxygen
White blood cells to fight infection
Platelets to control bleeding
A Bone Marrow Transplant (BMT) is the only potential cure for SAA. 
Since her initial diagnosis life has been a roller coaster.  Gabi receives blood transfusions at CHOP twice a week; between long stretches of whole blood transfusions the symptoms of SAA return.  These symptoms are leave Gabi feeling fatigue; shortness of breath with exertion; rapid or irregular heart rate.  Gabi has experienced frequent hospitalizations due to excessive nose bleeding, fever and chest pains.  Just when they think things have settled down, a new bump in the road arises.
Gabi is scheduled to have a BMT in early November which comes with a host of possible terribly adverse side effects. Gabi will be hospitalized before for "conditioning (chemo, radiation and drugs)" to wipe out her immune system and prepare for the donor's cells. She'll be in strict isolation at the hospital for hopefully 3-4 weeks after the transplant, barring any unforeseen complications like infections, Graft-vs-Host disease, etc. She'll come home to reduced isolation for an additional 4 months to reduce the risk of illness and infection.  Her immune system will be immature for about a year, so our hope is she'll be ready to have a do-over of 6th grade in September. 
Having a child in the hospital can be extremely stressful for a family. Having to care for a child in the hospital while trying to care for another child at home can complicate matters. Max has many questions about what he's seeing and experiencing in the hospital when visiting Gabi. At the same time, he's dealing with how this is affecting Gabi and his own life. 
Diana and Bob's family, friends, and coworkers have been beyond amazing and supportive throughout this experience. Their positivity, generosity and kindness has meant more than they will ever know. Both of their employers have also been wonderful and they appreciate the benefits for working for not just companies, but "family" companies. They are both fortunate to be able to have flexibility to work remotely when needed in order to care for Gabi, but the bone marrow transplant hospitalization, biweekly clinic visits and uncertainty of unexpected hospitalizations are expected to exhaust their accrued PTO.  During these hard times, their family will also be incurring a tremendous amount of bills fighting this battle (parking/gas/meals at clinic and hospital, groceries for a Low Microbial Diet, numerous Amazon orders for cleaning/medical supplies, household expenses, professional housecleaners to prepare for Gabi's reduced isolation as well as fronting copays and prescriptions hoping to be approved for secondary insurance to supplement what's out-of-pocket with their primary insurance, gifts and experiences to help make sure Max feels special and copes during this, to name a few).
I will ask that anyone who can donate, please do so. Even if your contribution is small, all of it helps. All funds donated will go directly to pay for Gabi's expenses, as well as insurance, and household expenses. If you are able to help with any donation, it will be greatly appreciated. Anything not directly used for Gabi and Max will be donated to CHOP.


Fundraising team (3)
Melissa Bruner 
Organizer
Raised $5,565 from 29 donations
Conshohocken, PA
Lynn Totten Daly 
Team member
Raised $275 from 4 donations
#1 fundraising platform

More people start fundraisers on GoFundMe than on any other platform. Learn more

GoFundMe Guarantee

In the rare case something isn't right, we will work with you to determine if misuse occurred. Learn more

Expert advice, 24/7

Contact us with your questions and we'll answer, day or night. Learn more