Give Angus Sisters the best days
On the 25th of March 2018 we said goodbye to our sweet Man. The Brave Mr Angus. It was a hard 10 months and Angus fought hard but sadly at 6:16pm Sunday night he went to heaven.  We thank everyone for their support during the horride weeks up untill Angus' passing. 
We continue to ask for support as the weeks that have followed have been exhausting. Angus has four Sister (three) who witnessed his horrid battle daily.  His sisters and our family still require addition financial support we are dealing with evey parents worst nightmare. he ordeal Angus went through left surmountable scars for his family and the pain is raw,  Nightmares are often experienced , nursing and caring for your precious boy, watching and hearing him slip away are ncommunicable, getting out of bed can be an effort in itself, let alone dealing with every day life.  
So if anyone feels the desire to continue to support our family while we manoeuvre our way through this now new normal (the normal day of not getting up and caring for our 3 year old, of not hearing his adorable laughter, of not thinking about how you're going to get the shopping done and the housework done while caring for our adorable little man....None of which is the "normal" we desired but what our last year did become).  Please know your support will just go to make it that little bit easier. Knowing that even if the weekly budget doesn't allow for family outings, nights off cooking, your support does!  Also know that if your budget does not allow for financial support we appreciate your prayers and you're kind words .
Our original Story is below.... 
We are asking for donations to assist it making the time we have with our amazing Little Man Angus Bane Jonathan Johns as peaceful and easy as possible.
On 30th May 2017 at age 2 and ½ Angus was diagnosed with a embroynal brain stem tumour. The way we became aware of the tumour was because the tumour caused a bleed on the brain, which induced a stroke and caused paralysis of the right side of his body. He was rushed to LCCH (Lady Cilento Children's Hospital) in Brisbane, where a MRI confirmed a large growth on his brainstem. After much discussion with the team at LCCH and oncology partners in USA and England, it was decided to operate although the surgeon was extremely concerned of the danger because this surgery was inside the brain the dangers were and are immense,  to get to the brain stem the surgeon needed to go through the Cerebellum, this in itself could lead to major damage (the cerebellum regulates motor movement, coordinates voluntary movement such as posture, balance, coordination and speech). How ever it was decided that if there was to be a chance to save his life surgery was need immediately, so On June 6th 2017 Angus had his first surgery, this is called Debulking, it took 5 and ½ hours removing approximately 85 to 90% of the mass (cancer). It took 10 days to get the results of the biopsy, the longer it took the more concerned we become, rightly so. The doctor broke the news as best he could; our baby boy has a rare aggressive tumour, embryonal tumour with abundant neuropil and rosettes (ETANTR).  In layman's terms the tumour is incredibly rare which was only first documented in 2000, There is no treatment and only 80 known case (in 2017) and none have survived, this cancer only presents itself in children under 4 years old.
In the last ten months (since 30th May 2017) Angus has undergone 2 major brain stem surgeries, 3 central line surgeries, 3 eye surgeries, 3 lumbar punctures, 2 blood transfusions, 2 platelets transfusions, 3 rounds of chemotherapy which did not stop the growth, ( in 3 months of chemotherapy  the tumour regrew to it's original size cemo was stopped and a second 5hr brain stem surgery performed.)
6 MRIs and 4 CT scans, 1 surgery to replace the central line with a port-a-cath, 53 general anaesthetics, 30 days radiation, 2 frontal lobe drains and 1 brain shunt.
All treatments have been aggressive. Until 12th February 2018 Angus would need his central line dressing changed, this is a procedure in it self. On 8th February 2018, Angus was started on a trial drug Nivolumab.  However he was only able to receive 1 treatment because on the 12th of March 2018, Angus woke up fitting (10 seizures officially counted), once again he was rushed to LCCH.  We were informed these seizures were due to a blockage in his middle lobe which was causing pressure to build up on his brain. Wednesday March 14th 2018 at 7:30pm we were given the heartbreaking news that Angus now has 9 tumours growing on his brain and the original tumour has grown larger than his brainstem. He has more tumours spread down his spine but the Doctors didn't feel we needed to know the amount.   
The main tumour is on his brainstem and because of the size, it has started pressing onto his nerves. The doctors have estimated that Angus now has only days to live. Mum and Dad, have brought him home to spend this time with his Family. Being home has already made a massive difference. 
Now his family still believe that while there is breath there is hope and there is still time for a miracle. But our reality is this: (Medically) Angus who is only 3 years old, officially has a limited time! We are asking for you to give what you can to assist our family (whether it is just having the money to buy Pizza for dinner, Taking Angus 3 sisters aged 8, 10 & 12 to get a treat or out of the house for a small break or paying for one of the massive bills that are overwhelming us at this moment). We thank you for any assistance you can provide as your generosity is received with so much thanks we can not express.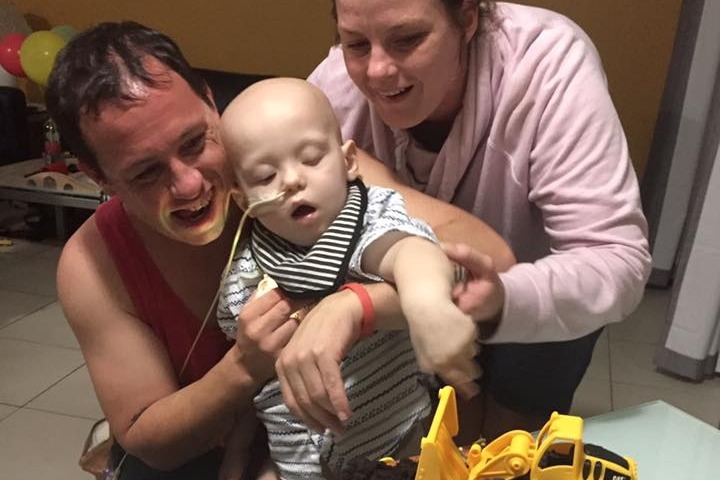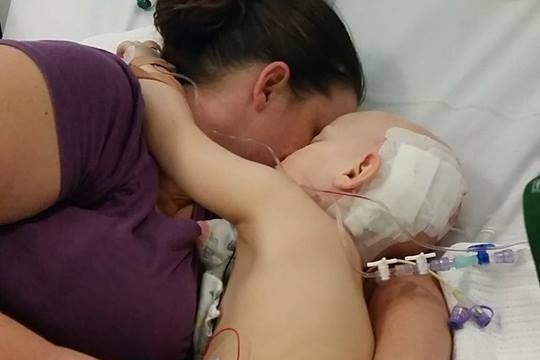 Organizer
#1 fundraising platform

More people start fundraisers on GoFundMe than on any other platform. Learn more

GoFundMe Guarantee

In the rare case something isn't right, we will work with you to determine if misuse occurred. Learn more

Expert advice, 24/7

Contact us with your questions and we'll answer, day or night. Learn more