Thanks to a wonderful anonymous donor, I changed the required amount to get my book in your hands!  Any amount you can donate will help. I truly feel that Get Stuck On Happy will be a best seller and your donation can help make that happen. The sooner we get her into publication, the sooner we can help more people live happier lives!

Thank you from the bottom of my heart. I love you all,

Janet

If you are wondering why I revitalized this fund raiser, it was for two reasons.

#1, I finished my book and am anxious to get it into your hands
#2. Paypal decided to close my account and "stop doing business with me" and froze any and all funds in my account. The funds in that are in that account were set aside to publish my book.

I know many of you are very anxious to read my book and help me help the world live happier lives by sharing Get Stuck On Happy and I thank each and everyone of you for your contributions and for sharing our Fund Raiser. Remember, every dollar helps!

Read what the lucky few who read the first draft of Get Stuck On Happy:

Praise for Get Stuck on Happy!

Barb  Sim: … I love that[this book] is short and simple and that the ideas are written in a " want this... then practice" this form. You have reinvented the present day's teachings of the "New Testament" in a pocketbook!!

Maureen Charlton: Janet Legere's latest book is a must-read.  Extremely well written. Lots of suggestions and links to put anyone's mind in a happier place. The book reflects Janet's personality, her kindness and willingness to help others.

Pam Comstock: … I so enjoyed reading and reflecting on your passion for such a needed and underrated "commodity".  You send your message out with joy and enthusiasm, sharing selflessly with all.... [N]ice work.

Will Buckley: ... This book is a fantastic attempt to bring Janet's light to your world. I strongly urge you to read this book all the way through once, reflect on the simplicity of her heartfelt gift to you. When you read it the second time, stop and use the tools she has acquired through years of experience as a real person using the education of life to help you find your happy. I cannot say enough about how thrilled I am you got your hands on this book. Janet will help you find the most important thing in life...happiness.

Claudia Adcock: Janet has written her 30 ways to be happy in a very thorough and productive manner that will help anyone that would love to be more happy on a daily basis… I have and still use these 30 steps and have become a much more loving person and feel I can accomplish anything! ...I highly recommend this book to everyone! Anyone can benefit immensely by following these 30 steps to being happy. Be prepared to start living a happier life.

Laura Vero-Augustine:  … This book is everything it promises to be. If you put her advice into practice, you will absolutely, without fail, be a happier person for it, and your family will be too.

Tammy Holt-Cote: Bravo. Janet's secret ingredients to happiness have finally been revealed. Her daily positive thoughts and attitude are truly contagious and inspiring. You always leave her company happier than when you arrived. Now we can all be that happy person you want to meet.

Jane Mark: I read Get Stuck On Happy yesterday and… Today it inspired me to write a Happy Card. It reads: Make Someone Laugh today. I followed that with some deep breathing before plunging into a day of work... I love [this] book which is thoughtful and lays out a wonderful path to a creative and a life full of joy… Everyone should read Get Stuck on Happy. It will change the way you look at many everyday things and give you a hook to hang your hat on to live a happier life.

=====================> 

After much debate and a great deal of procrastination, my book is finally well on its way to being published.

During my meditation this morning, the idea came to be to come to my friends and business associates to help me "fund" the publishing of my book, "Get Stuck On Happy, 30 Ways to Change Your Thoughts and Live a Happier Life".

The "funds" will cover such things as hiring an illustrator to illustrate the book, hiring and editor to edit the book and paying for publication and marketing of the book.

The book itself will be a "Pocket Book" so you can have happiness handy in your pocket any time you need it. Your 'Get Stuck On Happy' Pocket Book will fit comfortably in your pants pocket, shirt pocket, jacket pocket or purse pocket.

The 'Get Stuck On Happy' Pocket Book will become your new 'go to ' book to keep you in a constant state of happiness.

Happiness, after all, is a choice and in my new book, 'Get Stuck On Happy', I will offer you 30 activities that you can do over 30 days to help raise your happiness quotient. You can then use the book to help you 'lather, rinse, and repeat' to help keep your happiness quotient rising!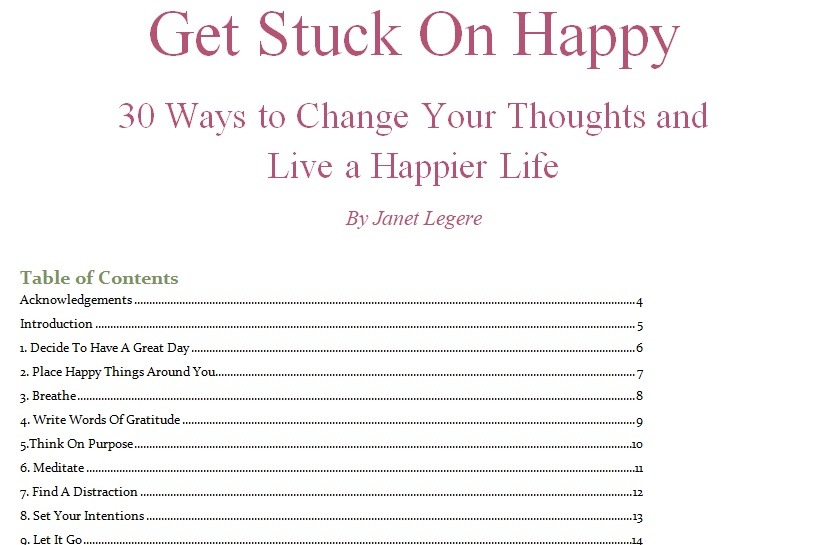 What you see above is a snapshot of the first draft of the Contents. 

I want to thank you, in advance, for helping make this dream come true ... a dream for me to help YOU to a better state of happiness.

Janet Legere
Get Stuck On Happy

Donations of any amount are gratefully accepted and the following gifts will be rewarded for the following extended donations.

Donate $5 or more and receive a PDF Version of 'Get Stuck On Happy'

Donate $25.00 or more and receive a signed copy of 'Get Stuck On Happy'