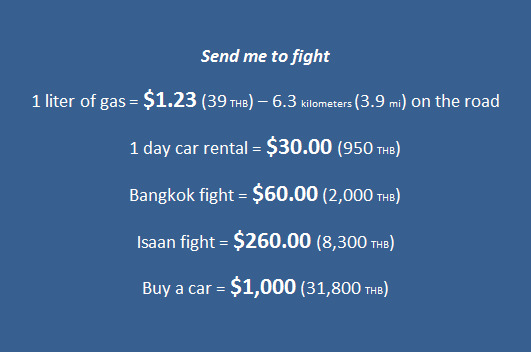 Help with Gas, Travel and Car in Thailand
My name is Sylvie von Duuglas-Ittu, and I've been living in Thailand for the last two years. And I'm on my way to fighting more Muay Thai fights in Thailand than any other western woman (and ultimately perhaps more than any western man). 
100 in about the 3 years
I will have lived here
.
I've fought here
73 times already
. I've made it my mission to fight as much as I can, as we only live for a short time, and it is an incredible blessing to be healthy and be able to fight in Thailand, the birthplace and home of the art.
Yet since moving to Pattaya down from where I once lived in Chiang Mai a month ago I discovered that actually finding fights to fight has become difficult. Among the things that have changed, the Thai coup has affected the tourism that drives local Pattaya fighting, and fights have dried up, so it looks like I will have to travel to Bangkok (2 hrs) and Isaan (6 hrs) to be able to keep fighting at this accerated rate, about 3 or 4 fights a month. You can read all the details of my situation and request for help getting to fight here: 
Help Get Me to Fights
.
I've been passionately blogging my journey for the last 2 years at
8limbs.us
in hopes to inspire more women to come to Thailand and fight at a high rate, and also to help shine a light on some lesser known aspects of the experience, as well as Thai culture. I want more women fighting, and more women fighting more. I'm also a fiercely independent as a person, and it isn't easy to ask for some aid, but right now it is looking as if this may be the only way I can achieve my goal. 
A lot of people have asked over time if they can help donate to my path, but I'd like to keep it concrete: I need help with gas, the rental of a car, or possibly even purchasing an inexpensive old car to cross the miles between me and fights waiting to be fought. Even a liter of gas can help get me to where I'm trying to go! My hope is to reach 100 Thai fights by June 2nd, 2015. It would be meaningful if you help me get there.
Below is a snapshot of my fight rate since I came to Thailand in 2012 (109 fights are the technical goal, as my amateur fights before Thailand are included). You can see my complete fight record, my up-to-date fight rate, and a link to videos of all of my fights here: 
My Complete Fight Record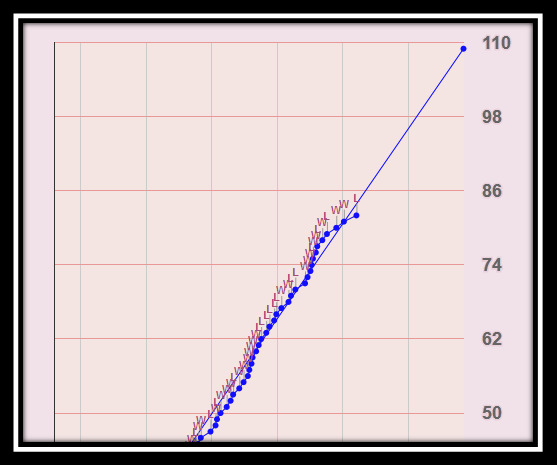 Below is a short 5 minute documentary made on me when I was just reaching for 50 fights, more than a year ago. It talks about my motivations as a fighter, as a person, and some of why I'm fighting like this. I will say that once I got to 50, and saw that 100 was in reach, I really became impassioned.
Fighting the Dream Documentary - YouTube
If you want to know even more about me, aside from my blog you can check out my YouTube channel which has
over 1,400 videos
, videos from the very start of my training 6 years ago, on. And if you have any questions I'm always open to chatting
on Facebook
or
Twitter
.
Be a part of my fight travels, and literally fuel me to 100 fights.Update:
As we've blown past the goal of $2,000 in only 2 days, and I have enough funds to get to fights now, any surplus money will be used to stay in Thailand as long as possible, and to keep fighting at the same rate. If I can, I'll not stop at 100 fights. I would very much like to fight more in Thailand than any western woman AND any western man, a number that is uncertain, and is being researched. And of course to be sharing and blogging all the details along the way. If you choose to donate you will be hopefully extending the date of when I would have to leave and return home, beyond the current June 2015 limit.
Organizer