If this project works, we will, at best, remove the sitting Tory from office in my constituency. At worst, we expect to inflict sufficient damage on the Tory candidate to ensure that the Labour party or Lib Dems win the seat through micro-targeting of voters. Either way it's a win-win. A few quid from a lot of people will see us on our way and Rehman Chishti out of our way.
My name is Peter Cook. In 2019, I stood a cat for election in Gillingham and Rainham to bring the Tory vote down and allow other parties to put their best feet forward. Yes, a cat, you got that right! Despite my insistence that nobody should vote for 'Stan the cat', and with no budget or campaign team, the UCAT party did not come last. We beat the Christian People's Alliance with 229 votes and were not so far away from defeating UKIP (happy face) and the Green party (sad face) in Medway. The long-term Tory party agent told me at the hustings "If it hadn't been for your stupid fucking cat, you were easily the best candidate on the stage". The Lib Dem Chair in Medway said that "my cat was an existential threat to the Lib Dems". I found this utterly ridiculous but never mind. In between things, I helped the local Lib Dem candidate retain their deposit (the first time this had happened in more than a decade), by taking him out on pub visits and so on, but the Chair was of course oblivious to that.
It occurred to me that (a) if I had campaigned across the long-term with a campaign team rather than a couple of weeks, I could easily have done much better (b) certainly if I had asked for people's votes (I got 229 votes, in spite of begging people to vote for the other candidates) I would have done a lot better (c) with a budget, we could have done several leaflet campaigns, town hall meetings and media coverage and (d) the cat had much better policies than the established parties. We had a full manifesto but sadly, more people were impressed by the more fanciful policies of repurposing the Medway tunnel as a giant cat flap and so on !! :-)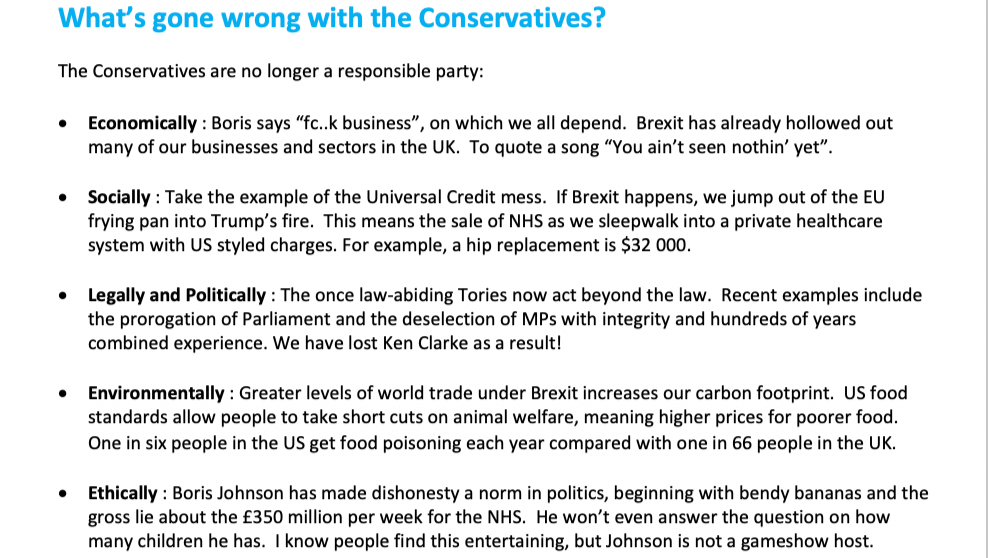 A sample of my manifesto
I plan to start a long campaign of pounding the streets and building a team to support me. If we succeed, we will oust Rehman Chishti, long-standing Tory MP who does little for the area. Even if we fail, we will probably cause the constituency to fall to Labour or the Lib Dems, so there is no 'lose' strategy in all of this.
If I win, I may well hand the seat to another party such as the True and Fair Party or Rejoin Party, possibly even to one of the mainstream parties, depending on the outcome of the election. A hung parliament is probably on the cards so I will make my donation once we have the facts at the time.
I will downgrade the feline nature of the campaign this time and upgrade the serious campaigning. That said, we'll keep Stan as the mascot and the key campaigning idea of "Could a cat do any worse than a Tory", which was a very persuasive slogan in 2019.
'White Stan' - we also had a ginger version !!
To do this, we'll need to plan and execute a long programme of activities. Some of these are detailed in our initial plan below. To get us off the ground, we'll need some funding NOW, hence this campaign. Please share widely.
STOP PRESS - We plan to take the Bollocks to Brexit Mini on tour to help educate people with the fact that Brexit has failed. We are doing this to save the Mini from the scrapyard as well as a major education campaign. See
Save the Bollocks to Brexit Mini
for more details.
Campaign budget
I invite others to copy(cat) the design to get their own Trophy Tory out. A list of possible targets can be found at
GTTO
.
Finally, here is one of the mainstream media videos we did in 2019. Obviously this time, our campaign will be more serious but the question remains:
Better a Cat in a Hat than a Tory Tw..t?
Become the first supporter
Your donation matters
See all
Organizer
Peter Cook
Organizer
England