Get Dimity to US for CoralStudies
**Wow!! Thankyou so much everyone!!**
I will be aiming to adopt some coral babies at the nursery with Reef Restoration Foundation on everyone's behalf also  <3
Hey Cats,
 I have been granted a Scholarship to study Coral Microfragmentation with David Vaughan at the Mote Laboratory in Sarasota and to represent Reef Restoration Foundation at the Reef Futures Symposium in Key Largo, Florida.
This takes place from the 10th to the 20th of December in Florida.
This opportunity has completely knocked my socks off to be so involved in something I am extremely excited about, coral conservation and restoration.
The group I work with, Reef Restoration Foundation have entrusted me to represent them at the 5 day Symposium which will be a chance for me to participate in daily workshops and attend lectures to gather valuable information and contacts for us to better improve the way our Coral Nursery functions in Cairns.
 The Scholarship opportunity is to study microfragmentation and fusion methods of growing brain, boulder and star corals up to 40x faster. My goal is to learn these techniques and bring them back to Australia with the hope of developing an arts practice in coral growth that raises awareness and benefits the environment.
Whilst I have managed to cover a fair amount of the expenses, I would love it if you can help me over the line!
 Some Info on the groups involved: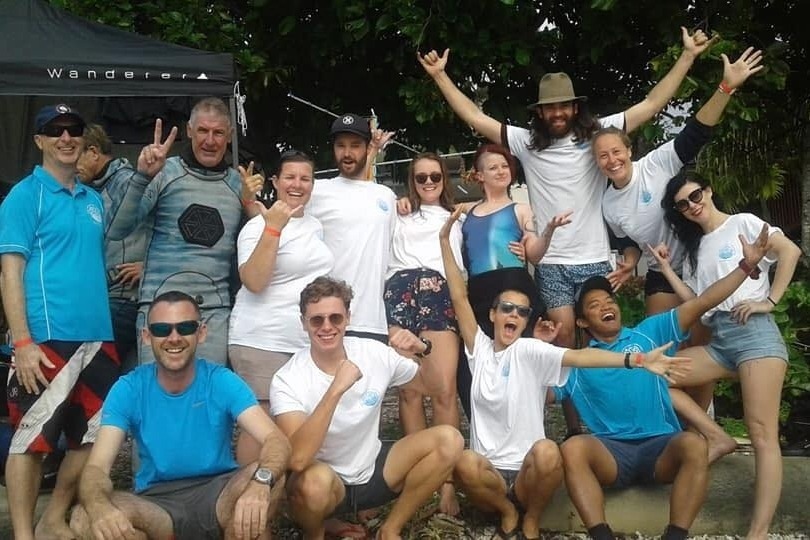 Reef Restoration Foundation:
Is a not for profit social enterprise collaborating with successful coral restoration projects in Florida and the Caribbean to create the first Great Barrier Reef Nursery at Fitzroy Island, near Cairns. Currently the nursery has 10 Nursery trees stocked with growing Acropora Coral and recently the first generation of new coral from the nursery has been successfully replanted on a nearby reef.
Reef Futures Symposium:
A Coral Restoration and Intervention-Science Symposium
Hosted by the Coral Restoration Consortium in Key Largo Florida.
5 days of Lectures and Workshops with key speakers in Coral Nursery Projects and Coral Conservation from around the world.
Mote Laboratory:
Mote Marine Laboratory is an independent, not-for-profit, marine research organization based on City Island in Sarasota, Florida, with additional campuses in eastern Sarasota County, Boca Grande, Florida, and the Florida Keys.

Dr David Vaughan:
David and I met at the recent Great Barrier Reef Restoration Symposium in Cairns and he aided us at our latest Nursery Expansion.
David is the Senior Scientist and Project Manager of the Coral Restoration program at the Elizabeth Moore International Centre for Coral Research and Restoration. He developed the Microfragmentation and fusion technique, to learn more you can watch this video and see why I'm so excited to study it.
 What my journey entails:
 Represent Reef Restoration Foundation at Reef Futures Symposium 
10th – 14th December 
Scholarship to Study Microfragmentation with David Vaughan
At Mote Laboratory  
15th -19th December
Budget:
Return Flights to LA $1,600 
(Covered by me it was cheaper to fly in and out of LA from AUS)
Fee to Attend Reef Futures Symposium $852 
(Covered by Reef Restoration Foundation)
Coral Microfragmentation and Fusion Course Study
(Tuition and Board covered by Scholarship)
Return Flights LA to Miami and luggage fee $700
Basic Insurance $150 
(Health, Luggage and Flight cover) 
Ground Transportation $200
(Airport transfers and journey to Mote Laboratory)
Accommodation for 5 nights during Reef Futures Symposium $987 
(No Airbnb or hostels nearby and no answers from couchsurfing.com, eek!)
Cheapest I can get is this at the Holiday Inn:
Total: $4,489
Asking for help with: $2,037
Thankyou for your consideration
With Much Love and Gratitude
Dimity
xxx