Féasta Cookbook for the Mater & Mercy Hospitals.
We have some of the best doctors, nurses and support staff in the world working in our hospitals. As the Taoiseach said "not all heroes wear capes, some wear scrubs and gowns".  
They spend their lives putting others before themselves. But the reality is, if they fall down we all fall down.
Now is our time to help them.
We have put together a
PDF cookbook "Féasta"
with over 20 recipes from Irelands cooks and chefs that you can enjoy in order to raise money which will go into a non restrictive fund for our hospitals. 
To purchase simply donate €5 and send your Donation confirmation to
[email redacted]
. 
Your PDF will be sent via email within 24 hours. 
While a lot of us over the coming months will be relying on baking and cooking to keep mindful and entertained, many doctors and nurses will be tirelessly working so this is a simple way you can help and get new recipes.
Over the next few months our hospitals will need as much support as possible so we really hope you can donate  €5 and in return for this wonderful book which you can download straight away to your phone and laptop.
The staff at the Mater and Mercy Hospital are at the front line of the fight to stop the spread of Covid-19. They are working around the clock and going the extra mile to protect all of us.
One of the greatest needs for staff in the weeks and months ahead is ensuring that they have the supports they need to help them to deal with the psychological and emotional trauma that they will have to deal with, their mental health. Many of them will contract Covid-19 and become ill themselves.
How will this help?
We are all facing into the unknown for what the full impact of Covid-19 will be. The government has committed funding to support our hospitals but more may be needed.
Increased cases of the corona virus are certain and both hospitals are prepared as best they can. It is important that additional funds are available to fund needs that will be become clearer as the situation develops.
Before Covid-19 hit fundraising was already needed by both hospitals to support projects such as robotic assisted surgery for cancer patients at the Mater as well as developing new facilities for stroke patients and community services for elderly patients.
The Mercy Hospital has been fundraising for a new cancer care centre as well as 3D cancer surgery and vital research.
It's important that this doesn't stop.
Unrestricted funds means that monies can be allocated where they are needed most to continue care to all who need it. 
Information on both hospitals;
The Mater Hospital is the national centre for lung health in Ireland. It is the only adult hospital in the country with ECMO life support and it is the home of the National Lung Transplant Unit.
It is one of the main hospitals in the country serving the east of the country and will be at the centre of the fight against Covid -19.
The Mater has almost 400,000 patient visits each year treating some of the most vulnerable people in our country, many of them elderly.
The Mater is also a national cancer centre and cares for over 9,000 cancers patients every year.
The Mercy Hospital is one of the largest hospitals in Munster and will be treating large numbers of corona virus patients. It is also a major cancer centre for the Munster region.
These two hospitals will treat some of the largest number of Covid-19 patients while also still caring for other patients with life treating conditions so they need as much support as possible.
A special thanks to the contributors and Aoife Dooley who illustrated the cover. 
Contributors; 
The Little Green Spoon
James Kavanagh and William Murray
Susan Jane White
Daniel Davey 
Sarah Kim- Watchorn
The Happy Pear 
Jr Ryall
Bread41
The Fat Fox
Trisha Tranformation 
Finn Ni Fhaolain
Roz Purcell
Donal Skehan
This is Kerry  and Bernie. They are ICU nurses currently working 14 hour shifts. They are both incredible, they're real heroes. They actually raised almost €5,000 for patient care by running 100 Miles in a Month with 42 other members of staff from ICU. They're on the frontline of this pandemic.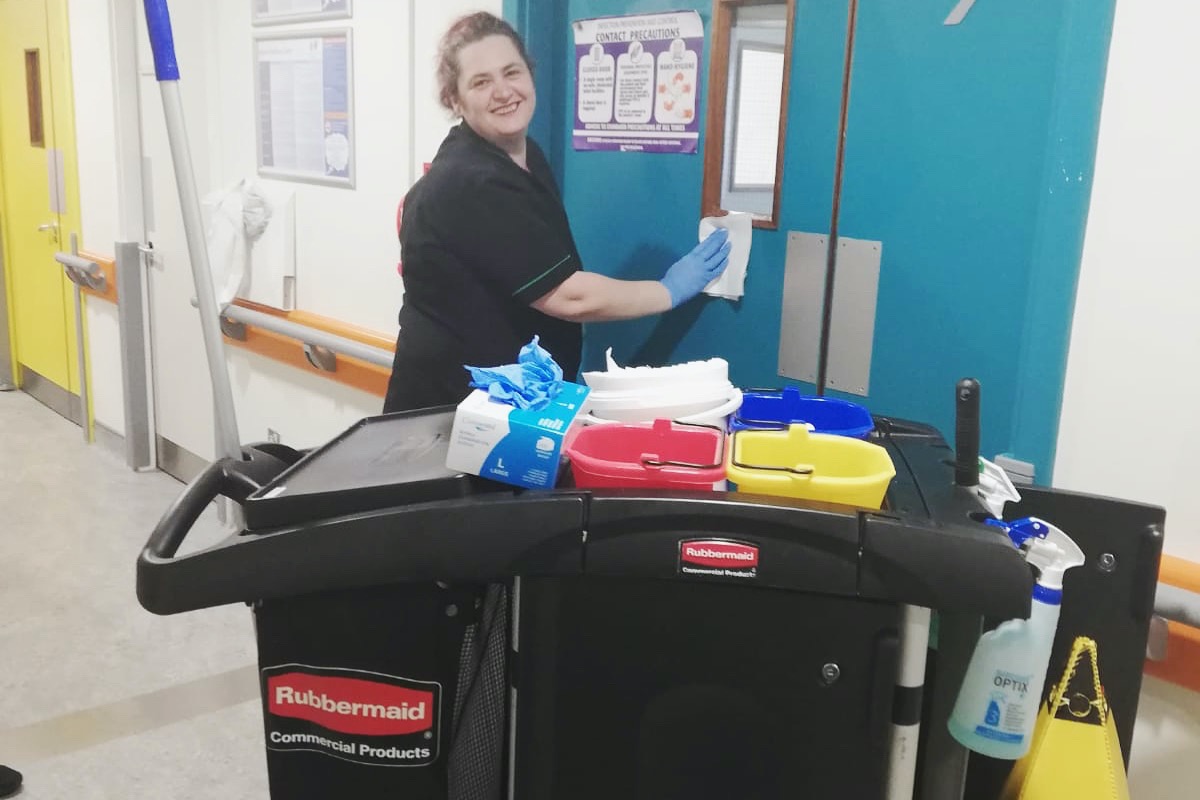 This is Liydia. She's one of our amazing cleaners in The Mater Hospital. She also has a frontline role in this pandemic. Her job is incredibly important in limiting the spread of Covid-19 around the hospital. She is making a life-saving difference even if she doesn't always get the same level of national recognition.
Organizer and beneficiary