Help AGSDAC purchase Equipment
http://www.atlantaghanaiansda.org/#!generous-life-fundraiser/d7xiv
The Atlanta Ghanaian Seventh Day Adventist Church, Communication Department, is happy to share the gospel to all nation, tribes and people across the globe. Our plan is to record and broadcast sermons, record choir music, and share these with the entire globe. To accomplish, we need to purchase some studio equipment. If we should rent these equipment every Sabbath, it will cost us $30,000 minimum every year. Instead, we decided to purchase the equipment necessary to provide these services. The cost will be less than what we will pay every year and having this equipment will give us the ability to record and broadcast sermons and church activities for the rest of our lives. We will be able to share the gospel till the second coming of the Savior. To us, this is exciting.
 Below you will find details of the equipment we are planning to purchase, as well as a thank you gifts for the different gift amounts.
Thank you for being interested enough to read about our needs and goals. And many thanks to all of you who have supported this ministry in various ways.
 EQUIPMENT THAT WE WILL BE PURCHASING/HAVE PURCHASED *
-Mac Pro
-Vocal Mic for talent recordings : Rode NT 2-A
-3 Mics for Choir : Audix microboom MB8455-84 High output cardiod
-5 dynamic mics for vocals : Shure SM 58
-Broadcasting Camera : Panasonic AW-HE40HKPTZ camera with HDMI output
-Live switcher : Panasonic Compact HD/SD live switcher
-Video Camera : Canon XA10 Professional camcorder – HD output *
-External rode mic *
-Stereo compressor : API 2500 *
-Mixer : Behringer X32 *                                                                                                           
​
WANT TO READ MORE
 Atlanta Ghanaian SDA Church is a rapidly growing church in the Austell, GA community. We offer services on Saturdays and Fridays, and in addition, we are proud of our involvement in the community. Our building is available to everyone. Over the years, we have developed quite a reputation for not only being a religious haven, but also a strong community partner in times of need.
However, you may or may not be aware that the technology systems, including audio visual equipment, communication office equipment, lighting etc., of Atlanta Ghanaian Seventh Day Adventist Church is in desperate need.
Most of these equipment, we don't have and those that we have needs to be replaced for better ones due to their performance and outdatedness.  
The estimated cost of this work is $25,000.
We very kindly request your assistance in the form of either a donation of materials needed so that we can get the gospel out to everyone, or alternatively a donation to help purchase these materials for the Atlanta Ghanaian Seventh Day Church Communications Department.
It has been the departments experience that people in smaller churches value:
-Meaningful/inspiring worship
-The gospel and Second Coming of Christ
-Audible sermons-Intimate atmosphere in the Sanctuary-Clean, clear sound-A variety of styles of music-A variety of setting including drama, video, projected lyrics,-Uncluttered Sanctuary-Wise spending and no or little debt-Visionary planning that includes people-Reusable/expandable systems-The poor and disenfranchised
IN ADDITION:
When it comes to technology, we do a great job of telling people what they should get.  But we don't often do such as great job of explaining why.  We need to be respectful and understand what technology is in terms of its role within our lives and our communities.
First things first, technology (whether it be equipment, software, internet technologies, etc.) are tools to accomplishing things.  Just like Pastors and church members began using cars to get around within their communities and telephones to better keep in contact with their communities,  today's technology is no different in terms of enhancing and improving the way we can do things.  It's about looking at the things we do and would like to be able to do better, or things we could not have done before and would have liked to be able to.
We should begin to truly think of and look at tech in this manner, and we can begin making good and sound decisions about which tech to select that will be the best choices that will allow us to accomplish the things we would like to.  
Technology can be applied within Atlanta Ghanaian Church environment and basically fall into these three categories:
Communication & Evangelization – Atlanta Ghanaian Church need to keep our communities informed as well as educate and reinforce faith principles.  Likewise, we need to provide welcoming environments to others new to our communities or thinking of joining the Church both in our physical and online presence.
 Administrative tasks – The Church have lots of things that need to be done and we need to manage those tasks so we can continue to effectively fulfill our mission.  This puts us in the unique position to constantly look at ways to simplify processes to work as efficiently and as effectively as possible while taking into account future changes.
Organization and planning – The Atlanta Ghanaian Church has an active environments with many things going on at one time through many ministries.  We are constantly challenged to keep things in order.
 With several events creeping around the corner, we are very desperate to share the gospel to as many people as we can through these technologies. Your generous donation will help us achieve these goals.
We look forward to receiving your favorable response and pray that you will be blessed for any contribution you can offer us.
Sincerely,
Charles Korankye 
Communication Director
Atlanta Ghanaian Seventh Day Adventist Church
Questions You May Have
1. Do you know how to use this equipment? read "The team's engineering education and experience"
2. How long will this equipment last? read "Equipment lifespan"
3. What's the problem with your previous equipment? read "Recording over the last years"
4. What's your purpose and mission? read "Our purpose and mission"
5. Any longterm goals? read "The road ahead" 
The Team's Engineering Education and Experience.
The team have individuals who have been studying audio and video engineering for over eight years now, taking online classes from some of the best engineers out there. All audio and video editing for the past years were all done by the department. So between the online courses and the practical experience, We have been equipped for this. 
Equipment Lifespan
The good equipment is heirloom quality. Outside of the computer and interface, a person could use this particular equipment his entire lifetime and even be able to pass it along. An example of this heirloom quality is the Rode NT-2A microphone. When one bought a Rode NT-2A microphone in the early 1992's, they got a microphone that could be used and used and used. Today, that same used microphone is being sold for a higher value. Why? Because it still works and even sounds better on account of the aging diaphragm! One can buy microphones of that caliber yet today. They sound amazing on almost anything you put in front of them and can be maintained for a lifetime. All of the good hardware is like this, from preamps to compressors. 
Recording over the last years
When we first started broadcasting and recording music sung at church, everyone like the idea. To be able to share sermons and music with friends, to be able to listen to live sermon even at home or when you are out of the country or state, to be able to gather young talents and bring them closer to God. We thought we could just get that "great sounds and videos" with low budget equipment; it was true in a very limited sense. Quickly we discovered that even if we could find a microphone that would record the voices in natural sounds, it wouldn't necessarily sound natural with someone else's voice. We discovered that providing high quality videos will engage the youth of today to watch videos broadcasted and recorded. We were constantly having sleepless nights trying to look for new piece of software that will make the video more attracting and editing these videos just to grasp the attention of the youth. We found ourselves trying to fix problems that were the results of poor quality cameras and microphones. To summarize the result: poor quality equipment cause our videos and songs to take more time to produce. This even caused some members to sometimes loose interest in recorded sermons. "The complaint; it's always next week and next week will be another next week". In addition, having the proper equipment would make us more efficient with our time, giving us the ability to keep up with recording of sermons and songs that will inspire others. 
Our Purpose and Mission
Like the written word, music and video goes places that we could never go. Our passion and purpose is to record music and broadcast sermons every Sabbath to reach people for Jesus. We view our ministry in the church as a department whose mission is to give people insights into God's love, mercy, grace, truth and freeing power through the medium of communication (sermon and music).
As members of this ministry, we've asked God to use our gifts to bring glory to His name and people into His Kingdom. We want to share the sermons, the music, and the stories of how God has touched the hearts of people. The youth needs to grow loving Jesus and believing in His unfailing love for us. It's our goal to see people repent and come to Jesus. We want to see love in our communities. Music can make all these happen. We will not get to meet people face to face to share the word of God with them but through videos and broadcasts, all that can happen. We hope to encourage every individual about the second coming of Christ. It's near and soon to come. His gospel needs to circulate around the globe. We hope to inspire every soul through music and video.  
The Road Ahead
Our past recording happens because some friends in the church gave us their personal camera and equipment to help us record. We highly doubt we would get this far in our ministry without their generosity. We want to do the same. There are many other young Christian musicians within the church and outside of the church that could use our ministry to record their music and share to world, with the purpose of sharing the gospel and reaching out to people to inform them about the second coming of Christ. We will love to do this.
​
Thank You Gifts
$10 or more - receive a special thank you note card
$50 or more - receive a wrist band
$125 or more – receive a digital copy of Pastor Gabriel Boakye – Dankwa Sermon.
$250  or more – receive a special thank you video from Pastor Gabriel Boakye – Dankwa + a digital copy of his sermon.
$500 or more - receive a special thank you video from Pastor Gabriel Boakye – Dankwa + a DVD copy of his sermon. 
$1000  or more - receive a special thank you video from Pastor Gabriel Boakye – Dankwa + a DVD copy of his sermon + 4 selected hymns sung and recorded by AGSDAC 
$5000 or more - receive a special thank you video from Pastor Gabriel Boakye – Dankwa + a DVD copy of his sermon +  4 selected hymns sung and recorded by AGSDAC + a dinner session with Pastor Gabriel Boakye – Dankwa (GA only due to flight cost)
visit 
http://www.atlantaghanaiansda.org
 for more about Generous Life Fundraiser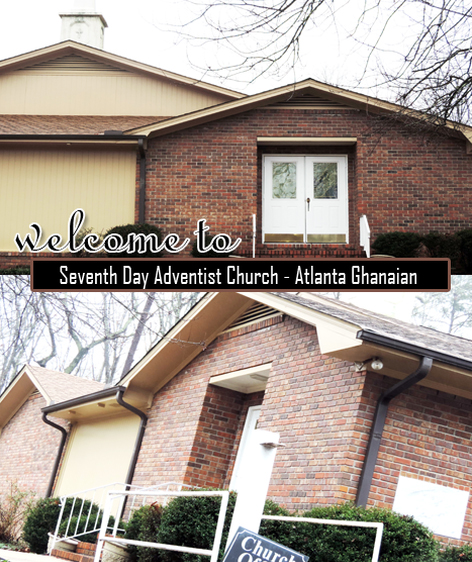 Organizer
Atlanta Ghanaian Sda Church
Organizer
Austell, GA