GarbageCAN Recycle in Pakistan
Please NOTE: Funds are being raised in Canadian Dollars. (1 CAD = 0.77 USD)
 The environmental hazards faced by Pakistan and its inhabitants are enormous. Thus, we have turned to 'Social Entrepreneurship', a form of business startup that creates solutions for society's problems.

Currently we are focusing on Karachi as one of the city's most pressing issue is waste management. Solving it would be a step towards larger sustainability goals that would affect the entirety of Pakistan and the globe.

This is where 'GarbageCAN!' https://web.facebook.com/gbgecan/ comes in.  'GarbageCAN!' will enable the people to take ownership of the city and clean it up themselves. We will do this by providing them incentive; by educating them from schools to universities; and by making it easier and attractive, using custom decorated recycle bins with separate compartments for different materials. We will also provide corporations and industries an easy solution where they can fulfill their social responsibility and give back to the city. 

Our goal is to make recycling commonplace and to make it second nature for every single Karachiite and Pakistani all the while focusing on overall sustainable waste management.

Not only do we provide waste management services, we also aim to become one of the organizations that thinks outside of the box in order to protect the Earth! We are working towards developing an R&D department where we look into better ways of recycling, and managing ways. For example, we are currently working on Plastic Pyrolysis as a means of reducing waste as well as producing fuel.

You can donate online.

OR

If you are in Karachi you can call our service to schedule a pick up and donate in person.

OR

Those in Pakistan may use the following details if they wish to donate:

Bank:           Al Habib
Acc No.:    11300095006784016
Acc Title:   Ahmad Shabbar


In the wise words of Oscar the Grouch: 'Its called garbage can! Not garbage cannot!'
Please note: Our website is still under construction https://garbagecanpk.weebly.com/ . You can find details of our work or reach us on the Facebook link: https://web.facebook.com/gbgecan/ 

Below you can see the details of our goals; our work thus far; a list of organizations we have worked with; testaments to our work; GarbageCAN in the news; and a short blurb about our founder:



Our goals are broken down into milestones. Each milestone will bring us closer to a sustainable future. The additional goals listed below will help us develop more efficient ways of protecting our environment.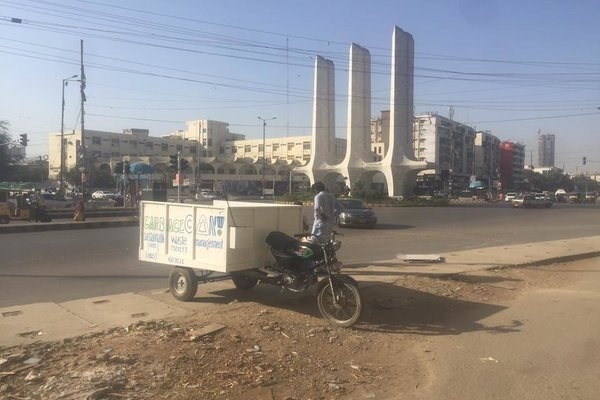 Clean up campaign at Teen Talwar 2018. (Cinci can be seen in photograph)


Recyclable Item pick up from Karachi Beinnale 2017


The recycling process at the Dawood Foundation Magnifiscience 2017


The recycling process at the Dawood Foundation Magnifiscience 2017


Plastic Pyrolysis crude prototype display Magnifiscience 2017


Earth Day 2017 talk at the Pakistan Chowk


Earth Day 2018 clean up at the Urban Forest


Month-long Clean up at Gaari Khata 2017: Before, During, After.


Recycle Bin set up for 6 months at T2F 2017. (Design by Phool Patti Truck Art https://web.facebook.com/phoolpatti1/)



Precious Plastic Shredder Machine. (One of our goals. You can find the other machines at https://preciousplastic.com/)


Organizations we have provided waste management and recycling services to:

- BBQ Tonite
- Happy Palace Grammar School
- Dawood Public School
- SIUT
- University of Karachi
- Road Stoves Cafe
- Gaari Khaata Welfare Association
- Tundra Fonder
- The Bridge
- Super Savari Express
- Various households

Organizations we have given talks to and created awareness with:

- Deaf Reach (Family Education Services Foundation)
- Cordoba School for A levels
- SZABIST
- Panache Women
- Pakistan Chowk Community Center
- Dawood Public School summer camp
- The Dawood Foundation Magnifiscience Exhibition 2017
- Karachi Farmer's Market
- Urban Forest
- Story Storms
- ArtChowk Gallery

Testiments to our work:

Happy Palace Grammar School:

'I have found 'GarbageCAN!' to be a highly responsible and efficient company in terms of execution of waste disposal. In a place like a school, it is of utmost importance that students learn from socially responsible companies like 'GarbageCAN!' at a very early stage of their lives and become future 'green' citizens of their country'.
 
Hassan Khan
Managing Director
Happy Palace Group of Schools http://www.hpgs.edu.pk/ 

The Bridge:

''GarbageCAN!' is doing a great job in transforming our beloved country into a healthier, cleaner one. On the last tour of 'The Bridge' to the ancient sites of Sindh, 'GarbageCAN!' successfully cleaned several tourist attractions that were polluted by tourists. Only when we will take such initiatives as responsible citizens can we hope for a sustainable environment for the future'.

Fazeel Zia
Founder and Co-Owner
The Bridge https://web.facebook.com/bridgingyou/ 

University of Karachi:

'GarbageCAN!' is an environmentally conscious organization. They provided us with efficient yet thorough clean up services when we hired them for our Convocation 2017. They cleaned years of trash from the most difficult locations within 3 days. They have also helped clean up University of Karachi regularly for the first half of 2017. Overall, 'GarbageCAN!' is a dependable organization and provides a much-needed service in Karachi'.

 Dr. Moiz Khan
Assitant Professor and Member Security Council
University of Karachi

GarbageCan in the news:

http://newslinemagazine.com/magazine/pioneers-of-2017/ 

https://tribune.com.pk/story/1692544/1-need-take-care-mother-nature/ 


About our founder:



Ahmad Shabbar is a scientist and an engineer by profession. He has a Bachelor's of Arts in Physics from Reed College, and a Bachelor's of Science in Mechanical and Energy Engineering from the University of North Texas. He has worked at the Reed Research Reactor (a research nuclear reactor), and won the top prize at NASA's Texas Space Grant Consortium.

Even though waste management and environmental issues were not a central part of his career, he has a varied experience with them. While, working at the nuclear reactor he had to work with nuclear waste; and the NASA project was to design a system without any moving parts to remove CO2 from the airstream. He also has experience with medical and chemical waste.

After his return from the US in early 2016, he noticed the Karachi trash crisis. He also realized that there was no mainstream concept of recycling, reusing, and reducing. That is when he decided to create 'Garbagecan (Pvt.) Ltd.' Garbagecan is hence a social entrepreneurship, where Ahmad's vision is to spread awareness via talks at schools, community centers etc. about proper waste management and sustainable practices, as well as to provide a service based on those principles.

Note of thanks:

Thank you for helping us in our efforts to clean Karachi. We appreciate your help in protecting the environment. We are very grateful that your went through our entire campaign description above. Thank you for your generous donation and support.

Sincerely,
Ahmad Shabbar and the GarbageCAN team!
Organizer