Gaia's journey for a better GAIA
FRANCAIS - (ITALIANO (+video) sotto - ENGLISH (+video) below)
Mi-février 2018, 80 femmes scientifiques du monde entier embarqueront pour 
la plus grande expédition en Antarctique 100% féminine
. Je suis enthousiaste d'être l'une d'entre elles ! Nous sommes la deuxième équipe du projet
Homeward Bound
, une initiative internationale unique et novatrice qui vise à promouvoir la place des femmes dans le domaine scientifique et leur leadership dans l'orientation des politiques environnementales.
Le programme vise à développer nos capacités de leadership, de communication et de stratégie et culminera par une formation intensive et une expédition de 3 semaines en Antarctique. L'objectif est de
créer sur 10 ans un réseau mondial de 1000 femmes qui puissent apporter des réponses pour la santé de notre planète face aux changements climatiques et aux grands défis environnementaux de notre temps
. Le projet vise aussi à contribuer à élever le débat public sur le rôle des femmes comme leaders vers un futur durable.


A PROPOS DE MOI ET DE MON ENGAGEMENT

Depuis toujours, je suis une passionnée de nature et science, et j'ai transformé ma passion en travail : je suis biologiste et chercheuse en comportement animal. Dans mes recherches, j'étudie les capacités de navigation des oiseaux marins (pétrels, albatros, manchots), c'est-à-dire comment ils arrivent à s'orienter en plein océan, où il n'y a apparemment pas de repères, pour trouver leur nourriture, routes migratoires et retrouver leur nid.
Aujourd'hui, j'ai décidé de faire un pas en avant et utiliser ma positivité, persévérance et mes compétences scientifiques pour défendre des causes auxquelles je crois, d'un côté la protection de l'environnement pour un futur durable et de l'autre la création d'une société plus équitable et valorisante pour les femmes et pour toutes les diversités. En effet, mon intention est de partager les connaissances acquises pendant cette expérience à travers des projets d'éducation et de vulgarisation à différents niveaux …et montrer aux jeunes qu'ils et elles peuvent devenir tout ce qu'ils/elles veulent en poursuivant leur rêves !

POURQUOI LE CROWDFUNDING

Homeward Bound finance 40% des coûts de la formation et de l'expédition, chaque participante doit financer les 60% restant. Je suis donc à la recherche de sponsors et supporteurs qui puissent s'associer à ce projet et à ses valeurs pour rendre cette aventure possible.
Un certain nombre de sponsors m'ont déjà rejoint dans ce projet en me permettant de financer le logement à Ushuaia, l'assurance, une partie de l'équipement et un partie des coûts de Homeward Bound.
Contactez-moi pour plus de renseignement et pour discuter des options de sponsorisation!
VOUS VOULEZ EN SAVOIR PLUS

https://gaiadellariccia.wordpress.com/
http://homewardboundprojects.com.au/
SUIVEZ L'AVENTURE!
https://www.facebook.com/GaiaforGAIA/
https://twitter.com/Gaia_for_GAIA
************************************
ITALIANO - (ENGLISH below)

A metà febbraio, 80 donne scienziate provenienti da tutto il mondo si incontreranno, pronte per salpare per
la più grande spedizione 100% femminile in Antartide
, e io sono onorata ed emozionata di essere una di queste! Siamo la seconda equipe selezionata per il progetto
Homeward Bound
, un progetto internazionale unico e innovativo per promuovere la leadership delle donne in campo scientifico e nell'orientamento delle politiche ambientali.
Il programma vuole sviluppare le nostre capacità di leadership, comunicazione e strategia e culmina con una formazione intensiva e spedizione di 3 settimane in Antartide. L'obiettivo è di creare una rete mondiale di
1000 donne in 10 anni per creare un cambiamento a livello globale
per far
fronte ai cambi climatici e alle grandi sfide ambientali del nostro tempo
. Il progetto vuole inoltre contribuire ed elevare il dibattito pubblico sul ruolo delle donne nel guidare il pianeta verso un futuro sostenibile.

A PROPOSITO DI ME E IL MIO IMPEGNO
Sono un'entusiasta di natura e scienza da sempre e ho trasformato la mia passione nel mio lavoro: sono una
biologa e ricercatrice in comportamento animale
. Nelle mie ricerche studio le capacità di navigazione degli uccelli marini (petrelli, albatross, pinguini), cioè di come riescono ad orientarsi in pieno oceano, nell'apparente assenza di riferimenti, per trovare il cibo, le rotte migratorie o la via per ritornare al loro nido.
Oggi, ho deciso di fare un passo avanti e usare la mia positività, perseveranza e le mie competenze scientifiche per le cause in cui credo, da un lato quella ambientale e la salvaguardia del pianeta, dall'altro quella di andare verso una società più equa e valorizzante sia delle donne che di tutte le diversità. La mia intenzione è infatti quella di condividere il bagaglio acquisito durante questa esperienza attraverso progetti educativi e di divulgazione a diversi livelli... e mostrare ai giovani che possono diventare tutto ciò che vogliono e di seguire i loro sogni!

PERCHÈ IL CROWDFUNDING

Homeward Bound finanzia il 40% delle spese di formazione e della spedizione, ognuna delle partecipanti deve finanziare il restante 60%. Sono quindi alla ricerca di sponsor e sostenitori che possano associarsi a questo progetto e i suoi valori per rendere possibile questa avventura.
Un certo numero di sponsor si sono già associati a questo progetto permettendomi di finanziare l'alloggio ad Ushuaia, l'assicurazione, una parte dell'attrezzatura e una parte dei costi legati a Homeward Bound.
Contattatemi per maggiori informazioni e per discutere delle possibilità di diventare sponsor!

VUOI SAPERNE DI PIÙ?
https://gaiadellariccia.wordpress.com/
http://homewardboundprojects.com.au/
SEGUI L'AVVENTURA!
https://www.facebook.com/GaiaforGAIA/
https://twitter.com/Gaia_for_GAIA
************************************
ENGLISH

Mid-February 2018, 80 women scientists from around the globe will join together for
the largest 100% women expedition to Antarctica
. I am honoured and excited to be one of them! We are the second team selected for the
Homeward Bound
project, an international groundbreaking leadership initiative to heighten the influence and impact of women in science in order to influence policy and decision making as it shapes our planet.
The programme aims to improve our leadership, communication and strategy skills, and culminates with a 3-week intensive and expedition to Antarctica. The objective is to create a global network of
1000 women in 10 years able to lead, influence and contribute to policy and decision making in front of climate changes and the big environmental challenges of our time
. The project also aims to contribute to and heighten public debate on the role of women leading the planet towards a sustainable future.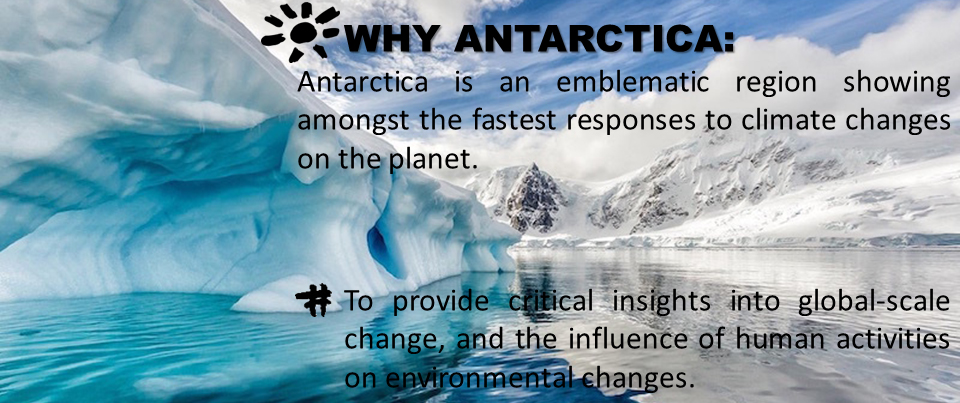 ABOUT ME AND MY ENGAGEMENT
I am a nature and science enthusiast and I made this my job. I am a researcher in animal behaviour, studying how seabirds (petrels, albatrosses, penguins) orient in the seemingly featureless ocean to find food resources and their home colony.
Now, I decided to show up and to use my positive attitude, perseverance and scientific competences for the causes I believe in. On the one side, the protection of the environment and a sustainable future for the planet and, on the other, the creation of a more equal society that gives value to women  and all diversities. I intend to share my experience through education and popularization projects aimed to different publics …and to show to kids/teens that they can become whatever they want if they follow their dreams!

WHY CROWDFUNDING

Homeward Bound fund 40% of training and expedition costs, each participant has to fund the remaining 60%. I am looking for sponsors and supporters who may want to join this project and its values to make this adventure possible.
A number of sponsors already joined the journey allowing me to fund my stay in Ushuaia, the insurance, a part of the equipment and a part of Homeward Bound costs.
Contact me for more information and for discussing sponsorships options!

DO YOU WANT TO KNOW MORE?
https://gaiadellariccia.wordpress.com/
http://homewardboundprojects.com.au/
FOLLOW THE ADVENTURE!
https://www.facebook.com/GaiaforGAIA/
https://twitter.com/Gaia_for_GAIA

Organizer