Help Get Vietnam Rescue Dogs To UK!
Hello. My name is Amelia and my partner Dennis and I only have three months before we leave Vietnam to fly back to the UK in March. We're desperate to take our three Vietnamese rescue dogs with us. Until a month ago we were volunteering at an animal organisation in central Vietnam, but now we're working full time to try and save money for our dogs' flights. Our dogs are Marlin, Mango and Lucy.  We desperately need help to take them with us.
Photo: Marlin, and top header photo too.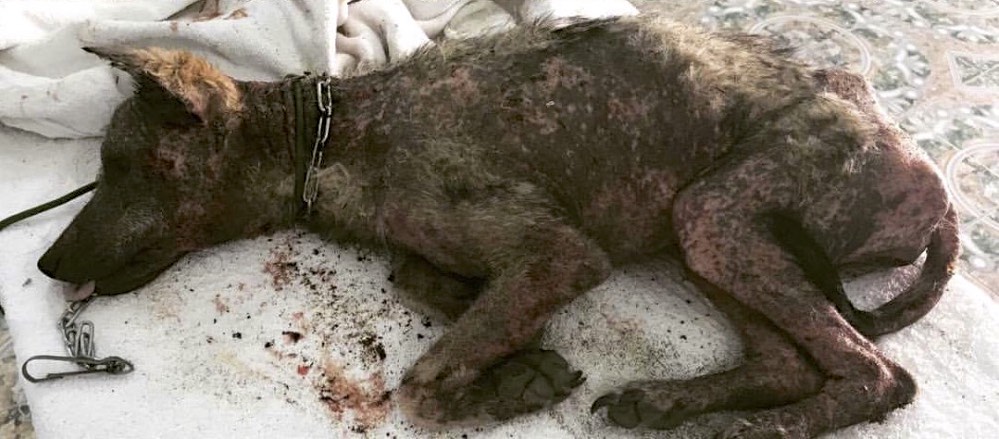 Marlin, the above two photos, was a dog meat dog kept in the back of the vegetable garden and treated like a vegetable. They broke her heart. She was petrified of people and had deep emotional scars. Some people thought she'd never make it, but after months of gentle love she turned a corner and realised we wouldn't hurt her. She began to trust us. We vowed not to let her down and we cannot leave her behind (she used to be called Marylin.)
Photo: Mango
Mango was living on the streets and in bad shape. She's a maternal natured recluse who loves people, but didn't do well in shelter life. She attached herself to us and we fell in love with her too (she was known as Mandy.)
Photo: Lucy
Lucy was rescued at four weeks old and had only known shelter life for 10 months. She arrived at the shelter the same day as Mango, with her litter mates which got homes. Lucy has a beautiful spirit and was desperate for love. She too stole our heart.
Photo: Marlin today, happy and trusting.
There's no animal protection laws in Vietnam and we can't bare the thought of our three dogs not being with us. Volunteering in Vietnam, almost every day a neighbour or a friend had their dog stolen or poisoned! Dog thieves will even steal pet dogs from people's houses in broad daylight while the pet owners are in the house.
Photo: Every day across Vietnam dogs are stolen or poisoned for the dog meat trade.
The general standard of vet care is very low in Vietnam. I've witnessed bad hygiene and filthy conditions at local clinics.  There are some good vets in Vietnam but many are below international standard, which scares us if we can not take our dogs when we leave.
The UK has very strict requirements when flying a dog over and every part of the process is pretty expensive.  Please help us get these beautiful dogs to safety and away from dog thieves and dog butchers. We just can't do it by ourselves.
Photo: Vietnamese dog meat truck heading to a dog slaughterhouse.
We're desperate to save these dogs and any small donation will really help. Below is a list of the costs for each dog.
Thank you for reading our story,
Amelia and Dennis, Marlin, Mango and Lucy.
COST OF TRANSPORT
(
per dog
)
Microchip-
£50

rabies vaccine-
£15

rabies titer test-
£230

Crate-
£100

Plane ticket (DaNang- Saigon)- 
£50

Plane ticket (Saigon- London)- 
£500

health certificates & import/export forms- 
£10

veterinary consultations/excess fees-
£40
Total =
£995 Per Dog



Organizer