Missy's life is at risk - SAVE HER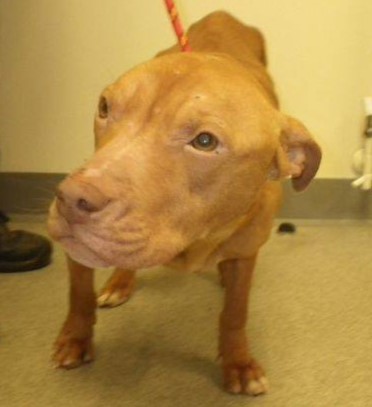 CARLA LANE ANIMALS IN NEED 1031342

Funding a future for dogs in desperate need

DOG LOVERS – Missy is relying on us to save her life
Humans have failed her badly in the past. Please stand up for her and donate whatever you can spare.
Missy was left to die starving emaciated and lying in her own excrement with no drinking water.
This gentle little girl was rescued just in time only to now become the target of BSL. After all she has suffered and after her brave fight for survival
she now faces destruction under this cruel, senseless and ineffective law.
Please read her story and donate to our campaign to save her. She can't speak for herself but with your help we can give her a voice in Court.
You Can Save Her
.
PLEASE READ HER STORY
Missy was taken into the care of the RSPCA on 16th February 2016 after she was found to be in a neglected state. The newspapers have reported that she was left to suffer muscle wastage, and emaciation, with her ribs, pelvis, spine and hip bone protruding under her skin. She was found in faeces in the yard where she was kept with no fresh drinking water or comfortable resting area.
The RSPCA have lovingly nursed her back to health with the intention of finding her a loving home for the future. However, during their investigations Missy was assessed by the Police who believe that she has some characteristics of a Pitbull type dog and therefore under Section 1 of the Dangerous Dog Act 1991 would be a banned breed. If Missy is found by independent experts to be a typed dog it would be a criminal offence to be to be in possession of Missy unless she is exempted through the Courts. If this process does not happen the RSPCA will have no choice other than to put Missy to sleep.
The person who breed Missy, who still has Missy's mum Phoebe (She is not a Pit Bull type dog) has now come forward to the RSPCA and he is willing to go through the Court process so that Missy can be saved. He is a fit and proper person. The RSPCA are supporting this application.
Parry Welch Lacey LLP are instructed in this matter and have lodged an application with the Court so that Missy can be returned to the person who bred her and loved her and can spend the rest of her days in a loving home with her Mum Phoebe.
Unfortunately, legal aid is not available for this application and therefore the owner desperately needs funds to be raised to help him through the legal and exemption process.
Kate Welch of Parry Welch Lacey LLP who lodged the application with the Court has said that we are hopeful that Missy can be given a future in a responsible and loving home and are grateful for the support of the RSPCA and Carla Lane Animals In Need in this case.
Missy has suffered and has had enough heartache in her short life.Your donations can give her a future.