Funding Stage School London+ 2017-21
My name is
Jack Evison
I am a 19 year old, dancer and performer, from Weston-super-Mare, Near Bristol in the UK. I have been acting and dancing at a local dance school since the age of four and have recently completed my GCSE's at Priory Community School (PCSA). Before accepting my place at CPA, I had been travelling to Romford, Essex to attend various open days and events. I was honoured that not only had I been
offered an unconditional place
, one of just thirty places, on a Level 6 Diploma in
Professional Musical Theatre
course (this commenced on 11th September 2017) but I also auditioned and gained a funding award
. Here is what CPA said about me: "During his audition Jack showed vast potential to become a skilled triple threat performing within the Musical Theatre industry. He has great passion and enthusiasm for the performing arts and his level of application to his training is commendable. We are very much looking forward to having Jack train with us here at CPA Studios" .
Due to the distance from my hometown, nearly 200 miles, I obviously need to
raise money
to cover the costs of my accommodation, additional college costs, such as costumes and dance attire. I will also continue to seek work in Romford while I study to cover the everyday basic living expenses. I have now moved to Romford to allow me to attend college for the duration of the three year course.
The amount I need is just under £9,000 a year with the total cost for the three years being £26,950.
I am so grateful to everyone who has already helped and supported me to raise the first £9k I'm delighted to announce this means that my first years training and accommodation is paid for! This literally means the world to me
it has been my dream and all I have every wanted to do. 
I literally live to dance and perform.
For many years I have put up with bullying both physical and mental but I am determined to succeed, this is my dream and I will do whatever it takes to make it. 
My goals are to continue with my training at CPA, to train hard and make the most of all the training and experiences this will provide, to enable me to graduate
with my level 6 diploma.  The
ultimate dream
is get a lead role within a
West End show
however I would love to also experience and work within television, do a national tour and more modeling basically anything that
allows me to perform
and make others happy.
My family background we are literally just a normal family three generations living together my parents, Steve and Zoe, have been married for 22 years this year and I have a little sister Emily who is 14 years old we also live with my Nan who is retired. My parents both work but we live month to month. We have had our struggles which is why my parents are unable to fund all my additional college and accommodation fees. In 2011, my mum was diagnosed with breast cancer and continues to have treatment for ongoing problems. More recently living with undifferentiated autoimmune disease, having major surgery to revise her cancer scar and being hospitalised for sepsis.
My family have always been very supportive
of me but just
don't have the funds
to help me with this. 
This is an amazing opportunity for me and I can't express how
thankful
I would be if anybody would be willing to
help me achieve my dream. 
I can promise you that I will make the most of this amazing opportunity, that
I will work my hardest every single day
and
I will become the best I can be.
  When I reach my goals and become successful
my promise to you
all is that I will
pay this opportunity forward to help another young person fulfil their dreams.Update Summer 2018- So I was living the dream training at CPA Studios and now the rug has literally been pulled from beneath me I had graduated Year 1 and looking forward to starting Year 2 having paid my fees and signed a contract for accommodation for 6mths then I got an email out of the blue stating from immediate effect CPA was closed! I'm devastated, scared, sad, worried literally feel sick so my journey now involves attending meetings and auditions to find my new College, a new home and new colleagues. I need people's support now more than ever these meetings are nationwide and there is no guarantee I will get back the money paid for fees or rent.

Thank you
for your time and interest in my story so far, any donations however big or small everything really does make a difference however if you unable to help by donating to my fund I totally understand but you can still help - could you please 
share this post on social media or tell your family and friends about what I'm doing. I am also looking for sponsors either personal or company, for the whole amount or anything; literally every penny counts and it can be a one off amount, a yearly amount or the whole amount.
If you would like any further information please contact me.
Jack x
www.digitalbiz.cards/jack evison.html
www.JackEvison.co.uk
Credits:
NOV. 2018 – ONCE UPON A TIME
JACK (IN THE BEANSTALK)
SINDEN THEATRE
TENTERDEN, KENT
OCT 2018 - SINGER
MEPA FUNDRAISER
PIZZA EXPRESS
MAIDSTONE, KENT
OCT 2018 – HANSEL AND GRETEL
CAN YOU DANCE?
DANCER
LIVERPOOL ARENA
SEPT 2018 - CORPORATE EVENT
DANCER AND SINGER
MEPA
O2 LONDON
AUGUST 2018 – BEACH SHOOT
MODEL
BRIGHTEYED PHOTOGRAPHY
WSM BEACH
JULY 2018 - THIS IS ME
CPA END OF YEAR SHOW
DANCER AND SINGER
KENNETH MOORE THEATRE, ILFORD
MAY 2018 - URINETOWN
ENSEMBLE
CPA STUDIOS
APRIL 2018 - EVENING OF SONG
SINGER
CPA STUDIOS
JULY 2017 - DANCE SHOOT
MIKEDPHOTOGRAPHY
STUDIO SHOOT
JUNE 2017 - DANCE DUET SHOOT - MODEL
CLEVEDON SEAFRONT
MAY 2017 - MODEL
BRIGHTEYESPHOTOGRAPHY
UPHILL
FEB 2017 DANCER SHOOT - MODEL
MIKEDPHOTOGRAPHY
W-S-M BEACH
FEB 2017 LEAD ROLE – JOE CASEY (GOOD & BAD)
OUR HOUSE
PCSA W-S-M.
JULY 2005 – JULY 2016 – NARRATOR/DANCER/SINGER
ANNUAL JUNIOR SHOWTIME SHOWCASE
TINA COUNSELL SCHOOL OF DANCE
THE PLAYHOUSE THEATRE,W-S-M.
JUNE 2016 -SOLO AND DUET DANCER
WESTON TO BROADWAY
PCSA, W-S-M.
NOV 2015 -DANCER
SPOOK NIGHT PARTY
THE GRAND PIER, W-S-M.
JULY 2015 MODEL
WEDDING FAYRE GROOM (CATWALK & PHOTOGRAPHY)
JONES BRIDAL SALOON, W-S-M.
JULY 2015 MODEL
DEANE & SONS, CHEDDAR.
JUNE 2015 EUGENIE
GREASE SCHOOL PRODUCTION
PCSA, W-S-M.
APRIL 2015 MODEL
BEACH DANCER PHOTOSHOOT
SHAY.B.PHOTOGRAPHY, W-S-M.
DEC/JAN 2014/2015 JOHN DARLING – PETER PAN
PARKWOOD THEATRES
THE PLAYHOUSE,W-S-M.
JULY 2013 DANCER HAIRSPRAY MEDLEY
BRISTOL HARBOUR FESTIVAL
MAIN STAGE, BRISTOL
SEPT/JULY 2012/2013 TV PRESENTER & PRODUCTION ASSISTANT
PCSA TV
PRIORY, W-S-M.
DEC/JAN 2009/2010 DWARF – ERIC
SNOW WHITE PAUL HOLMAN ASSOCIATES
THE PLAYHOUSE,W-S-M.
DEC/JAN 2008/2009 MICHAEL DARLING – PETER PAN
PAUL HOLMAN ASSOCIATES
THE PLAYHOUSE,W-S-M.
DEC 2007 GRANDAD (LEAD)
SCHOOL NATIVITY
MEAD VALE PRIMARY SCHOOL, WSM.
AUGUST 2005 WESTENDERS - JUNIOR SINGER
THE WESTENDERS
THE PLAYHOUSE THEATRE, W-S-M
DEC 2005 JOSEPH (LEAD)
SCHOOL NATIVITY
MEAD VALE PRIMARY SCHOOL, WSM
As John Darling 2008 - Peter Pan - Paul Holman Associates
Performers Life! 2014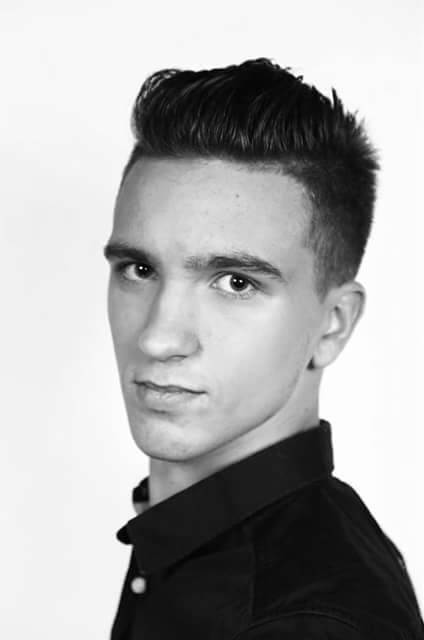 Head Shot 2016
Model Shot
Donations
March Cancelled Quiz Night 

Fundraising team: Fundraising team (2)
Jack Evison 
Organizer
Raised £258 from 2 donations
Uphill, South West England, United Kingdom
#1 fundraising platform

People have raised more money on GoFundMe than anywhere else. Learn more

GoFundMe Guarantee

In the rare case that something isn't right, we will refund your donation. Learn more

Expert advice, 24/7

Contact us with your questions and we'll answer, day or night. Learn more