Fuel Rusty's Transformation
What is The Rusty Iris?
The Rusty Iris is a school bus transformed into a 3-dimensional canvas of steel on wheels… an interactive, mobile art venue whose purpose is to unite, heal, and inspire. She does this by inviting our community to build something beautiful together, over and over.
Rusty is in her first phase of construction and has already been an exhibit space, a Jackson-Pollock-style-free-for-all painting, a paint-by-numbers mural, a VIP lounge, a walk-through time-capsule, and a garden of possibilities. Dozens of crafts people, artists, and dreamers have made Rusty their source of inspiration, engagement, and self-expression.
"Raising Rusty Party" October 2021
"A Rusty Journey Celebration" May 2022
"A Rusty Garden of Possibilities" Tom Tom Fest April 2023
Our goal is to transform the entire bus in 3 phases so that at any point community artists can use her space for their artistic and personal expression. The beauty of Rusty is that she can then go wherever those artists desire and be transformed further by the people who attend her.
How can our community help?
The tremendous generosity of donors and the Bad Hat Fire Troupe with Tet'nus Art Car have funded this project so far but we're not done yet.
The problem arising is that our hard-working team is spending so much effort raising funds through the fire troupe that we're losing time and energy needed to transform Rusty.
We're asking for your financial support to give us the necessary time, materials, and energy to keep this project on track.
Sponsor a Rusty Piece Campaign
Fundraising is more fun with a team, right??
Do you have a community of your own?
Do you want to help fuel Rusty's transformation?
Do you want your name embedded in Rusty's art forever?
It's easy!
But the deadline is September 1, so don't delay!
Connect to a Rusty Iris team member (if you don't know anyone - email [email redacted] to request a representative)
Rally your troops
Share the awesomeness of Rusty via TheRustyIris.com, YouTube, Facebook, Instagram, or in person!
Choose a goal from below
Have willing supporters go to our GoFundMe, donate what they can, and note the Team Member who is representing your group (at check out)
Groups who raise $250 will sponsor and get their name embedded in a propane fire element. (6 available)
Groups who raise $500 will sponsor and get their name embedded in an 8-foot iris petal (6 available)
One group who raises $1000 will sponsor and get their name embedded in the front Rusty garden design (1 available)
One group who raises $2000 will sponsor and get their name embedded in the music-coordinated light elements. (1 available)
See your sponsored Rusty piece at our fundraising party on October 7 (more details below)
Rusty's Fiery Fundraising Fiesta: October 7, 2023 at IX Art Park
Join us in celebrating Phase 1 of The Rusty Iris
October 7,2023 6-11pm at IX Art Park
Bad Hat Fire Troupe + Party Liberation Front guests performers
Tet'nus Flaming Long-horned Art Car
Flaming Reflecting Pool Bed Set
The Rusty Iris with art installation "What We Find" by Elizabeth Swider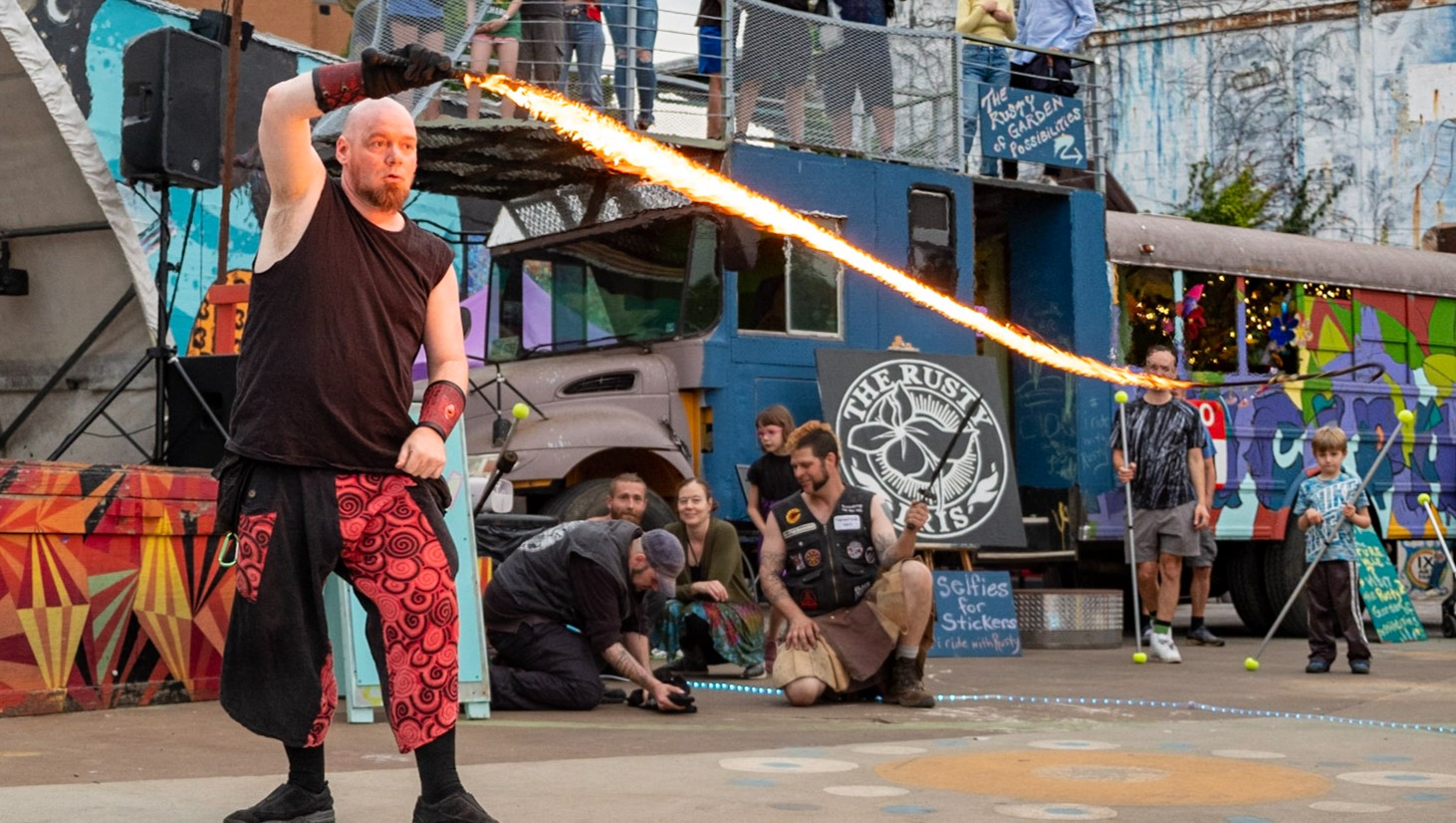 Tickets are pay-what-you-can with a suggested donation of $25
Want more information? See our full art proposal
HERE
.
Visit our website at
TheRustyIris
and visit/like/share/subscribe on Fb/Insta/YT
Please help us make this dream a reality! Share the excitement and the magic will never stop.
Sincerely,
The Rusty Iris Crew

Fundraising team (4)
Wendy Winkler
Organizer
Raised $100 from 1 donation
Charlottesville, VA
Elizabeth Swider
Team member
Raised $20 from 1 donation
Wendy Friends of the Winklers
Team member
This team raised $3,710 from 24 other donations.