Strange Froots' Travel to Senegal!
SUMMARY | SOMMAIRE
[FRANÇAIS CI-DESSOUS]
Hello everyone! We are the
Strange Froots
, a trio of singer-songwriters, beatmakers and musicians formed out of
NoBad Sound Studio
 (affiliated with
La Maison des Jeunes Cote-des-Neiges
) specializing in hip-hop and what we like to call "alternative chill-soul".
SageS (StarFroot), Naïka Champaïgne (DragonFroot) and Mags (PassionFroot).
Our group was born in the summer of 2014, out of  a need for more feminine presence at NBS, and in hip-hop in general, to encourage the local young women to participate in the jam sessions and workshops provided at this youth center. Since the release of
our first EP
 in September 2014 at the Hip Hop You Don't Stop festival, we have played in several venues and featured in several festivals such as
WE Day
,
Suoni Per Il Popolo
, the
FRO Festival
, the
Fringe Festival
, and we are slated to perform at the
2016 POP Montreal
in September.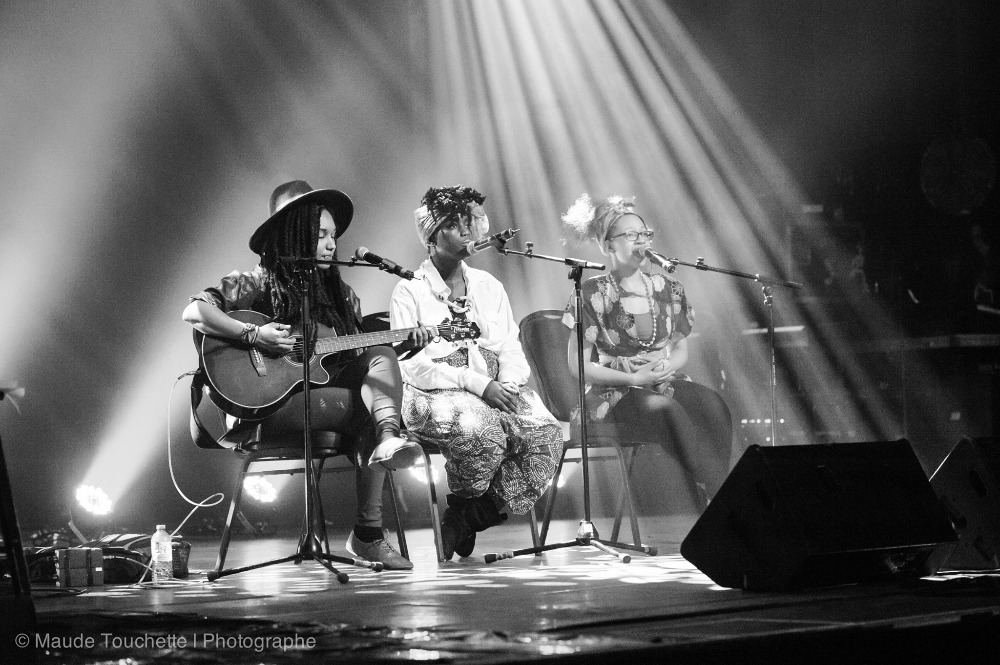 Strange Froots at the Corona Theatre for the 2016 FRO Festival.
Our mission as a band is to encourage marginalized groups to use their own voices to tell their stories, without worrying about mainstream conformity. As members of the Black diaspora, it is important that our stories be heard in all their complexity and integrity. One of our most popular songs from the first EP,
"The Wanderer"
, was our first song to speak on racial discrimination against the Black community and its history. The song itself samples
"Dokandeme"
, a song sung in Wolof by world-renowned Senegalese artist
Cheikh Lô
; in it, he speaks on his experience as new migrant towards France from Senegal, and the trials and tribulations he had to face as a Black African in a new place. This, coupled with the documentary
"United States of Africa"
 starring 
Didier Awadi
, one of the first West-African hip hop pioneers, is what inspired our next project.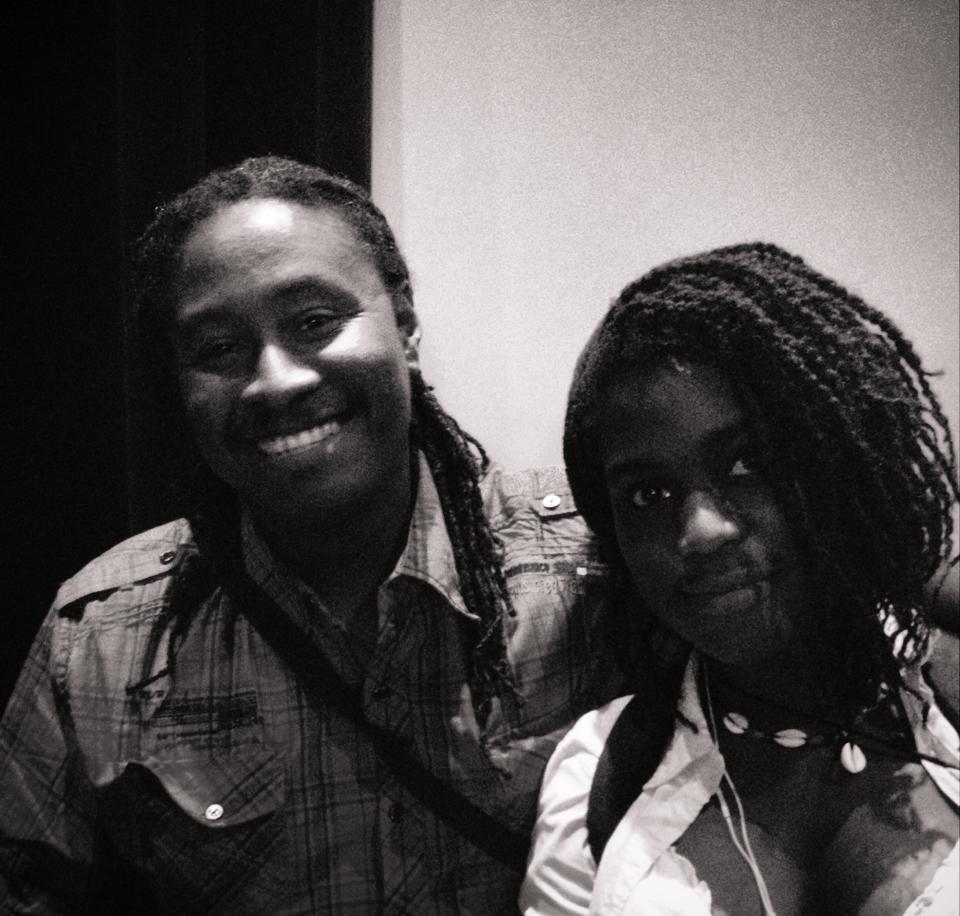 Mags and Didier Awadi at the FRO Foundation airing of "United States of Africa" in 2013.
June 2017, we will travel to Dakar, Senegal, the birthplace of mainstream hip-hop in Africa, to connect the generational and diasporic dots in the hip-hop communities between there and Montreal, QC through workshops, recording sessions, and bonding that can only be done through communion and celebration.  We will also be shooting half of our music video to
"The Wanderer"
 at the same time. This will be an opportunity to collaborate with established Senegalese artists, as well as exchange with like-minded youth from our generation as well as the next. Hip-hop is more than music; it is a movement. A movement that has seen fruition is social change, and
Senegal is widely regarded as the role model for "conscious" hip-hop in Francophone Africa
. The project will be documented on film, so that we may share our story with the world and encourage young women of colour across the globe!
But we're gonna need your help to make it all come together.
We will be breaking our own piggy banks, reaching out for grants, and
throwing fundraising events as part of a series ending in May 2017
 to make this documentary come to life, but you can help us from the comfort of your Internet-enabled device through our GoFundMe campaign!
We aim to raise at least $4500 by the end of 2016 to cover our most immediate expenses
: $3000 towards travel expenses (via plane and local vehicular travel), $250 towards the music video, $500 towards room, board, and workshop/recording materials, and $750 for our on-location road manager who will help us to navigate Dakar and keep us on our itinerary.
This will go a long way in helping us reach our goals, and it means the world to us to see our Cote-des-Neiges-Notre-Dame-de-Grace family, and the rest of Montreal, stand behind us as they've done the past two years.
Every dollar counts
, and we really do mean every dollar! And if you don't have a dollar,
the power of the "Share" button is mightier than you think
! Spread the word to everyone you know, especially to the hip-hop heads from the four corners of the map;
let's make this an international family affair!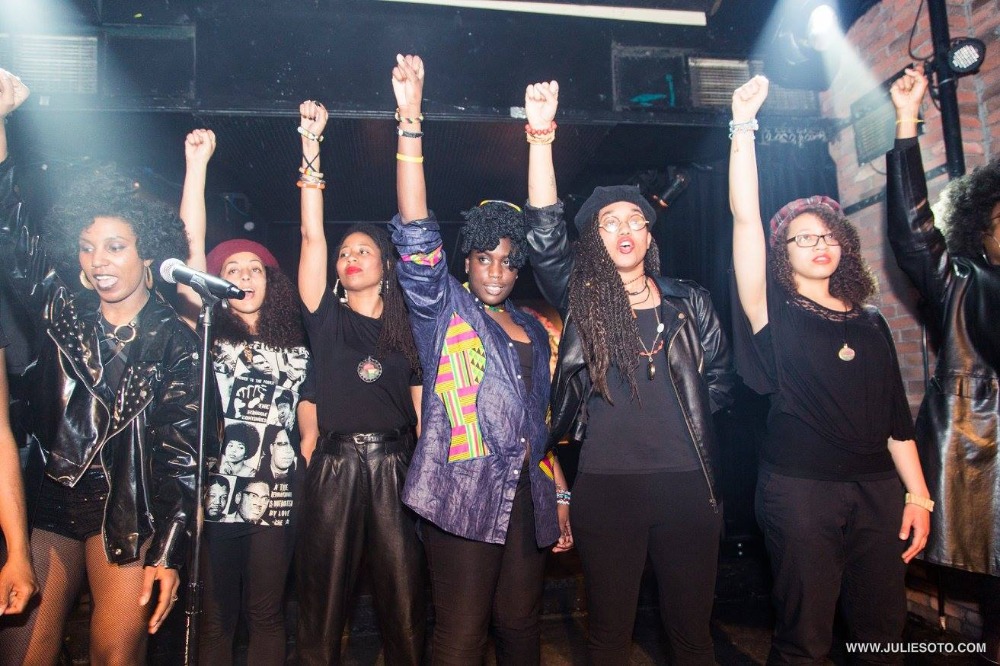 Special shoutouts will be done throughout the campaign, as will there be opprtunities to
unlock special prizes
(customized art, exclusive content...), and you'll be
credited at the end of the documentary!
We can start by thanking you for reading this whole page to the very end; your continued support is what drives us to keep going.
#StayCuteStayFroot
___________________________________________________________


Bonjour tout le monde! Nous sommes les
Strange Froots
, un trio compris de chanteuses-compositrices, productrices et musiciennes. Nous avons été formés au
Studio NoBad Sound
, affilié de la
Maison Des Jeunes Côte-des-Neiges
. Nous nous spécialisons dans le Hip-hop et ce que nous aimons appeler le « chill-soul alternatif ».
Naïka Champaïgne (DragonFroot), Mags (PassionFroot) et SageS (StarFroot) .
Notre groupe se forma au courant de l'été 2014 après avoir reconnu qu'il y avait peu de présence féminine au studio et dans la scène Hip-hop en général, le but principal étant d'encourager les jeunes femmes du quartier à participer dans des sessions de « jam » et des ateliers présentés par le centre jeunesse. Depuis le lancement de
notre premier EP
 en Septembre 2014 au festival Hip Hop You Don't Stop, nous avons joué dans différents endroits et nous avons aussi participé dans plusieurs festivals dont
WE Day
(Unis Pour L'action)
,
Suoni Per Il Popolo
, le
festival FRO
, le
festival Fringe
et nous sommes de la mise pour performer au festival
POP Montréal 2016
. 
Strange Froots au Theatre St-Denis pour Unis Pour L'action 2016.
Notre mission en tant que groupe de musique est d'encourager les groupes marginalisés à utiliser leurs propres voix afin de raconter leurs histoires sans se préoccuper des normes et sans ressentir cette pression de se conformer. En tant que membres de la diaspora Noire, il est très important que nos histoires soient entendues dans toute leur complexité et leur intégrité. Une de nos chansons les plus populaires de notre premier EP
« The Wanderer »
 est l'une des premières chansons à nous qui parle de l'histoire de la discrimination raciale contre la communauté Noire. La chanson elle même est basée sur la chanson
«Dokandeme»
 qui est chantée en Wolof par le chanteur sénégalais
Cheikh Lô
. Cette chanson parle de son expérience en tant qu'immigrant en France et des tumultes que ceci impliquait en tant qu'homme Noir. Ceci, ainsi que le documentaire
« États Unis d'Afrique »
 avec
Didier Awadi
, qui est parmi les premiers pionniers Hip-hop de l'Afrique de l'Ouest, a inspiré notre prochain projet.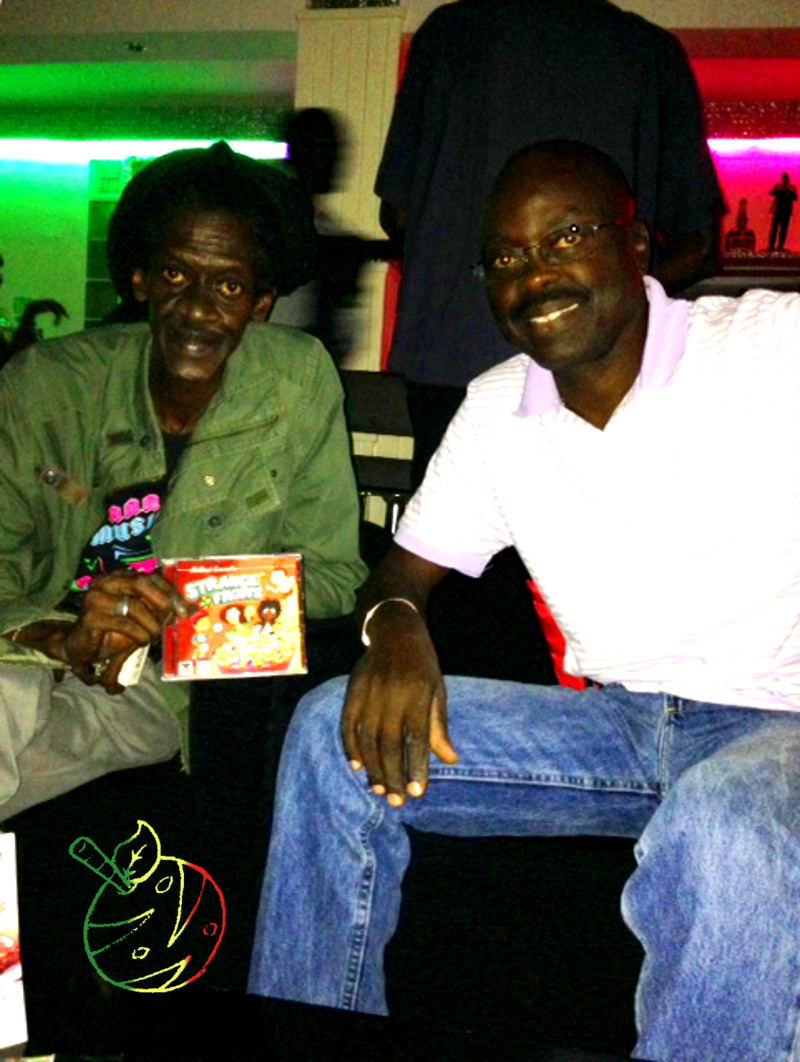 Cheikh Lô (gauche) à Dakar avec une copie du premier EP des Strange Froots.
En  Juin 2017, nous allons voyager à Dakar, Sénégal, la place où est né le Hip-hop en Afrique,  pour connecter les points générationnels et diasporiques dans les différentes communautés Hip-hop entre là-bas et Montréal, Québec. Nous allons faire ceci par l'entremise d'ateliers, de sessions d'enregistrements et en connectant avec la population; cela ne peut être fait que par la communion et la célébration. De plus, nous allons aussi filmer la moitié de notre clip pour la chanson
« The Wanderer »
. Ceci sera une opportunité pour collaborer avec des artistes sénégalais établis, ainsi que d'échanger avec les jeunes de notre génération et celle qui vient. Le Hip-hop est plus que de la musique; c'est un mouvement. Il s'agit d'un mouvement qui fortifie des changements sociaux et l
e Sénégal est grandement vu comme le model à suivre pour du Hip-hop « conscient » dans l'Afrique francophone.
 Ce projet sera documenté sur film pour que nous puissions partager notre histoire avec le monde et encourager partout sur la planète des jeunes femmes de couleurs!
Mais nous aurions besoin de votre aide pour que tout ce projet voie le jour.
Nous allons briser nos tirelires, demander des subventions et
organiser des levés de fonds dans le cadre d'une série finissant en mai 2017
 pour financer ce documentaire, mais vous pouvez toujours nous aider dans le confort de votre appareil électronique en allant sur notre campagne de financement GoFundMe!
Nous avons comme but d'accumuler au moins 4500$ avant la fin de 2016 afin de couvrir nos dépenses les plus imminentes
 : 3000$ pour le voyage (avion, voiture locale), 250$ pour le clip, 500$ pour le logement, les ateliers et le matériel d'enregistrement et 750$ pour notre guide/gérant qui va nous aider à naviguer Dakar et nous garder sur la bonne voie.
Ceci nous aiderait grandement à réussir notre but et ça nous touche énormément de voir notre famille de Côte-des-Neiges-Notre-Dame-de-Grâce, et le reste de Montréal, nous supporter comme ils l'ont fait depuis maintenant deux ans.
Tous les sous comptent
et nous voulons vraiment dire tous! Et si vous n'avez pas de sous,
le pouvoir de peser le bouton « Partager » est plus grand que vous ne le pensez!
Faites passer le message à tout le monde que vous connaissez, surtout les fans de Hip-hop qui se trouvent sur toute la ville, et le monde.
Faisons de ce projet une affaire familiale et internationale!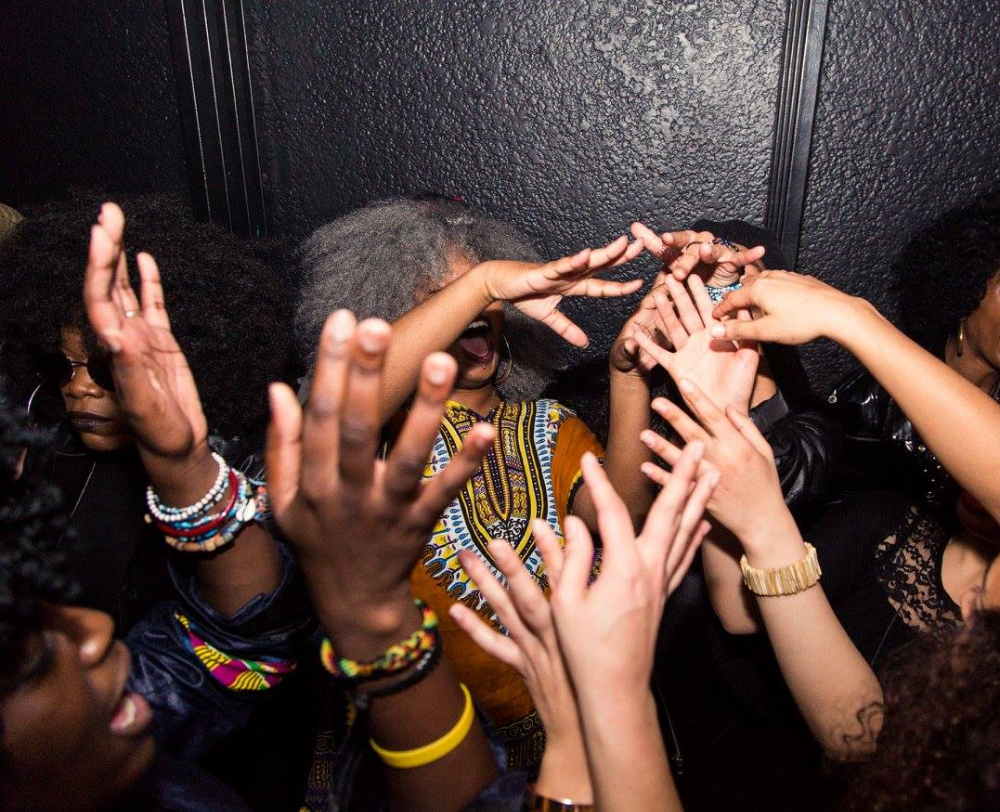 Des remerciements spéciaux seront fait durant la campagne, ainsi que des opportunités d'
obtenir des prix spéciaux
 (art personalisé, contenu exclusif...) et vous seriez
crédités à la fin du documentaire!
On peut seulement commencer par vous remercier d'avoir lu toute cette page jusqu'à la fin; votre support sans fin est ce qui nous pousse à continuer.
#SoitCuteSoitFroot

Organizer
Magassy Mbow
Organizer
Montréal, QC