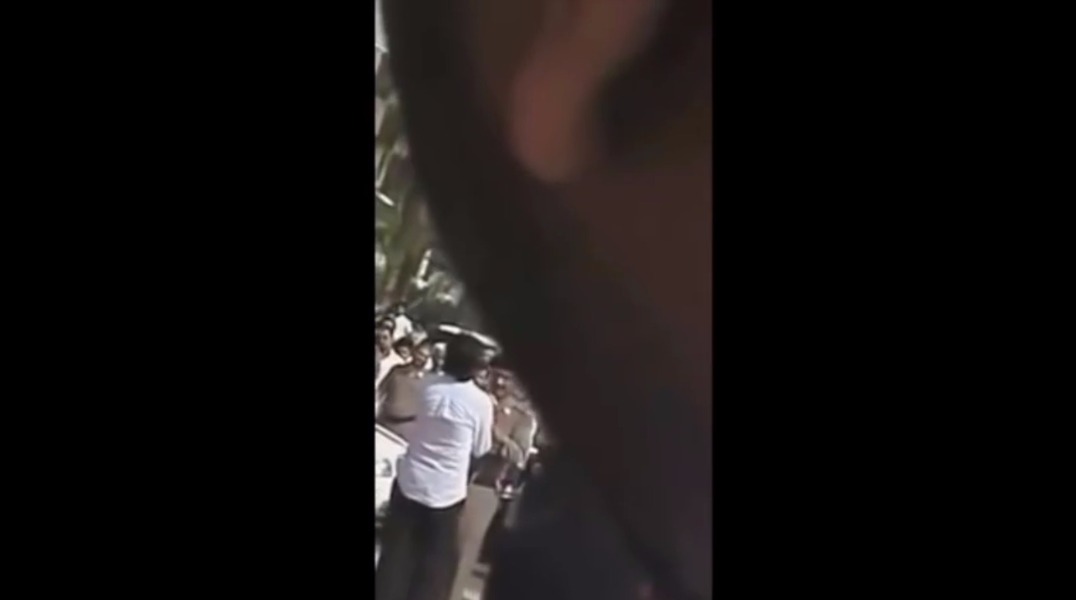 Leaked video of the flogging of #raifbadawi in front of Al Jafali mosque in Jeddah. Uploaded in case original goes down.

La version française suit: 

ENGLISH : Ordeal never stops : the lashes punishment will restart inside the Saudi prison' s walls
We received from a private source the sad news concerning the fact that the Saudi government will resume the lashing punishment against M. Raif Badawi.
Our source is the same that informed us about the first 50 lashes M. Raif Badawi received in a public place on January 9, 2015. Our understanding of the information is that another series of lashes punishment will take place this time inside the prison.
We kindly ask the Saudi government and we pledge the Crown Prince Mohammed Ben Nayef Al Saoud, first deputy Prime minister and minister of interior and the Prince Mohammed Ben Salmane Al Saoud, second vice premier minister, to stop the inhuman punishment. At the same time we ask them to deprive M. Raif Badawi of his Saudi Citizenship and let him leave the country for Quebec (Canada) and be reunited with his family.
 Raif Badawi : les coups de fouet reprendraient à l'intérieur de la prison
De source sûre, nous avons appris, une triste nouvelle, à savoir que le gouvernement saoudien allait reprendre les séances de flagellation à l'encontre de Raif Badawi.
C'est la même source qui nous avait prévenus que les coups de fouet auraient lieu le vendredi 9 janvier 2015 publiquement et devant la mosquée, à Djeddah.
Cette fois-ci, les coups de fouet seraient administrés à l'intérieur de la prison et non pas dans un endroit public.
Nous demandons au gouvernement saoudien, représenté par le prince héritier Mohammed Ben Nayef Al Saoud, vice-premier ministre et ministre de l'Intérieur ainsi que par le Prince Mohammed Ben Salmane Al Saoud, second vice premier ministre et ministre de la défense, que cesse ce traitement indigne et inhumain envers le blogueur et que sa citoyenneté saoudienne soit révoquée afin qu'il puisse enfin rejoindre sa famille au Québec (Canada).
Thank you
for helping us to build a strong foundation, to help others in return.
Please support this campaign 
We need your help to continue our work (conferences, publication media, etc.) against this cruel and inhuman judgment. 
Raif is a blogger not a criminal !
The mission of the foundation
is to contribute to the realization of free Arab societies and countries in peaceful intellectual exchange and cultural interaction with the rest of the world. Fundamental is the awareness and achievement of universal human rights, in the physical world, but also on the Internet.
Merci de soutenir cette campagne -
Nous avons besoin de votre aide (organiser des conférences, pour des publications médias et livre, etc.) pour contrer ce jugement cruel et inhumain.
Raif est un blogueur et non pas un criminel. 
La mission de la fondation est de contribuer à la réalisation des sociétés et pays arabes libres dans des échanges intellectuels pacifiques et culturels avec le reste du monde. Notre mission fondamentale est la sensibilisation et la réalisation des droits humains universels, aussi bien dans le monde physique, mais éga
lement sur Internet.
Ensaf Haidar 
Wife of Raif Badawi and mother of three children
Femme de Raif Badawi et mère de trois enfants 
Cofounder of the Raif Badawi Foundation for Freedom 
cofondatrice de la Fondation Raif Badawi pour la liberté.  
Website