Freedom From Illness Pay-It-Forward
Have you experienced amazing benefits from
Optimum Choices'
 products for your human or furry family members? Has your pet's life been saved after using one of our products? If so, consider paying it forward so that Optimum Choices can help even more people and
save more pets
.
Optimum Choices has reached the limit in the number of customers we can serve using our outdated website, old software/computers and minimal staff. Potential customers find it difficult to navigate our old website. We do not even have the resources to adequately service all our current customers. Many inquiries go unanswered and replies to current clients and holistic consultations often are late. Unfortunately, even though we have been in business 14 years (since 2002), and have been profitable for the last 8 years, banks consider our small, family-run, Internet business too "risky" to loan money for growth.
What makes
Optimum Choices
 unique from other holistic companies? We do not just stuff a bottle and color glossy brochure into a box and ship it out quickly, leaving it up to the customer to figure out how to use the product. We take the time to make sure the customer has the correct product to meet their needs and educate them in how to get the maximum benefits towards their goal of Freedom From Illness. Most supplements just treat symptoms. On the other hand, our revolutionary, whole superfood products feed the whole body (including ALL the glands and organs) so the body/brain can heal itself. Optimum Choices has accumulated 90+ years of wholistic wisdom in the form of experience (with people and pets), wholistic white papers and case studies to show you how all this is possible.
Contributions to this fund will enable us to make the following improvements, to reach more people,
save more pets
, and take excellent care of our loyal clients:
1.    Increasing awareness by publishing and boosting more educational holistic posts on social media (
www.Facebook.com/FreedomFromIllness
) = $5,000.
2.    Training more personnel to handle the incredible demand for our products and holistic knowledge = $20,000
3.    Replacing our outdated website with current technology that is easy to navigate and provides access to our research papers and other educational materials in a content management system (CMS) = $10,000
4.   Upgrading our company server and computer workstations = $10,000.
5.   Migrating our data from separate, disconnected programs into an integrated, efficient customer relations management (CRM) program, such as NetSuite = $12,000.
6.    Organizing all research papers and case studies for easy download access = $3,000.
7.    Publishing educational videos, webinars,
e-Books
 = $5,000.
Project TOTAL = $65,000
Please make a contribution towards our GoFundMe,
Freedom From Illness Pay-It-Forward Project
to help us educate more people and
save more pets
.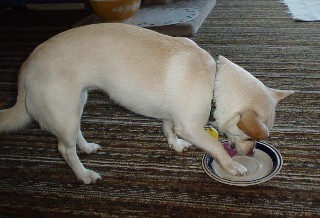 Organizer
Russell Louie
Organizer
Golden, CO