Give Away Hong Kong T-Shirts, NBA Opening Night
China is trying to censor the Houston Rockets (update: and now the ENTIRE NBA) because of Hong Kong. Wouldn't it be hilarious if on opening night in Staples Center the NBA fanbase made a collective demonstration against censorship by wearing "STAND WITH HONG KONG" T-Shirts?

The ruling party of China is trying to muzzle Houston Rockets GM Daryl Morey and censor all appearances of the Rockets in China, because Morey had the temerity to express support for the HK protest movement. Right now the NBA in China has just 29 teams: the Rockets  have been sent down the memory hole.

This heavy-handed top-down censorship is silly. So: wouldn't it be hilarious if on opening night in Staples Center, Lakers vs Clippers, Kawhi vs. Lebron, the NBA fanbase made a collective demonstration for free expression by wearing "STAND WITH HONG KONG" T-Shirts?  Let's raise money to buy/print and distribute these T-Shirts outside Staples Center October 22. Any funds left over, if insufficient to keep buying more T-Shirts for later games, will be donated to Civil Human Rights Front, the NGO advocating for greater democratic development in Hong Kong.

What is the Plan?
1) Print a bunch of shirts.
2) Stand outside Staples on October 22 and hand them out to fans along with a small card explaining why you should wear the shirt.
3) Give the NBA community the chance to express their solidarity with HK, for free speech, and against foreign attempts to silence American citizens.

Why This Would be Effective/Hilarious:

China thinks it can divide and conquer, minimize and diminish brave voices for change, and continue business as usual by isolating the Rockets. China wants to leverage their soft power and market access to convince American businesses to practice self-censorship. If it's just China vs the Rockets, they may be right. But America, and the NBA, have power too. The American market for the NBA is still the most lucrative by far. What if the entire NBA community stood up for free expression, the right to dissent, and Hong Kong? Would China be willing to censor it all? And if it did, would it highlight absurdity of this hypersensitive behavior to their citizens? 

The bottom line is Americans and people who support free expression everywhere will be stronger if we STAND TOGETHER for Hong Kong.

If nothing else the screenshots from Chinese broadcasts will be HILARIOUS. NBA finals 2020:


(Credit to unkachunka on reddit for this image. You're hilarious, plz don't be mad, thanks)

Why is China Freaking Out?

On October 4th, GM of the Houston Rockets Daryl Morey tweeted an image expressing his support for the protest movement in Hong Kong: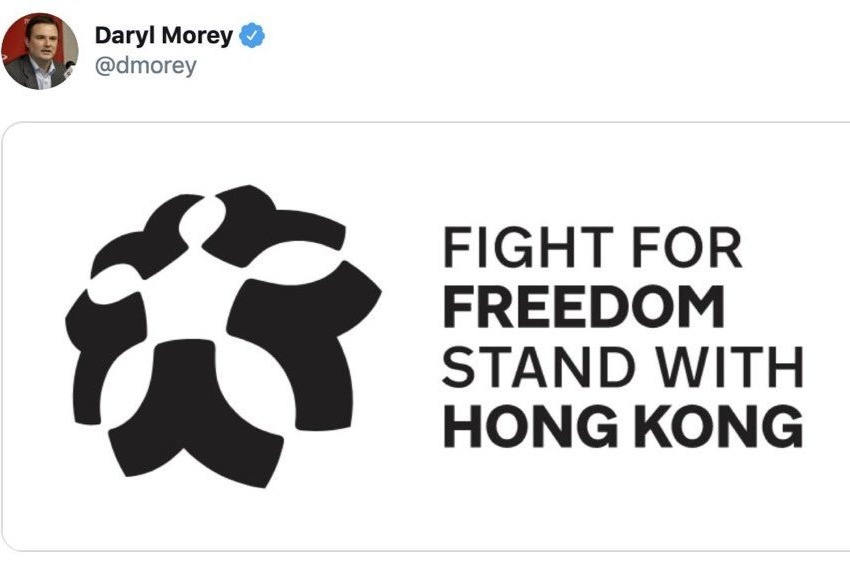 In doing so, Morey was participating in what has become a laudable culture of principled activism in the NBA. The NBA is a league that has in the past decade become widely admired for its willingness to give its players and even management a platform to share their views. Sometimes these views are highly contentious inside the US, such as many players' support of the BLM movement or San Antonio coach Greg Popovich's vociferous criticisms of the current US administration (and numerous team owners' equally ardent support of that administration). Sometimes these views are controversial internationally, such as Enes Kanter's criticisms of Turkish president Recep Erdogan. Sometimes these views are just wacky, such as Kyrie's Irving's convictions about the non-spherical nature of the Earth.

After Morey's tweet, numerous Chinese corporations, state media organs, and government bodies denounced Morey's tweet. The Chinese Basketball Association cut all ties with the Houston Rockets. Tencent and CCTV, the NBA's local broadcast partners, blacklisted all Rockets games. Chinese basketball forum Hupu deleted the Houston Rockets page, so now there are but 29 teams on the roster. What happens to Chinese Houston Rockets fans who express dismay or disagreement inside China? They get arrested. 

And even though the NBA is quick to stand behind the rights of their players, staff, and owners in all of the above examples, the Rockets organization and the NBA's response to this nationalistic hostility has been tepid at best. Most egregiously, the NBA released a public statement that, when translated, differed substantially in a key passage in the Chinese and English versions. 

It's understandable. China is a big market, and the NBA is afraid of losing it. That's why it's important for us to express to the NBA that the principles they claim to support are important to their home market - and still most lucrative - here in the USA. If we don't care, then the NBA won't either. 

What Are the Hong Kong Protests About? Are They Trying to Secede from China?

NO. In fact Hong Kongers have reached out to me to educate me and emphasize this point even further recently, which is why I am now moving away from "Free Hong Kong" language as that can be misinterpreted.

The current Hong Kong Protest movement has five clearly articulated demands, which taken together demonstrate that this is a movement whose goal is simply to hold China to its promise of "One Country, Two Systems" and allow for the continued development of Hong Kong under that framework. Thus far only one of these demands has been (precariously) met. The five demands are:

1) Universal Suffrage for Elections and Resignation of Chief Executive Carrie Lam. The current "elected" leadership of Hong Kong are selected in a process where Beijing and certain Hong Kong elites have far more electoral power than the average citizen. In its current state, the government has no democratic legitimacy.

2) Independent Inquiry and Oversight into Police Conduct. Police misbehavior in the course of these demonstrations is alleged to extend to employing "whiteshirt" Triad thugs to assault demonstrators, assaulting demonstrators, press, and bystanders themselves, and other abuses of power. This is a chaotic time, so not all allegations may be substantiated - which is why an independent inquiry and oversight body is needed.

3) Release and Exoneration of Arrested Protesters. Political prisoners should be released.

4) Retraction of Characterization of the Initial Protests as "Riots." The government used its characterization of initial demonstrations as "riots" to justify its escalation into excessive and illegitimate use of force.

5) Withdrawal of the Chinese Extradition Bill. This bill would have allowed the government to transfer Hong Kong citizens to Chinese jurisdiction, denying them the legal rights they enjoy under the Hong Kong judiciary. Its temporary suspension, and eventually full withdrawal has been tentatively announced by the government but not yet executed.
Secession of Hong Kong from China or full independence is NOT one of the demands of protesters. Rather, these five demands are clearly crafted to achieve the important but limited objective of securing Hong Kong's special civic and political institutions under a framework of China's expressed commitment to "One Country, Two Systems." Freedom for Hong Kong does not need to threaten the territorial integrity of China.

How Funds Will be Used:

I hope to be able to acquire as many "Stand With Hong Kong" T-Shirts as possible for somewhere between $15-$20 each. (UPDATE: Now about $2.5-3 each.) Staples Center has a capacity of just under 20k, so I hope to be able to get about 10-15k T-Shirts for distribution outside Staples Center by opening night, October 22. 

The target is set at $50k (update: now $20k after some research about bulk purchase options), as after payment processors take their cut, I believe that would be sufficient for a suitably impressive number of shirts to distribute - at least in the thousands. If we don't meet this goal all donations will be refunded. 

Funds in excess will be used to: (1) keep the ball rolling to distribute shirts in other stadiums, if possible - let's take this shirt on tour! or (2) donated to Civil Human Rights Front, the NGO advocating for greater democratic development in Hong Kong.

How do I Know This Isn't a Scam?
Yeah, I know it's sketchy that I'm using throwaway social medias to promote all of this but some Chinese nationalists can be crazy violent. (Please don't dox me.)

All I can say is: this means a lot to me (I have friends and family in HK and Taiwan) and to be 100% honest given my current financial situation/personal investment in this issue the campaign would have to get up into the multiple millions before it becomes lucrative enough to tempt me. (As in - my grandmother would literally disown me if she found out I stole funds meant to support the protesters.)

If any NGOs, activist groups, influencers, etc. want to partner up on this I'd be happy to set them as partners on the campaign as I completely understand skepticism here.

How Can I Help?:
Other than donating, you can help by:

1) Sharing this campaign with your fellow NBA fans.
2) In the LA area and willing to help pass out shirts? Let me know!
3) Suggesting cool T-Shirt designs (that YOU have the rights to)
4) Hooking up some affordable T-Shirt providers.
5) Hooking up with some NGOs to make people more confident about who they are donating to. Civil Human Rights Front - email me!

Who Are We?
I'm an NBA fan and someone sympathetic to the HK protests here in California. I'm now working together with the fine folks at www.standwithHK.org to get the message of supporting free speech, standing up to foreign censorship, and standing with Hong Kong out there to the NBA and NBA community!
Organizer
Sun Lared
Organizer
Los Angeles, CA