My name is Fran, I'm 26, and I live in Germany.* I have a condition called Hypermobile Ehlers Danlos Syndrome (hEDS). hEDS is a collagen disorder that affects the entire body, and some of its main symptoms are hypermobility and chronic pain. My joints are unstable and tend to sublux (go slightly out of place) under even moderate stress, which causes pain and excessive strain on my tendons. I also have poor proprioception so I'm very accident prone and have difficulty walking. Plus, fatigue and Postural Orthostatic Tachycardia Syndrome (POTS) mean it's very hard for me to stay upright for any extended period of time. 
I currently spend most of my time lying down in order to alleviate my debilitating neck and back pain, fatigue, and orthostatic tachycardia. The only times I leave the house is when it's absolutely necessary, to take my dog on short walks and to go to the doctor or grocery shopping, and often I can't even manage that. Being out and upright for more than 30 minutes causes my pain and fatigue to flare up and as a result I can be out of commission for days at a time. It has become very difficult for me to get around on my own power so I have to resort to using taxis a lot of the time, which is not only expensive but also frustrating because it makes me dependent on other people. 
In order to lead an active and truly independent life, I need a powerchair with tilt and recline functions. After trying three different models, I have settled on the Quantum Q6 Edge 2.0 iLevel, which is comfortable and suited to my needs. I've never been as elated as I felt zooming around in the Q6 Edge 2.0 when I was allowed to give it a test drive.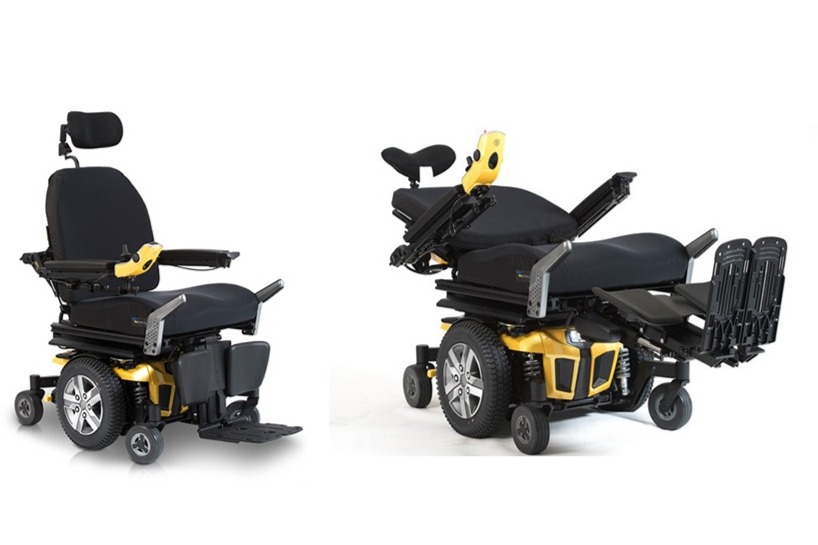 The Quantum Q6 Edge 2.0 iLevel, shown both in the neutral position and the reclining position.
Unfortunately, knowledge surrounding EDS and its comorbidities is still very lacking in Germany. That and my limited mobility are making it difficult to access the kind of help and treatment I need. The complex ways in which hEDS and POTS affect my mobility are poorly documented because I haven't found any doctors with sufficient knowledge or willingness to educate themselves to get me the help I need. I've been fighting for better treatment and advocating for myself with unreceptive doctors for so long, only to be constantly turned away, invalidated, and traumatised. I often feel completely powerless and unheard in these interactions, and I'm deeply depressed and exhausted. It feels like I've wasted so much of my time trying to go the traditional route of getting my powerchair via health insurance without success, so I've decided to take back control and increase my quality of life any way I can, and this fundraiser is a huge part of that.
When I first applied for a powerchair, health insurance performed an evaluation of my mobility impairment, and the (very uninformed) evaluator came to the conclusion that a standard powerchair would be sufficient for my needs. They're not willing to pay for the Q6 Edge 2.0, but they are willing to contribute 3,317€, which is the sum they're contractually obligated to pay for a standard powerchair. The quote for a Q6 Edge 2.0 customised to my needs is 13,500€, so I still have to come up with 10,183€ myself. The fundraiser goal of 10,500€ will hopefully cover any fundraising fees. (In case there are any left-over funds after the powerchair has been paid for in full, I will use those to get some wheelchair accessories or perhaps a weighted blanket.)
Due to my condition and the inadequate treatment I'm receiving, I'm currently unable to work. I had to drop out of uni a year ago when I became too poorly to attend. I have been receiving financial aid as well as some additional support from my dad, which barely covers my living expenses. I'm in debt and don't have any savings, so I simply cannot swing the sum of 10,183€. And that's where you come in!
I'm asking for your help to regain my mobility and independence. Getting a powerchair suited to my needs would give me my freedom back. Since I'm currently mostly housebound and often even bedbound, I live in social isolation. The Q6 Edge 2.0 would allow me to go on social outings, make friends, and perhaps even find a romantic partner at some point, who knows! Additionally, it would enable me to seek medical treatment within a greater area, and to use public transport instead of taxis to get around. It would also make moving closer to friends and family a much more distinct possibility, and bring me closer to the possibility of being able to work again in the future.
There are so many things that I want to do with my life. I'm only 26, and I want to be able to experience life to the fullest. I want to be able to zoom to the supermarket and get fresh and perishable foods that I know I'll be able to prepare because I'm not completely exhausted from shopping. I want to be able to go see a long-awaited movie in the theater. I want to be able to stargaze, and to take walks in the snow, my greatest pleasure that I have been denied these past couple of years because walking in the snow is hard! I want to be able to walk my dog regardless of whether or not I'm having a good or bad day. I want to be able to leave the house without crashing afterwards. So please, if you can contribute a donation, however small, I would be incredibly grateful for your help. If not, please share this fundraiser so it can reach more people! Thank you so much. 
My dog Frida is very excited for her human to get a powerchair so they can take her on longer walks!
*The location of the fundraiser is listed as France because that is where my dad lives. He will be the one withdrawing the money for me, since I cannot access the funds without risking having my financial aid taken away. I hope this clears up any potential confusion!