Help Fran Get a Powerchair
(Bitte scrollen für DE Version!)
EN:
My name is Fran, I'm 27, and I live in Germany.* I have a condition called Hypermobile Ehlers Danlos Syndrome (hEDS). hEDS is a collagen disorder that affects the entire body, and some of its main symptoms are hypermobility and chronic pain. My joints are unstable and tend to sublux (go slightly out of place) under even moderate stress, which causes pain and excessive strain on my tendons. I also have poor proprioception so I'm very accident prone and have difficulty walking. Plus, fatigue and Postural Orthostatic Tachycardia Syndrome (POTS) mean it's very hard for me to stay upright for any extended period of time. 
I currently spend most of my time lying down in order to alleviate my debilitating neck and back pain, fatigue, and orthostatic tachycardia. The only times I leave the house is when it's absolutely necessary, to take my dog on short walks and to go to the doctor or grocery shopping, and often I can't even manage that. Being out and upright for more than 30 minutes causes my pain and fatigue to flare up and as a result I can be out of commission for days at a time. It has become very difficult for me to get around on my own power so I have to resort to using taxis a lot of the time, which is not only expensive but also frustrating because it makes me dependent on other people. 
In order to lead an active and truly independent life, I need a powerchair with tilt and recline functions. After trying three different models, I have settled on the Quantum Q6 Edge 2.0 iLevel, which is comfortable and suited to my needs. I've never been as elated as I felt zooming around in the Q6 Edge 2.0 when I was allowed to give it a test drive.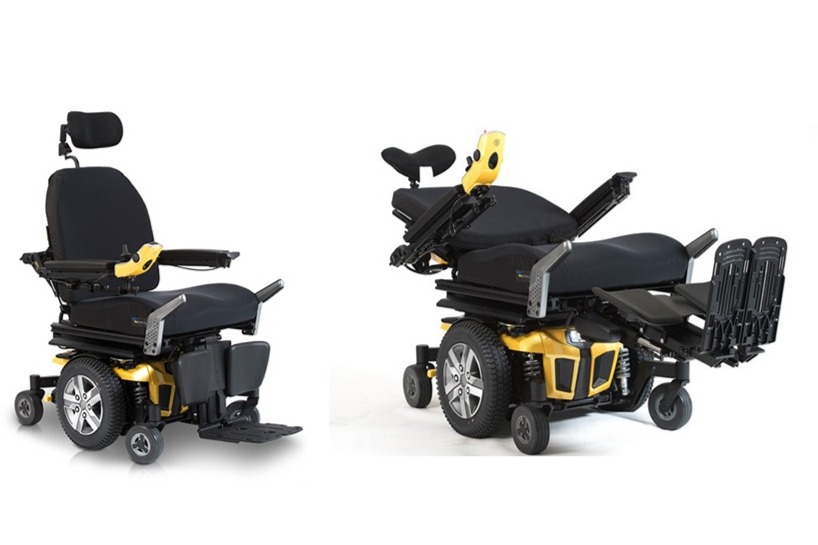 The Quantum Q6 Edge 2.0 iLevel, shown both in the neutral position and the reclining position.
Unfortunately, knowledge surrounding EDS and its comorbidities is still very lacking in Germany. That and my limited mobility are making it difficult to access the kind of help and treatment I need. The complex ways in which hEDS and POTS affect my mobility are poorly documented because I haven't found any doctors with sufficient knowledge or willingness to educate themselves to get me the help I need. I've been fighting for better treatment and advocating for myself with unreceptive doctors for so long, only to be constantly turned away, invalidated, and traumatised. I often feel completely powerless and unheard in these interactions, and I'm deeply depressed and exhausted. It feels like I've wasted so much of my time trying to go the traditional route of getting my powerchair via health insurance without success, so I've decided to take back control and increase my quality of life any way I can, and this fundraiser is a huge part of that.
When I first applied for a powerchair, health insurance performed an evaluation of my mobility impairment, and the (very uninformed) evaluator came to the conclusion that a standard powerchair would be sufficient for my needs. They're not willing to pay for the Q6 Edge 2.0, but they are willing to contribute 3,317€, which is the sum they're contractually obligated to pay for a standard powerchair. The quote for a Q6 Edge 2.0 customised to my needs is 13,500€, so I still have to come up with 10,183€ myself. The fundraiser goal of 10,500€ will hopefully cover any fundraising fees. (In case there are any left-over funds after the powerchair has been paid for in full, I will use those to get some wheelchair accessories or perhaps a weighted blanket.)
Due to my condition and the inadequate treatment I'm receiving, I'm currently unable to work. I had to drop out of uni a year ago when I became too poorly to attend. I have been receiving financial aid as well as some additional support from my dad, which barely covers my living expenses. I'm in debt and don't have any savings, so I simply cannot swing the sum of 10,183€. And that's where you come in!
I'm asking for your help to regain my mobility and independence. Getting a powerchair suited to my needs would give me my freedom back. Since I'm currently mostly housebound and often even bedbound, I live in social isolation. The Q6 Edge 2.0 would allow me to go on social outings, make friends, and perhaps even find a romantic partner at some point, who knows! Additionally, it would enable me to seek medical treatment within a greater area, and to use public transport instead of taxis to get around. It would also make moving closer to friends and family a much more distinct possibility, and bring me closer to the possibility of being able to work again in the future.
There are so many things that I want to do with my life. I'm only 27, and I want to be able to experience life to the fullest. I want to be able to zoom to the supermarket and get fresh and perishable foods that I know I'll be able to prepare because I'm not completely exhausted from shopping. I want to be able to go see a long-awaited movie in the theater. I want to be able to stargaze, and to take walks in the snow, my greatest pleasure that I have been denied these past couple of years because walking in the snow is hard! I want to be able to walk my dog regardless of whether or not I'm having a good or bad day. I want to be able to leave the house without crashing afterwards. So please, if you can contribute a donation, however small, I would be incredibly grateful for your help. If not, please share this fundraiser so it can reach more people! Thank you so much. 
My dog Frida is very excited for her human to get a powerchair so they can take her on longer walks!
*The location of the fundraiser is listed as France because that is where my dad lives. He will be the one withdrawing the money for me, since I cannot access the funds without risking having my financial aid taken away. I hope this clears up any potential confusion!
---
DE:
Ich bin Fran, 27 Jahre alt, und lebe derzeit in Jena.* Ich leider unter Hypermobilem Ehlers-Danlos-Syndrom (hEDS). hEDS ist eine Bindegewebsstörung, die den gesamten Körper betrifft. Einige ihrer Hauptsymptome sind Hypermobilität (Überbeweglichkeit der Gelenke) und chronische Schmerzen. Meine Gelenke sind instabil und neigen auch bei leichter Belastung zur Subluxation (einer teilweisen Ausrenkung), was Schmerzen und eine Überbelastung meiner Sehnen zur Folge hat. Meine Propriozeption ist sehr schlecht, das heißt ich bin sehr ungeschickt, verletze mich leicht, und habe Schwierigkeiten beim Gehen. Zusätzlich sorgen Erschöpfung und die bei EDS häufige Begleiterkrankung Posturales Orthostatisches Tachykardiesyndrom (POTS) dafür, dass ich nie sehr lange aufrecht bleiben kann.
Momentan verbringe ich den Großteil meiner Zeit im Liegen, um meinen quälenden Nacken- und Rückenschmerzen, meiner Erschöpfung und meiner Tachykardie entgegenzuwirken. Das Haus verlasse ich nur, wenn es absolut notwendig ist, also zu Arztterminen, zum Lebensmitteleinkauf, und zum Spazierengehen mit meinem Hund, aber oft schaffe ich nicht mal das. Länger als eine halbe Stunde lang unterwegs und aufrecht zu sein, verschlimmert meine Schmerzen und meine Erschöpfung. Aufgrund dieser Schübe bin ich anschließend oft tagelang "außer Betrieb." Inzwischen ist es für mich so schwierig, mich aus eigener Kraft fortzubewegen, dass ich häufig auf ein Taxi angewiesen bin, was sowohl teuer als auch frustierend ist, weil es meine Unabhängigkeit einschränkt.
Um ein aktives und wirklich unabhängiges Leben zu führen, benötige ich einen E-Rollstuhl mit Kipp- und Liegefunktion. Nachdem ich drei verschiedene Modelle getestet habe, habe ich mich für den Quantum Q6 Edge 2.0 iLevel entschieden, da dieser E-Rollstuhl bequem ist und ganz auf meine Bedürfnisse angepasst ist. Es war ein geradezu euphorisches Gefühl, mit einem Testmodell des Q6 Edge 2.0 durch die Gegend zu sausen.
Der Quantum Q6 Edge 2.0 iLevel, in der Sitzposition und in der Liegeposition.
Leider mangelt es in Deutschland noch sehr an Kenntnissen über hEDS und die dazugehörigen Begleiterkrankungen. Dieses Unwissen kombiniert mit meiner eingeschränkten Moilität erschwert mir den Zugang zu den Arten von Hilfe und Behandlung, die ich benötige. Die komplexen Auswirkungen von hEDS und POTS auf meine Mobilität sind nur kläglich dokumentiert, da ich bisher noch keinen Arzt gefunden habe, der sich bereits mit meiner Erkrankung auskennt oder bereit ist, sich das entsprechende Wissen anzueignen. Ich kämpfe schon seit Jahren für eine auf mich zugeschnittene Behandlung, doch wie sehr ich auch plädiere, stoße ich doch immer wieder nur auf Ablehnung und Entwertung. Ich fühle mich in diesen Situationen oft hilflos und als würde niemand mir zuhören, und es ist immer wieder traumatisierend und ermüdend. Ich fühle mich, als hätte ich mit dem Versuch, meinen E-Rollstuhl auf dem bewährten Weg über die Krankenkasse zu bekommen, nur Unmengen von Zeit verschwendet. Daher habe ich mich entschieden, die Sache selbst in die Hand zu nehmen und meine Lebensqualität so gut wie eben möglich selbst zu verbessern. Diese Spendenaktion spielt dabei eine große Rolle.
Als ich ursprünglich meinen E-Rollstuhl beantragt habe, hat die Krankenkasse eine Begutachtung veranlasst, im Rahmen dessen meine Mobilitätseinschränkung beurteilt werden sollte. Die (sehr uninformierte) MDK-Begutachterin kam zu dem Schluss, dass ein Standard-Elektrorollstuhl für meine Bedürfnisse ausreichend sei. Die Krankenkasse ist daher nicht willens, die Kosten für den Q6 Edge 2.0 komplett zu tragen. Die Vertragspauschale, also der Betrag, den die Krankenkasse für einen Standard-Elektrorollstuhl übernimmt, liegt bei 3.317€. Der Kostenvoranschlag für einen individualisiertes Modell des Q6 Edge 2.0 beträgt 13.500€. Mein Eigenanteil läge also bei 10.183€. Das Spendenziel von 10.500€ wird hoffentlich alle von GoFundMe erhobenen Gebühren mitabdecken. (Sollte noch Geld übrig sein, nachdem der E-Rollstuhl komplett bezahlt ist, werde ich den Restbetrag nutzen, um Rollstuhlzubehör oder vielleicht eine Therapiedecke anzuschaffen.)
Aufgrund meiner Erkrankung und meiner unzureichenden Behandlung kann ich keiner bezahlten Beschäftigung nachgehen. Vor etwa einem Jahr musste ich mein Studium abbrechen, weil es mir so schlecht ging, dass ich nicht mehr zur Uni gehen konnte. Ich bekomme ALG II sowie zusätzliche Unterstützung von meinem Vater. Damit kann ich gerade so meinen Lebensunterhalt bestreiten. Ich habe Schulden und kein Erspartes und weiß nicht, wie ich 10.183€ aufbringen sollte. Und hier kommst du ins Spiel!
Ich bitte dich um Hilfe, um meine Mobilität und Unabhängigkeit wiederzuerlangen. Ein auf mich angepasster E-Rollstuhl würde mir meine Freiheit schenken. Da ich momentan kaum das Haus, geschweige denn das Bett, verlassen kann, lebe ich sehr einsam und isoliert. Der Q6 Edge 2.0 würde es mir ermöglichen, Ausflüge zu machen, Freunde zu finden, und vielleicht sogar eine Beziehung zu beginnen, wer weiß! Außerdem könnte ich mich auch in größerer Entfernung nach geeigneter medizinischer Behandlung umsehen und statt dem Taxi wieder den ÖPNV benutzen. Ich würde außerdem gern näher zu Freunden und Familie ziehen, was mein E-Rollstuhl sehr erleichtern würde, und auch eine Rückkehr ins Berufsleben könnte wahrscheinlicher werden.
Ich bin 27 und möchte noch so vieles erleben. Ich möchte mein Leben in vollen Zügen genießen können. Ich möchte zum Supermarkt sausen können, um frische und verderbliche Lebensmittel in dem Wissen einzukaufen, dass ich sie werde zubereiten können, weil ich nicht total kaputt vom Einkaufen nach Hause komme. Ich möchte einen sehnlichst erwarteten Film im Kino ansehen können. Ich möchte die Sterne bewundern können. Ich möchte im Schnee spazierengehen---meine größte Freude, die mir in den letzten Jahren verwehrt geblieben ist, weil ich mich im Schnee zu Fuß nur schwerlich fortbewegen kann. Ich möchte mit meinem Hund spazierengehen können, egal ob ich einen guten oder einen schlechten Tag habe. Ich möchte das Haus verlassenn können, ohne anschließend komplett zerschlagen zu sein. Also: Wenn du in der Lage bist, auch nur eine kleine Spende beizusteuern, wäre ich unheimlich dankbar für deine Hilfe. Und wenn nicht, dann teile doch bitte diese Spendenaktion, sodass sie mehr Menschen erreichen kann. Vielen, vielen Dank.
Meine Hündin Frida freut sich auch schon sehr darauf, dass ihr Mensch einen E-Rollstuhl bekommt. Es stehen einige lange Spaziergänge aus!
*Der für die Spendenaktion angegebene Ort liegt in Frankreich, da mein Vater dort lebt. Er wird die Spenden für mich verwalten, da ich nicht über das Geld verfüge kann, ohne eine Streichung meines ALG II zu riskieren. Ich hoffe, ich kann mit dieser Erklärung potentieller Verwirrung vorbeugen!