Franklin's Veterinary Fund
As you all know, Franklin loves the outdoors and playing in water and mud. Well last Sunday his enthusiasm for sticking his nose where it doesn't belong landed him in the ER with a possible foreign body up the nose.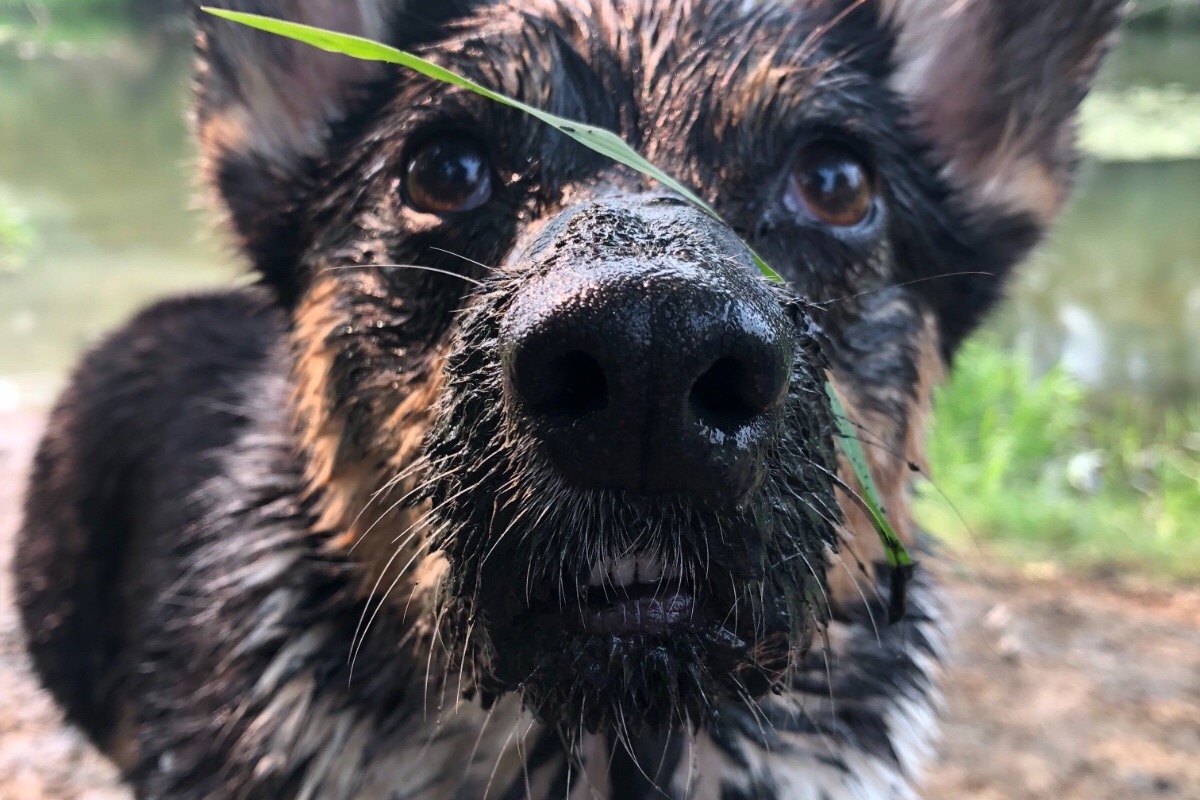 The vet sedated him and probed his nose but couldn't find anything. She said she saw evidence of a foreign body in his nasal passage and recommended I take him to an internal medicine specialist to have his nasal passage scoped. She also saw some possible damage to his eardrums that she wanted the internist to look at while he was under anesthesia.
So Monday we headed to a veterinary referral center after being told if we went there on emergency they would be able to fit us in with the internist.  After waiting 3 hours at the hospital the doctor told us they wouldn't be able to fit us in! Luckily I was able to make an appointment with an internal medicine specialist at another hospital for Wednesday morning. So poor Franklin found himself at 3 vets in 4 days! He was not a happy camper!
On Wednesday he had his nasal passage scoped and the vet found some dark colored debris but his nose started bleeding too much for her to identify what it was. After thoroughly flushing his nasal passage with saline they were not able to locate the object again so we are hopeful that his bloody noses and sneezing will stop and this ordeal will be behind us. 
While he was under anesthesia the vet also discovered he had a ruptured eardrum and none of us have any idea what could have caused that! He has been given strict "no swimming" instructions for the next few weeks and we are supposed to return for a recheck in a week or two to monitor how the eardrum is healing. This fundraiser is to help cover the emergency vet fees, the consult with the internist, medications, and the required follow up visits until his eardrum is fully healed.  
In addition to Franklin's current run of bad luck his best buddy in the entire world is battling cancer. Any additional funds beyond those due for Franklin's medical bills will be donated to his best friend Timmy's cancer fund. Timmy will be having surgery on Friday to remove a cancerous tumor and will undergo 6 weeks of chemotherapy after surgery. Franklin wants nothing more than for both of them to return to health so they can play together again!
Any donation is appreciated as well as positive thoughts, good vibes, virtual hugs, and prayers. Thanks for reading!

Organizer